28 November 2017
-
Jann Raveling
In tune with TonePedia
Creative / Media
A start-up from Bremen is revolutionising the market for musical instruments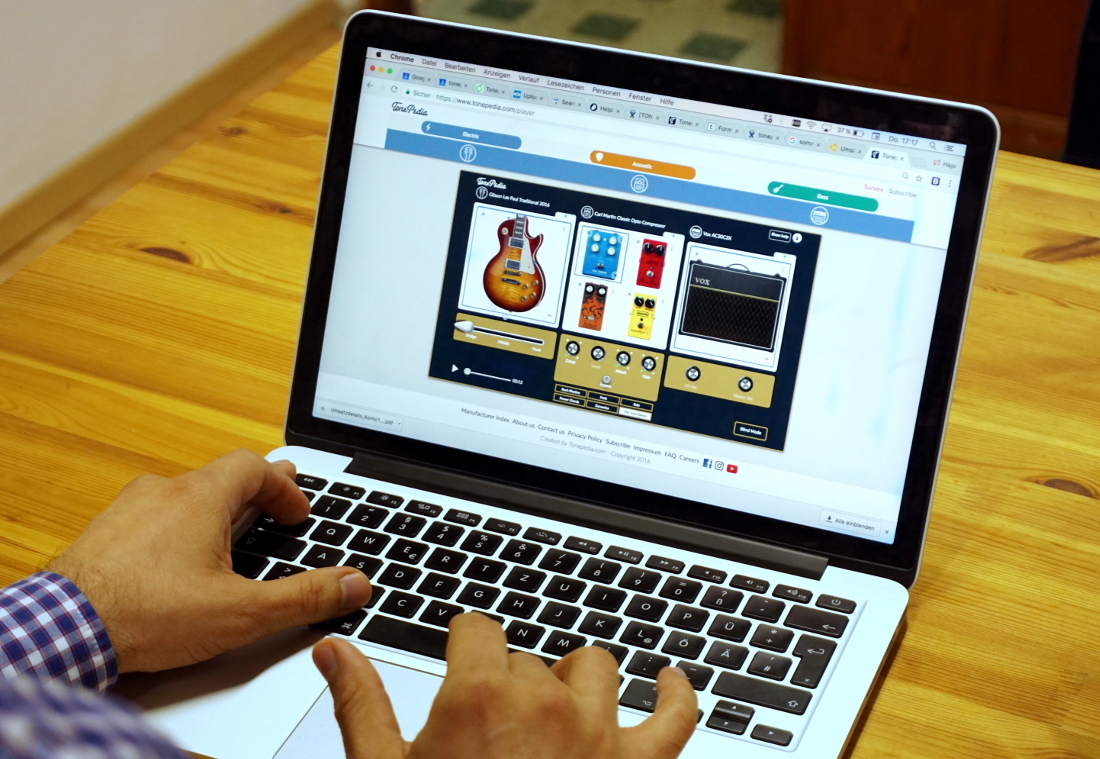 Comparing musical instruments online is a bit like judging a recipe by a picture of the final dish. It may be possible to make a good guess, but the impression will be incomplete without the ability to taste – or, in this case, hear. TonePedia has set out to change this. The Bremen-based start-up has developed a web-based player that can authentically reproduce the sound of guitars, effect products and amplifiers.
This could revolutionise the market for musical instruments. Think that might be an exaggeration? At the Frankfurt music fair in spring 2015, the three founders of TonePedia introduced the concept to the music business, armed with little more than a prototype on a laptop. No stand, no meetings, no professional presence. The result? Four contracts with large music companies.
High-end technology for authentic sound
"Our idea was an immediate hit," says Hajo. The 35-year-old, who was born in Münster and is currently living in Berlin, is one of the three founders of TonePedia. He started the business in spring 2017 with Elad Yaacov and Baffour Nkrumah, and together with their two employees they occupy an inconspicuous backyard shed in Bremen Airport-Stadt. At first glance, the premises look a little makeshift, but appearances are deceptive. Inside there is a state-of-the-art sound studio.
When musicians and nerds collide
"We want to get as close to the real thing as possible," says Hajo, who is responsible for sales and marketing. They are not searching for the best sound, that would be too subjective. What they are looking for is the authentic sound of the instruments. To help with this ambition, professional musicians regularly come to Bremen to accurately record music samples on a range of guitar models. The TonePedia engineers then feed the audio samples through effect products and amplifiers using their proprietary software and methods they have developed themselves to capture all combinations for the audio player. This creates the perfect symbiosis of sounds and bytes.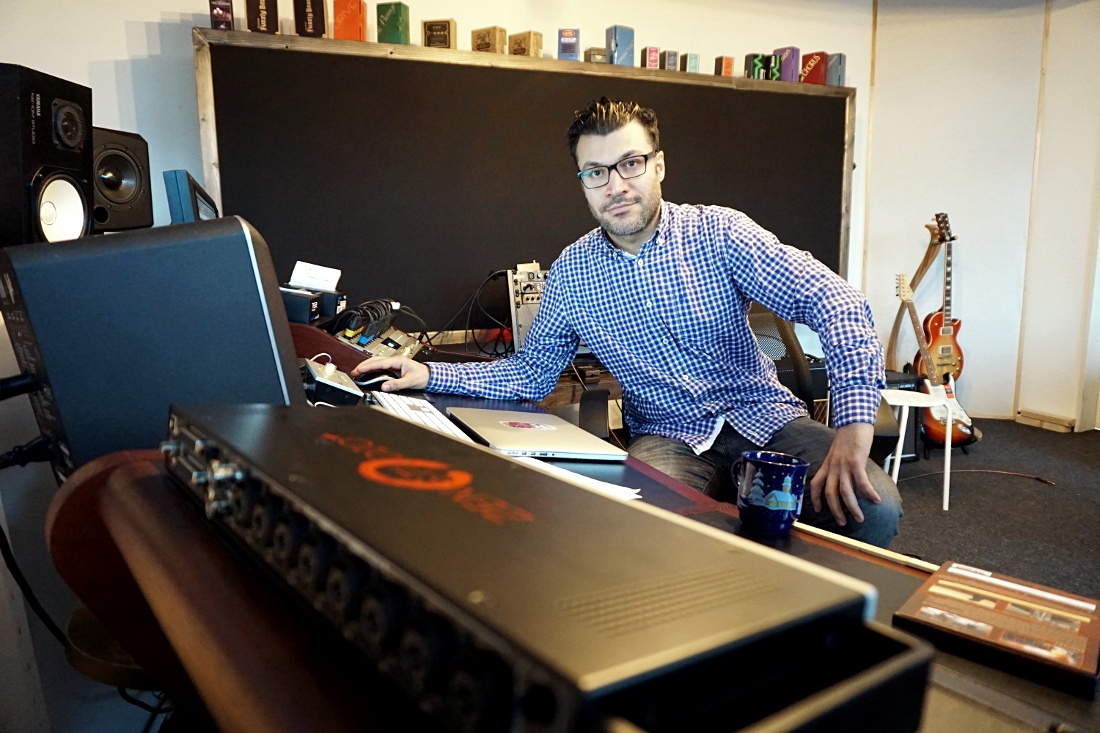 Unlimited combinations to help you to find your own sound
Musicians can compare guitars online using the samples and combine them with effect products and amplifiers. To date, the team at TonePedia has digitalised 200 instruments and pieces of equipment, allowing a huge range of settings in the TonePedia player. "There are around 1,300 guitar manufacturers and around 3,600 effect-product manufacturers globally, so there's still a long way to go," Hajo adds.
Online guitar comparison for dealers and manufacturers
The player is used on the websites of manufacturers and dealers in musical instruments, for which they pay a licence fee, and adapted to each product range. "Dealers are increasingly using content instead of traditional advertising to reach their target groups – they want to provide added value for the user. By using our player, dealers can increase the time users spend on their sites," Hajo says. Visitors spend more time on websites that encourage interaction. The web player also reduces the number of returns, as musicians no longer have to order and hope for the best. It comes as no surprise, therefore, that TonePedia is generating huge interest.
Rock 'n' roll in their blood
The founders themselves share a background in music. Israeli Elad Yaacov is a successful musician, and Hajo was a keyboard player for many years before switching to music management. "Music is in our blood – reproducing the true sound of equipment and instruments is our main concern," says Hajo. Yaacov and Hajo met by chance on a train: "When we had to get off, it was like we'd known each other for years. Our interests and skills were a perfect match."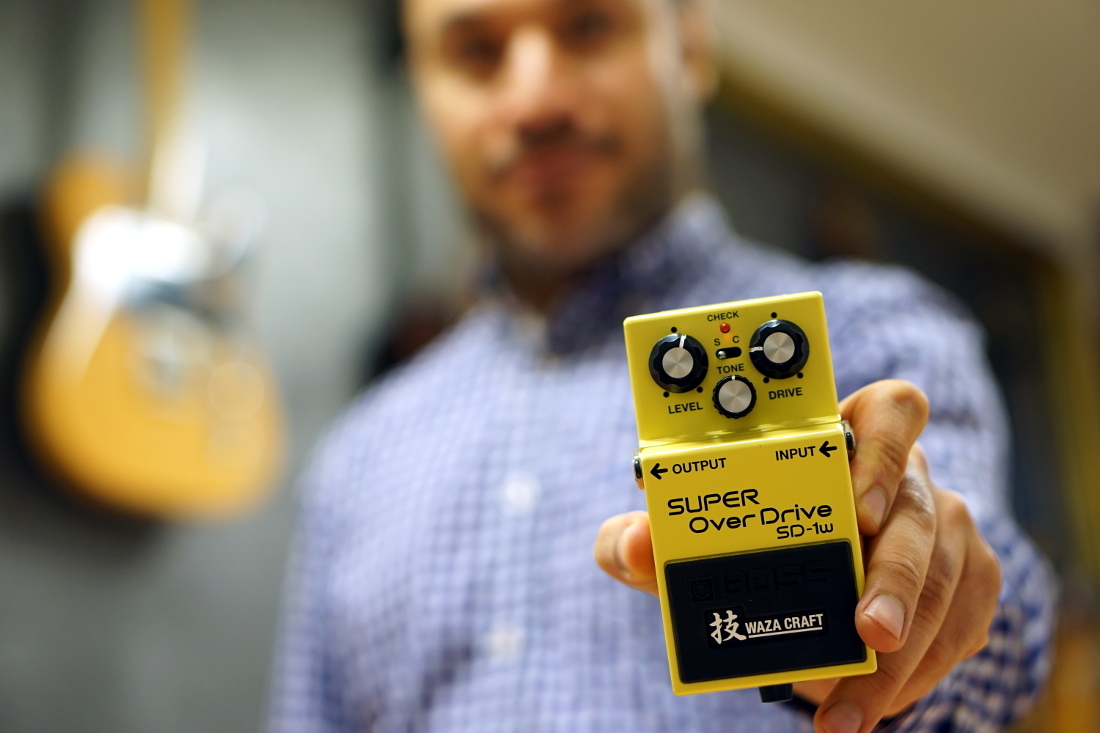 Bremen is perfect for young entrepreneurs
There are good reasons why TonePedia is based in Bremen, as Hajo explains: "Our investors are based in and around Bremen, and the city gives us the opportunity to get noticed. Berlin and Munich are just too crowded, but in Bremen we quickly found the right premises and received the support we needed to get off to a good start."
Financial support for technology development
The development of the software was supported by BAB, the development bank for Bremen and Bremerhaven, through its LIP Bremen regional investment programme. The three founders are also planning to apply for support from the research and development programme to fund further features for their player. "Bremen's on the up. We've noticed that things are happening here and that people are very committed. BAB and Bremeninvest helped us a lot with the search for premises and with establishing contacts," says Hajo.
Big data and big band
The TonePedia team is busy looking for new partners and customers, recording more instruments and equipment, and improving the software. "We want to enable our customers to perform 'big data' analyses, and we're hoping to open up new business models. At some point, we'll also give other instruments a go," Hajo adds, looking to the future. It may be some time before an entire orchestra can be heard in the TonePedia player, but it certainly won't be quiet in Bremen Airport-City in the meantime.
---
For further information on creative industries and business start-ups, contact Anke Jacobj, tel: +49 (0)421 3613 2173, anke.jacobj@wah.bremen.de
To find out more about Bremen Airport-City, please contact Andreas Zimmermann, business services and sales, project manager for the south Bremen region, tel: +49 (0)421 960 0124, andreas.zimmermann@wfb-bremen.de
Businesses and entrepreneurs looking for suitable sites can contact Bremeninvest's relocation service for more information: Thomas Hofhans, tel: +49 (0)421 960 0151, thomas.hofhans@wfb-bremen.de.
---
For information on what else Bremen has to offer creative professionals, take a look at our overview of the cultural and creative industries.
Further information on the regional investment programme and the research and development programme is available from BAB.
Success Stories
Aerospace
3 March 2023
Light for the Chancellor and the Sun for Bremen
Anyone flying on vacation with an Airbus will almost certainly come into contact with products from the Bremen-based aviation supplier AES Elektro/Elektronik System GmbH. But they are not only to be found in vacation planes - even German Chancellor Olaf Scholz cannot do without them.
Learn more