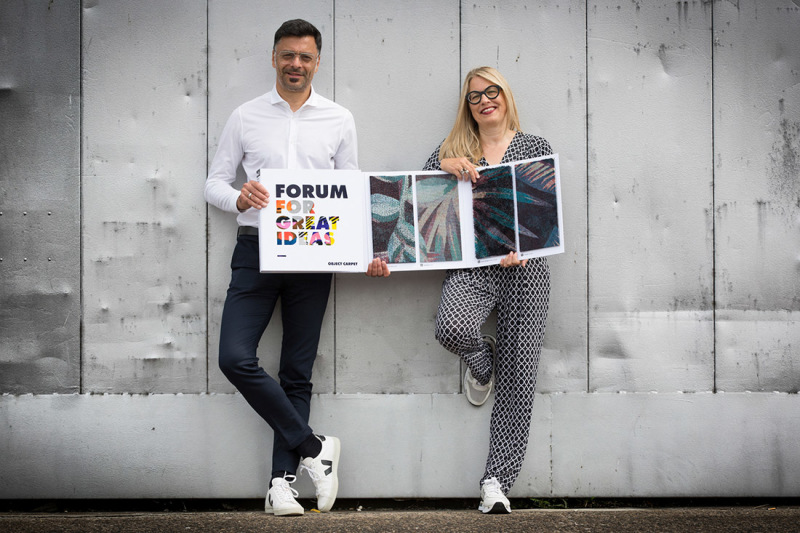 Most people's idea of photographic wallpaper probably involves palm trees silhouetted against a sunset, lush forest scenes or turquoise seascapes. But although the Bremen-based design team of Kathrin and Mark Patel, better known as patel kommunikative inszenierung (German), does create photographic wallpaper – along with carpets – their premium collections have nothing in common with those 1970s abominations. Their styles range from art deco and ethnic to Bauhaus, while the palette varies between shades of grey and explosions of colour. Some carpets show stylised faces, others an enormous peacock, and sometimes three-dimensional concrete reliefs appear to jut out of fleece wallpaper. "We consciously break with conventions, habits and tradition," says textile designer Kathrin Patel.
The wallpaper and carpets start to come alive
All of their work has one thing in common: the couple showcase each of their creations in context within a visually appealing setting. A carpet or wallpaper is never presented as a mere one-dimensional object. When Kathrin and Mark Patel combine the digital designs on their computers with stylistically coordinated furniture and accessories, they are always telling a story that appeals to the onlooker on an emotional level. "That way the wallpaper or carpet starts to come alive," says graphic designer Mark Patel. So far, the two have created around a thousand designs for wall and floor coverings, which are digitally printed onto the products.
Creations that adorn hotels, restaurants and offices
The Bremen-based couple's work has already earned them a number of prestigious awards, including the Red Dot Design Award and the German Design Award. The Patels collaborate with leading carpet and wallpaper manufacturers like Object Carpet and A.S. Création Tapeten AG. For Jab Anstoetz they design sunshades and trade fair displays. Their creations can be found in hotels and restaurants around the world, as well as in offices and at furniture manufacturers' trade expo stands, but also in private homes. "It's a great feeling to arrive at a hotel and just happen to come across one of our designs," enthuses Kathrin Patel, 55.