21 August 2020
-
Janet Binder
Every carpet tells a story
Success stories
Kathrin and Mark Patel have a real knack for showcasing their carpets and wallpaper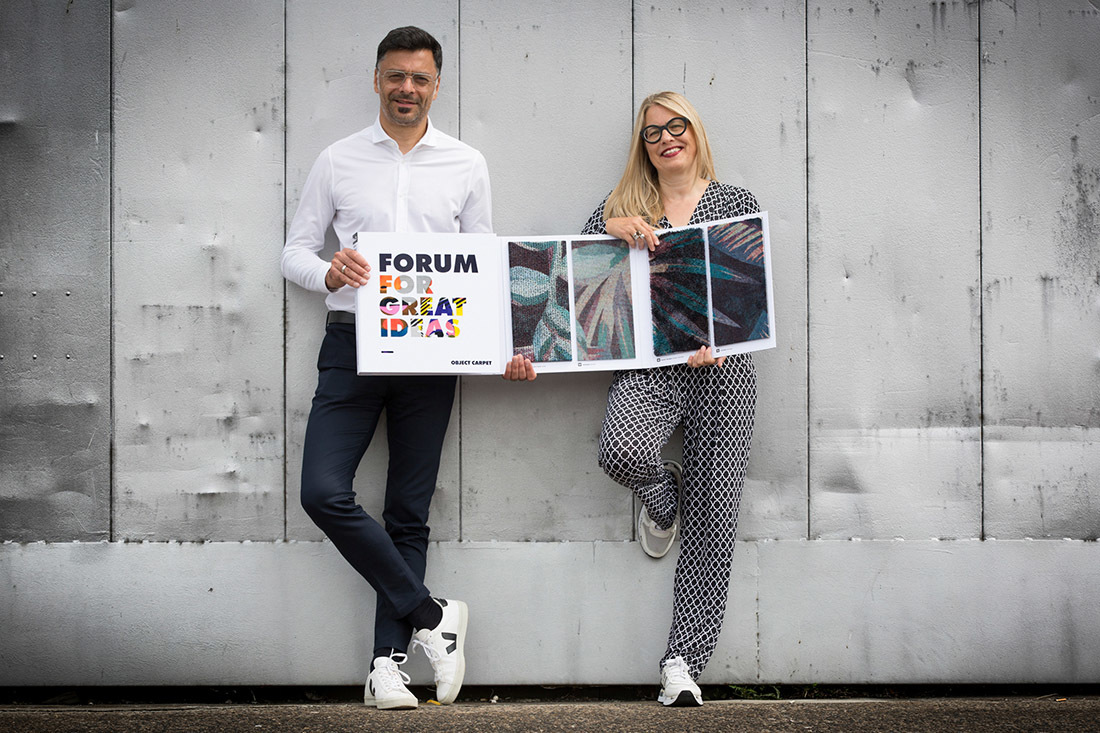 Most people's idea of photographic wallpaper probably involves palm trees silhouetted against a sunset, lush forest scenes or turquoise seascapes. But although the Bremen-based design team of Kathrin and Mark Patel, better known as patel kommunikative inszenierung (German), does create photographic wallpaper – along with carpets – their premium collections have nothing in common with those 1970s abominations. Their styles range from art deco and ethnic to Bauhaus, while the palette varies between shades of grey and explosions of colour. Some carpets show stylised faces, others an enormous peacock, and sometimes three-dimensional concrete reliefs appear to jut out of fleece wallpaper. "We consciously break with conventions, habits and tradition," says textile designer Kathrin Patel.
The wallpaper and carpets start to come alive
All of their work has one thing in common: the couple showcase each of their creations in context within a visually appealing setting. A carpet or wallpaper is never presented as a mere one-dimensional object. When Kathrin and Mark Patel combine the digital designs on their computers with stylistically coordinated furniture and accessories, they are always telling a story that appeals to the onlooker on an emotional level. "That way the wallpaper or carpet starts to come alive," says graphic designer Mark Patel. So far, the two have created around a thousand designs for wall and floor coverings, which are digitally printed onto the products.
Creations that adorn hotels, restaurants and offices
The Bremen-based couple's work has already earned them a number of prestigious awards, including the Red Dot Design Award and the German Design Award. The Patels collaborate with leading carpet and wallpaper manufacturers like Object Carpet and A.S. Création Tapeten AG. For Jab Anstoetz they design sunshades and trade fair displays. Their creations can be found in hotels and restaurants around the world, as well as in offices and at furniture manufacturers' trade expo stands, but also in private homes. "It's a great feeling to arrive at a hotel and just happen to come across one of our designs," enthuses Kathrin Patel, 55.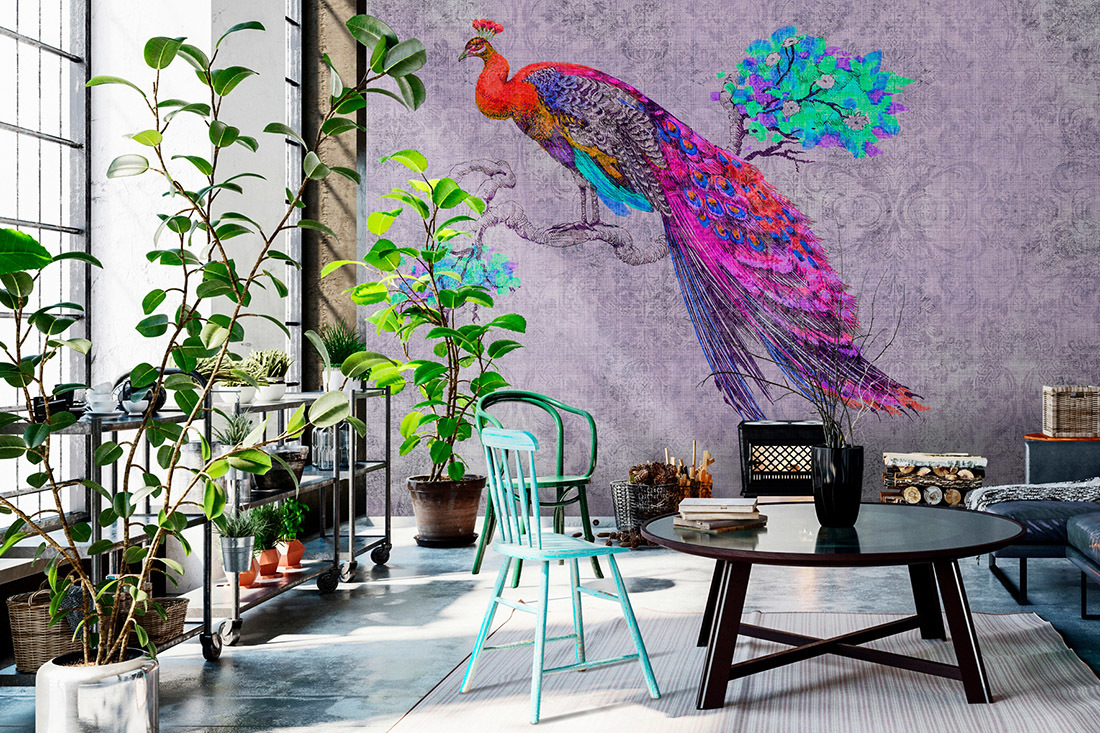 Red Dot Design Award for carpet collection
They are currently working on a commission for the walls of the restaurant area at the Humboldt Forum in Berlin, a partial reconstruction of the former Berlin Palace, scheduled to open at the end of this year. The Patels' work also appears regularly in specialist design magazines such as Arcade. Oddly enough, at home in Bremen Kathrin and Mark Patel are barely known, even though they've just won another Red Dot Design Award, this time for their carpet collection Forum for great ideas.
Over 15 years as a team – professionally and in private
The two designers have been working together for more than 15 years, and they've been a couple for just as long. They initially met through work, when Kathrin Patel was creative director at Object Carpet in Baden-Württemberg. She recalls trying to find "the best graphic designer in Bremen" for a photo shoot in the city, and having Mark recommended to her. He had studied at Bremen's University of the Arts and was now working as a freelancer. The two soon discovered that they really clicked at a personal as well as at a professional level. Kathrin resigned from her dream job in Stuttgart and moved to Bremen, they married, had a daughter and founded patel kommunikative inszenierung, which is based in Bremen's Überseestadt district.
"We love to take products all the way to their international market launch"
They were both inspired by their artistic collaboration. "We love being able not only to create a design, but to take a product all the way to its international market launch. That's the only approach that makes sense to us – but it's also what makes our work so unusual," says Kathrin Patel. At some point they were approached by A.S. Création, one of the largest wallpaper manufacturers in Germany, who asked them if they would be willing to develop a licensed collection for the firm. The company normally commissions licensed collections from famous brands like Versace and Esprit, or from star designers like Michael Michalsky, explains Mark Patel. Now the Patels were being asked to produce one – and the walls by patel collection was born. "To begin with, we didn't realise that other designers have to wait ages for this sort of opportunity," the 53-year-old remembers. The first collection proved so successful that it was followed by a second, and they are currently working on the third – walls by patel 3 will be on the market this autumn.
Opposites attract – the quiet one and the extrovert
Kathrin Patel draws her inspiration from walking around the city with her eyes open. When she's out and about she takes photos of the patterns and structures she discovers along the way. Even at home the ideas just keep coming. Her favourite carpets feature gaps in the material that are based on paper cuttings created by her daughter. "I never really switch off." She even dreams about her ideas. "Then I try to knock all that creative chaos into some sort of shape," says Mark Patel. "When it comes to developing collections, we really complement each other. His strengths are my weaknesses and vice versa," Kathrin Patel laughs. They develop their creations until both of them are completely satisfied. "That can be quite exhausting." As a graphic designer, Mark Patel favours a purist-minimalistic line, while Kathrin, the textile designer, loves the colourful and the extreme. "I am keen to experiment and push boundaries," she emphasizes. The couple are very different characters, he is the quiet one, she is the extrovert. "We represent a meeting of two extremes," says Mark Patel.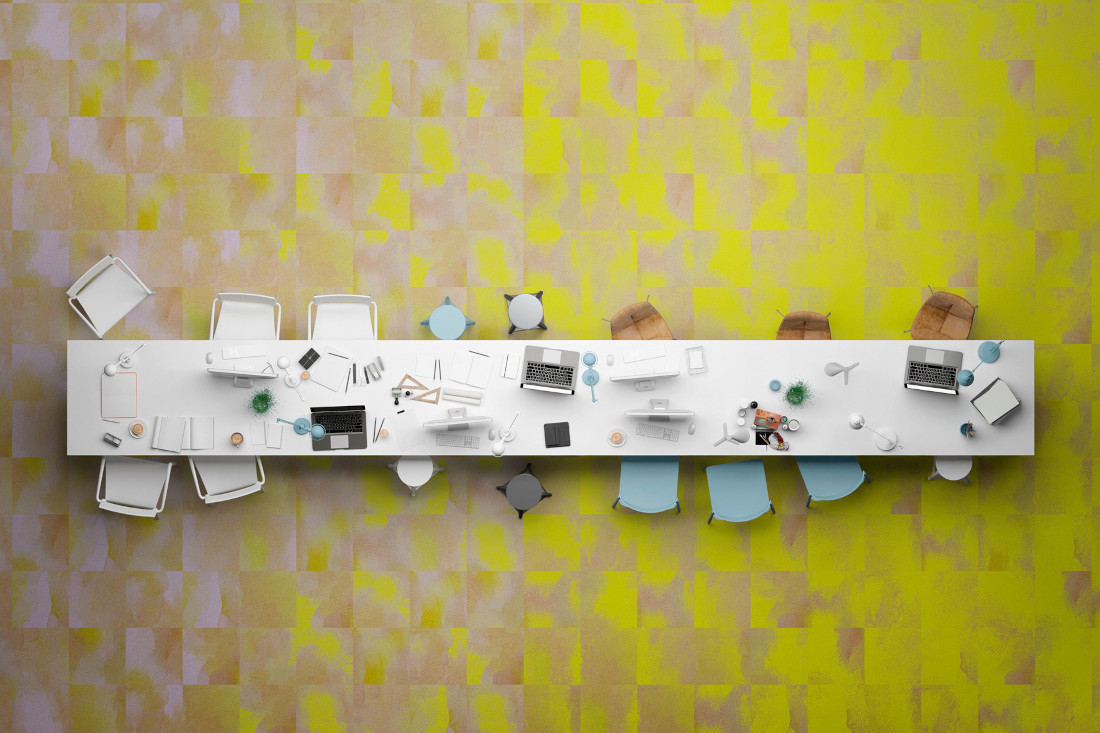 Wallpaper that looks like damask, concrete or wood – but is actually fleece
One unique feature of their carpets and wallpaper is that all their collections can be customised according to individual requirements. "If the wallpaper is destined for a small washroom then we can scale down the design to the appropriate format." The aim is to provide customers with the greatest possible flexibility. The digital prints are designed to look from a distance as if the materials are packing paper, fine damask or wood – depending on the subject – while in reality they are 'simply' photographic wallpaper. And what about the Patels' own home? How many of their own carpets and wallpaper would we find there? "Everyone asks that," laughs Kathrin Patel. "The truth is that first of all, we don't have the time to do a comprehensive design for our own house, and secondly, we wouldn't be able to decide on what we want. Once we've picked a design for ourselves we are already in the process of developing the next one, which we'll like even better."