18 March 2022
-
Anne-Katrin Wehrmann
Arms and Legs Made to Measure
Success stories
Prosthetic limbs made in Bremen are in demand right across Europe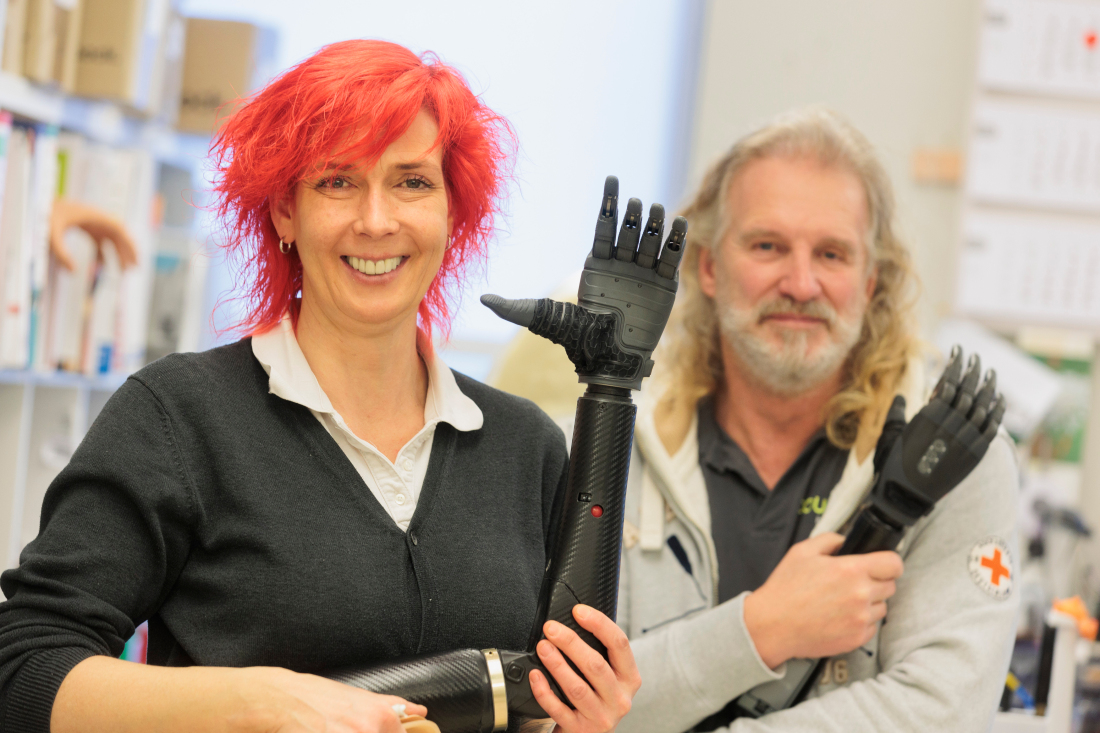 Prosthetic extremities a speciality: GehProTec, the company run by Peter Wehmeyer and Birgit Greubel, manufactures around 400 tailor-made prosthetic arms and legs per year. Patients from all over the world come to Bremen to receive help.
An Austrian, a Canadian and a German meet up to test out prosthetic legs. What might sound like the start of a bad joke was actually Peter Wehmeyer's introduction to a new professional career. And this is how it happened: a motorbike accident in 1989 resulted in Wehmeyer, a public administrator, now aged 66, losing his left leg below the knee. Two years later, he approached a leading prosthetic limb manufacturer about a newly developed hydraulic knee joint. He was given the opportunity to try the prosthetic joint out before its market launch. This trial proved so successful that he was offered the job of tester and "guinea pig" for new developments. It was while working in this role that he and two other prosthesis users from Austria and Canada, took part in a ground-breaking project in 1993: the development of the world's first prosthetic leg with an electronic knee joint. This experience sparked Wehmeyer's passion for prosthetics, i.e. the development and manufacturing of prosthetic limbs.
Starting a new life together – professionally and privately
Wehmeyer went into sales, set up a walking school for prosthesis users and started working as a consultant for a range of different professional associations. Then, one day while attending a seminar, he met Birgit Greubel, an orthopaedic technology specialist, later falling in love with her. After having worked for several years building prosthetic limbs, Wehmeyer, then 47 years of age, was involved in the research and development prosthetic adapters and the training of technicians all over Europe. The two of them decided to go into business together: the result was their company, GehProTec, which they founded in 2007 in Bremen's Airportstadt industrial park. Today the company is one of the leading suppliers of high-tech tailor-made prosthetic arms and legs.
Different prostheses for different requirements
From a comparatively simple passive prosthesis with a limited number of functions up to the very latest model with electronic control, there's nothing that can't be tailored to the specific requirements of each individual patient. "No matter which appendage is lost, or how, we can replace it", clarified Birgit Greubel. In every case, the deciding factor is what the prosthetic will be used for: "If you work in a public-facing job, having a hand that is designed to be as natural as possible, but doesn't need to have so many functions, is important." In contrast, in other cases, having a prosthesis that can perform as many different movements as possible would be preferable. "The more movements a prosthesis can perform, the heavier it will be", Greubel pointed out.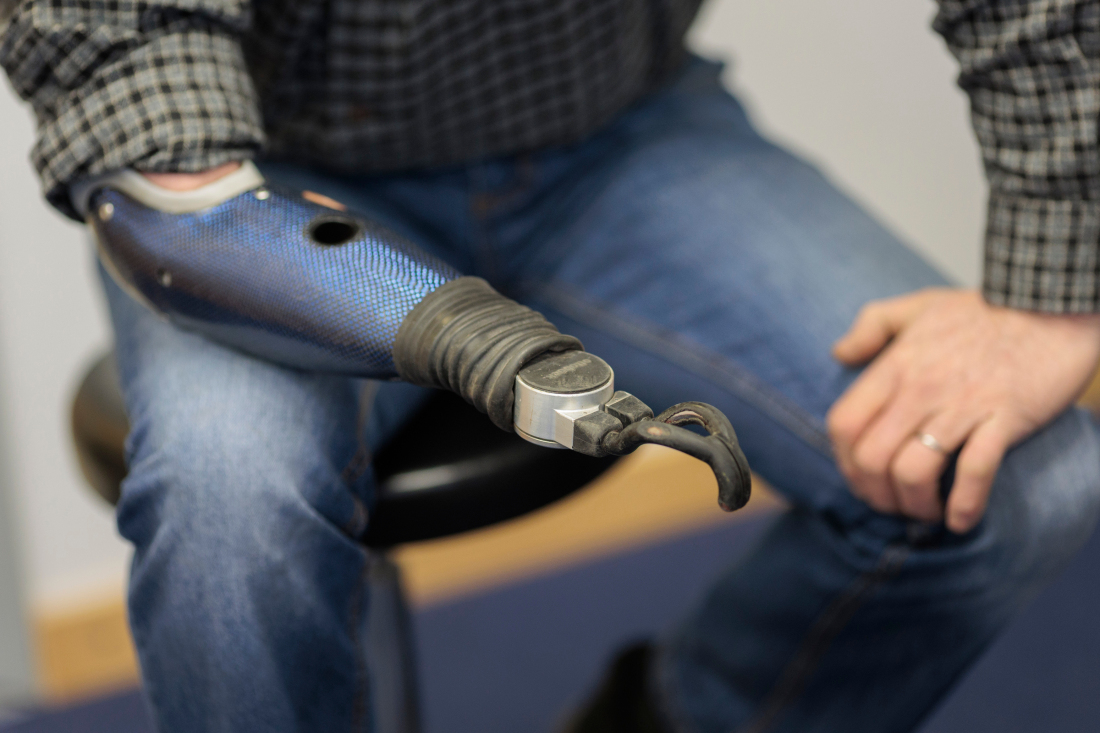 High acceptance of high-tech prosthetics thanks to personal experience
Peter Wehmeyer is primarily involved with people who have lost their legs, and with their mechanical and electronic knee joints, and also manages the walking school. "I have the enormous advantage that I also live with an prosthetic limb. This means I can judge whether, for example, a patient is actually in pain or whether there's simply pressure in the leg shaft, which they sometimes just have to live with." As a fellow prosthesis user, customers find him easy to relate to.
Thanks to the reputation GehProTec has built up, patients from other European countries often turn up in Bremen, looking for help. Recently someone who had lost a leg in an accident even came all the way from Azerbaijan. "We have to work quickly for the people who have travelled so far", said Wehmeyer. "For example, they arrive at the weekend and go home on Wednesday or Thursday, fully equipped with everything they need." In addition to supplying a perfectly fitting prosthesis, it's important for Wehmeyer that patients also know how to use it effectively, without impacting the rest of their body. For that reason, he takes a great deal of time explaining the biomechanical processes: "This is the only way for a patient to learn how to use their muscles to stabilise and control the prosthesis."
Prosthetic arms found nowhere else in Germany
The workshop opposite the office is Birgit Greubel's domain. That is where traditional plaster casts or modern 3D scans are made of the stump for which the tailor-made shaft, which links the prosthetic limb to the body, will be created. The prosthetic arms that the 47-year-old Greubel and her team build from a range of different components are particularly impressive. Until now, two electrodes which receive the minute electrical signals, generated by contracting specific muscles in the stump, have been installed in the shaft of these prosthetic arms. Integrated motors then move the prosthesis. By contracting different muscles, the user can open or close their prosthetic hand, rotate the wrist or lift or lower the prosthetic elbow joint.
16 electrodes take readings from the stump
The very latest innovation is a technology that uses 16 electrodes to record the interplay of a number of signals generated by the muscles. "This means patients can still use their old familiar movement patterns, but perform many more different movements", stated Greubel. These prostheses are controlled by the patient thinking about the arm they have lost, but which can still feel, a phenomenon known as "phantom limb": "16 electrodes take readings from the stump and its movements. An intelligent control system in the prosthetic limb then converts these electrical signals into movements", she explained. "We are currently the only company in Germany to offer upper arm and shoulder prostheses with this range of functionality", she said.
Using the three-finger model to empty the dishwasher
Today, Lars Schüler from Schiffdorf and Siegfried Böhm from Walsrode have arrived to have their lower arm prostheses serviced. The two of them both lost their right hands years ago in workplace accidents. First, they had to learn how to live with the shock and then how to manage life with an prosthetic body part. "In the early days, I often felt pretty hopeless", explained Lars Schüler, 49 years-of age. "But then I started coming to terms with the new situation." Over the years he has tried out six different prosthetic hand systems, but still most often uses a simple model that has three functioning fingers with which he can grasp things quickly and powerfully. "When I'm emptying the dishwasher, this prosthesis is much more practical than the modern high-tech models", he said.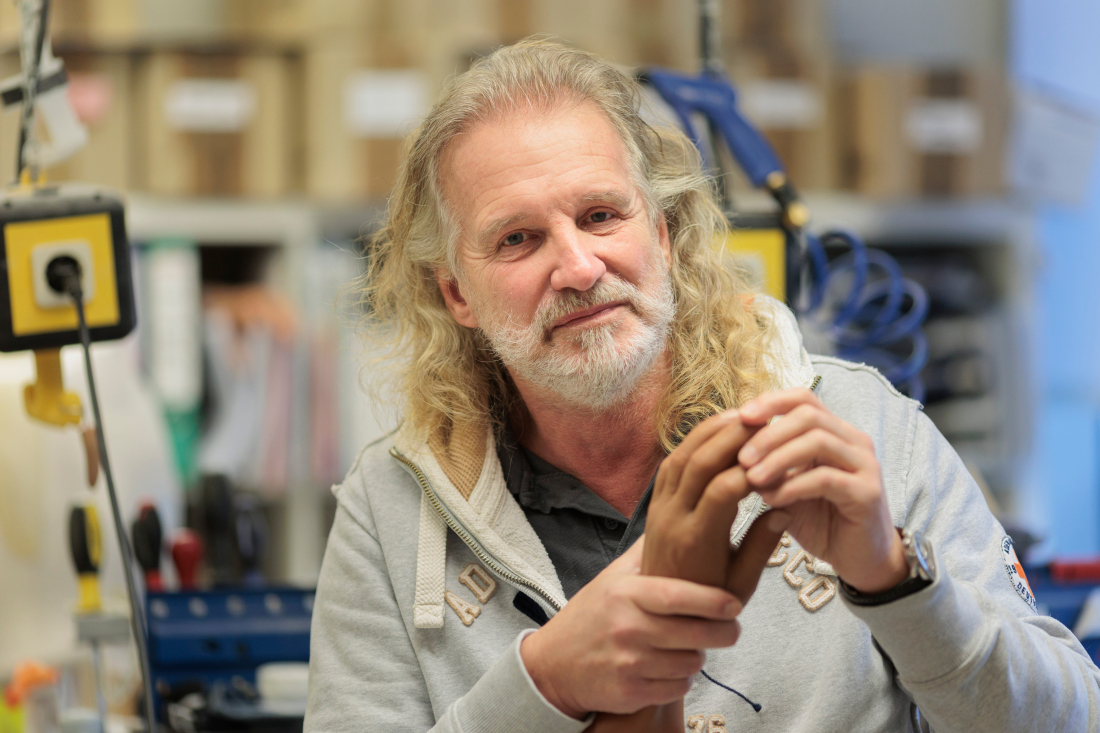 Training with Lego
Siegfried Böhm also has a simple gripper attached to his prosthesis shaft for most of the day. "I'm a farmer and need the thing to work rather than just to look smart when I go to church on Sundays", said the 54-year-old. He only uses a model with more functions and different grip patterns when he's driving the combine harvester and needs to use a joystick. Böhm practised using his prosthesis by building Lego Technic models. He now has around 450 models in his cellar, ranging from Big Ben to Tower bridge, all of which he put together himself. "I'm convinced that this helped me develop really fine motor-control", he said. But sometimes, a little decoration is allowed. With this in mind, he has applied a picture of Lego bricks to one of his shafts, and another is adorned by a photo of his dog. "I think skin colours are a bit boring", he explained, "and this way it looks a bit like a tattoo."
Bespoke prostheses build self confidence
The fact that many amputees now wear their prostheses openly with great self-confidence is a positive signal for Peter Wehmeyer. Making the prosthetics truly individual plays a major role, he reported: "We quite often manufacture shafts in bright colours or with eye-catching motifs such as comics or skulls. 3D printing technology enables us to create very special bespoke cosmetic designs."
However, ready acceptance of prosthetic limbs is still not always the case in some countries and some cultures. "For example, I experienced this for myself on a holiday in Portugal when I was sitting in a restaurant wearing shorts, and a family with children moved away from us. Shortly after that, an older woman walked over to the other side of the street and made the sign of the cross when she saw me." The 66-year-old always encourages his patients to project a confident image of themselves. "Moving confidently after an amputation makes a great difference. Anyone who can cope with all of this and has a strong will to live will quickly get used to having a prosthesis."