17 August 2022
-
Reinhard Wirtz
High-Tech Bridge between Bremen and Izmir
Digitization
Searover Underwater Robotics sets up European headquarters in the Hanseatic city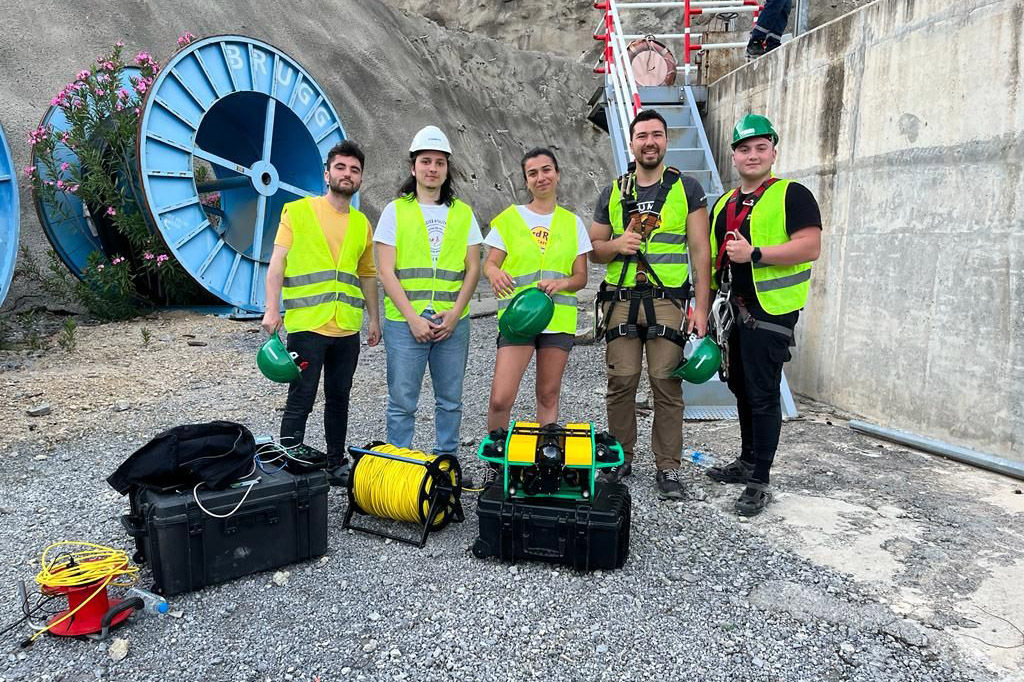 The Turkish sub-aqua specialist, Searover Underwater Robotics, is an acknowledged expert in robotics and artificial intelligence (AI). It has now chosen Bremen as the location for its European Headquarters and established a new subsidiary, Werover GmbH, there. The company founders, from İzmir, Turkey, create technological synergy from maritime, technical energy-related and AI application areas, with their product and service offering. These are some of the sectors that bring Bremen its economic strengths as a business location.
Werover offers AI, Internet of Things and robot solutions for maintenance and status monitoring of energy and underwater installations and for the wind and solar power industry. The creative high-tech company, founded 2018, manufactures its products in the Bilimpark technology park in İzmir. Its researchers and developers plan to drive the company's future expansion forward from its Bremen operation.
Founding a company: quick and easy
Setting up Werover in Germany was "achieved extremely quickly and made much easier", thanks to the support provided by Bremeninvest. Werover plans to build up its research and development and other business activities rapidly, in Bremen, according to the two Searover founders, Zeynep Balca Yılmaz and Kazım Çağlar Erat.
We see Bremen as the headquarters location for our company and are making efforts to establish R&D joint projects with the leading institutions in Bremen.

Zeynep Balca Yılmaz, co-founder of Searover Underwater Robotics
As a company, Searover has great ambitions for Werover, its Bremen subsidiary. "We see Bremen as the headquarters location for our company. We are making efforts to establish R&D joint projects with the leading institutions in Bremen. They include the German Research Center for Artificial Intelligence (DFKI), the Fraunhofer Institute for Manufacturing Technology and Advanced Materials (IFAM), the Marum Centre for Marine Environmental Sciences at Bremen University and Jacobs University. We've already started working together with the DFKI and the Fraunhofer Institute because we're part of the same consortium that's currently developing a horizon project", said Yılmaz immediately after establishing Werover GmbH In Bremen.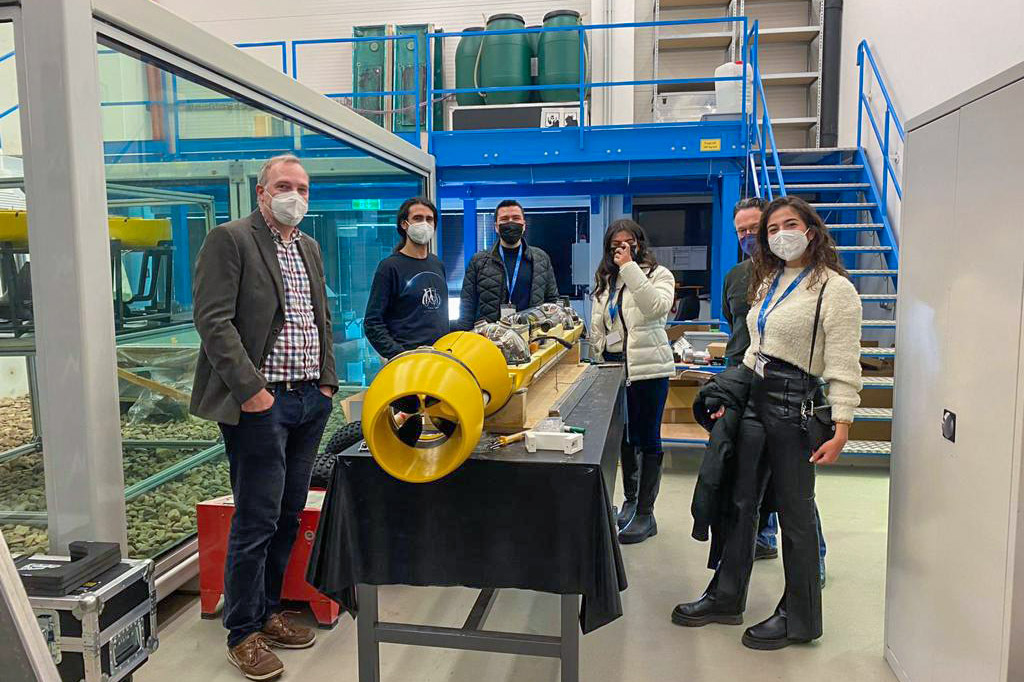 Reducing dependency on fossil fuels and driving forward the digital transformation
Zeynep Balca Yılmaz and Kazım Çağlar Erat, who are both automation engineers, founded Searover in İzmir, Turkey, in January 2018. "Our aim is to perform service and maintenance work for our customers by providing the data and analyses they need to manage assets and plan for risks. By doing this, we create approaches for our customers, especially those in the energy industry, that will help them fully digitise and automate their processes", stated co-founder Kazım Çağlar Erat.
The company's strategies are focussed on reducing dependency on fossil fuels and driving forward the process of digital transformation in the energy sector. Searover aims to increase the efficiency of renewable energies by cutting operating and maintenance costs in this sector, with its new robotics and IoT solutions. "We offer power companies ways to reduce costs while ensuring operational stability, effective maintenance and sustainability", said Yılmaz and Erat.


Kernkompetenzen
Searover's areas of core expertise include robotics and software solutions for underwater research and for wind and solar power installations. ROVs (short for "remotely operated vehicles") play a critical role in these areas.
Underwater operations:
The company provides services for hydrographic surveys and for oceanographic and environmental investigations. ROVs are used, among other things, to inspect fibre optic cables, pipelines or technical installations in ports and also to create overviews of environmental influences, sea water quality and biodiversity in the sea.
Wind turbines:
Searover offers analysis and maintenance services that minimise the costs of involved in servicing and repairing rotor blades, with the aim of reducing power production downtimes.
Solar power installations:
The "Solarrover" is Searover's autonomous cleaning robot with integrated AI, designed for use on solar modules. These machines are designed not only to reduce the time and effort involved in cleaning solar panels but also to make risk planning easier by identifying (micro-)cracks in the modules before they become serious.
"Cleantech Hub": the bridge between Bremen and Izmir
It was Germany's announcement that it would move to 100 percent provision of power supplies from renewable energy sources by 2035 that attracted the attention of the two entrepreneurs. They see this commitment as a clear "indicator of the expected size of the market". Bremen's business environment and infrastructure were the decisive factors in their decision to set up Werover GmbH in the Hanseatic city. "In addition to Bremen's importance as a port and industrial city, it was the presence of the many different research institutes that was one of the main reasons for Werover to come to Bremen", said Yılmaz. It is the proximity to these institutions that gives Werover an advantage when it comes to R&D.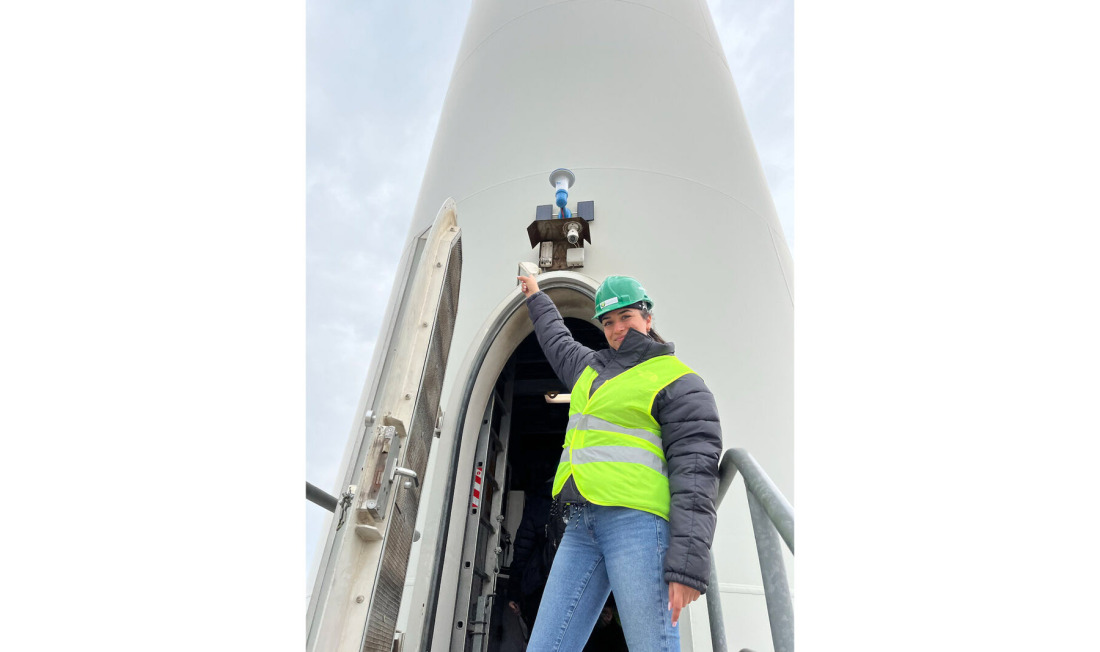 Germany, as a "leader in the shipping and wind power industries is also a target market for our own products." said Yılmaz, going on to say: "The fact that Bremen's involvement in the wind power sector and the shipping industry are especially well-developed is one of the economic reasons that brought us here." By setting up a new "cleantech hub", he wants to "build a renewable energy bridge between the cities of Bremen and İzmir." According to Yılmaz, both cities share the vision and objective of becoming a cleantech centre and therefore to take the role of pioneer.
Werover GmbH represents increased added value for the German Federal State of Bremen.

Clas Vögeding, Project Manager at Bremeninvest


Company set up successfully: "Werover GmbH represents an increased added value for the German Federal State of Bremen. The company is young and innovative, and has already acquired a number of different partners for collaboration, including the Fraunhofer IFAM and the DFKI in the Bremen Technology Park. Due to the revolution in energy policy in Germany, we can expect Werover's products to be in even greater demand in future", said Clas Vögeding, Project Manager at Bremeninvest.
Looking for specialist staff for rapid expansion
Zeynep Balca Yılmaz and Kazım Çağlar Erat, the two founders of Searover, have established an excellent network within their sector over the past few years. They are, among other things, distributors for Blue Robotics, Water Linked and Delta Rov. They not only sell the products produced by these international companies but also use them in their own robots. The synergies created by these cooperative business arrangements will also benefit the new company, Werover GmbH, in Bremen.
In the coming years, Yilmaz and Erat aim to rapidly expand their business in Bremen and, in particular, drive forward their research and development projects. The company's own plans foresee the Bremen team at Werover growing to a workforce of 33 by the end of 2027. To achieve this, they are on the lookout for software developers, business developers and service and maintenance technicians.