The EcoMaT research and technology centre
Bremen's contribution to the key technology of lightweight construction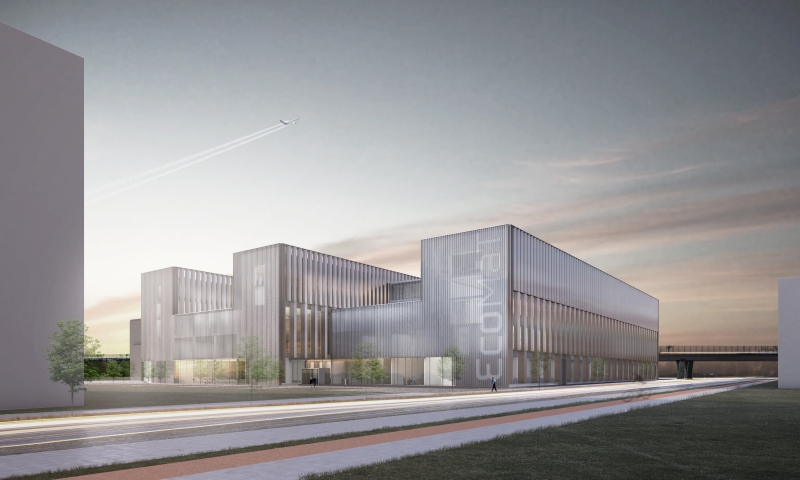 The EcoMaT research and technology centre, currently under construction in Airport-Stadt Bremen, brings together Bremen's existing commercial and research expertise in the field of lightweight materials. EcoMaT, the Centre for Eco-efficient Materials & Technologies, is located in close proximity to Bremen airport and important industry partners. Soon, around 500 specialists in lightweight construction from business and science will be working together here under one roof.
Close proximity and joint projects speed up innovation processes, which are then applied across different sectors at an early stage of their development. The shared use of laboratory facilities and the technology centre represents another advantage. This saves costs and also makes it possible to collaborate on future investments.
Please see the company directory for an overview of EcoMaT partners.
The EcoMaT partners are dedicated to interdisciplinary and intersectoral collaboration in the key technology of lightweight construction. This approach involves observing and analysing technologies as a system, from an application-focused perspective. Lightweight construction entails making the most efficient and effective use of materials, as well as developing new materials. That means carrying out research into topics such as how to design products and segments – through the integration of new material properties, the convergence of materials and sensors, and building methods which are better suited to the materials – and then applying the results in practice. The focus on application also extends to the associated processes, and to incorporating the technological findings into production techniques.
A long-term partnership established within the context of the technology centre offers added value by facilitating technical discussions and through an understanding of scientific and commercial requirements. It also provides synergies in the areas of teaching and training. The results derived from R&D activities flow into future products and applications. They also make it possible to identify future requirements for skills training and staffing levels, which can be met by Bremen's business and research community.
By 2019, the EcoMaT research and technology centre will provide around 22,000 square metres (gross) of office, technology centre and laboratory space for around 500 employees. Following several years of planning, the ground-breaking ceremony on 8 April 2016 marked the start of EcoMaT's implementation phase.
The property developer for EcoMaT is H.A.G.E. Grundstücksverwaltungsgesellschaft mbH, a wholly owned subsidiary of Bremeninvest. EcoMaT is being built with approximately €58 million of loan financing, without any direct public subsidies.
Actually, EcoMaT is already here. Bremen may be waiting for the EcoMaT 'body' to be completed, but the brain is already hard at work! The EcoMaT partners have begun to implement joint R&D projects and collaborations. The full array of tools and services from Bremeninvest and Bremen's development bank (Bremer Aufbau-Bank) are available to support innovative projects, in particular ones from SMEs in Bremen. More on funding and support options
As part of its coordination of EcoMaT, Bremeninvest supports the EcoMaT partners in applying for development projects, organises workshops and events, represents the EcoMaT and its partners at trade fairs and conferences, and keeps the network partners up to date through newsletters.
As part of the Bremen ERDF Operational Programme, Bremeninvest, on behalf of Bremen's Senator for Economic Affairs, Labour and Ports, is responsible for coordinating the activities of the EcoMaT partners and the network.