11 April 2019
-
Jann Raveling
Effective search: intelligent search algorithms for your website
Creative / Media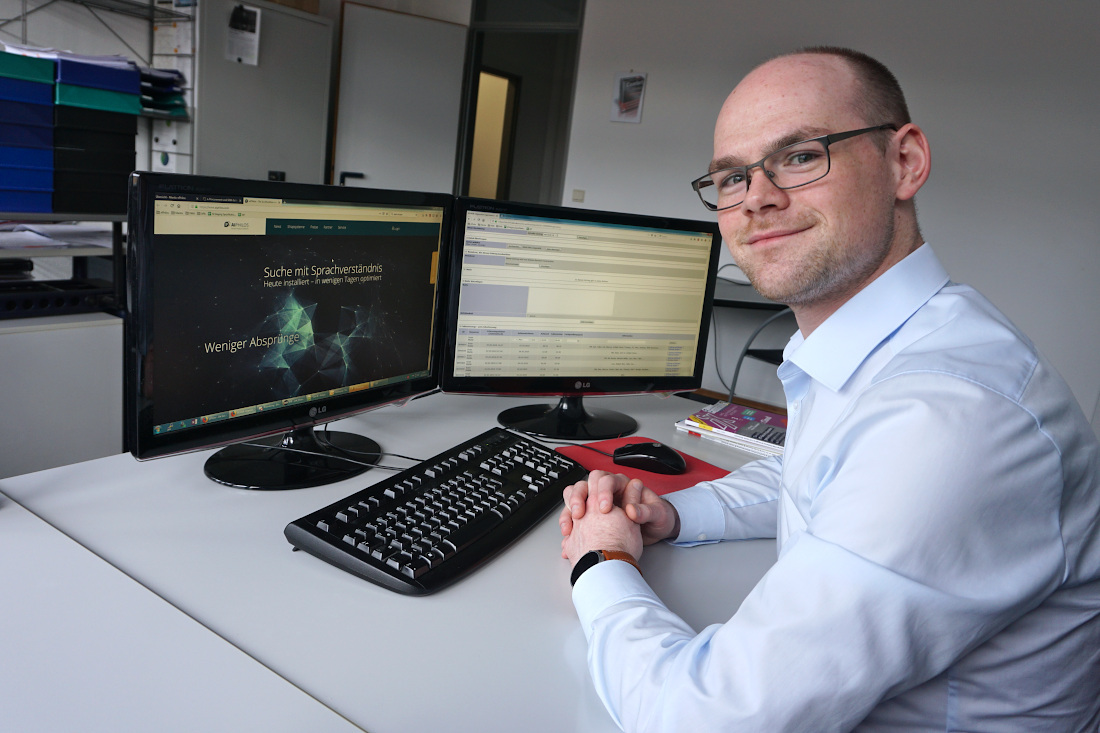 Search engines such as Google now rely on artificial intelligence to provide the user with the best possible experience. But what the tech giant from Silicon Valley can do has so far been out of reach for web shop owners.
Language isn't always straightforward. If I search for 'apple' online, I could be looking to upgrade my mobile phone or tablet, or I could be embarking on a health drive. How is the machine supposed to know what I mean?
Search engines such as Google solve the ambiguity of our language by using sophisticated algorithms that rely on artificial intelligence (AI), among other things. Over time, AI learns what the user actually means and optimises the search results accordingly.
Google for everyone
Simple search functions on web pages and online shops are usually unable to do this. "The conventional algorithms available on the market search directly for the search term. If a key word is found in a product description, then it appears in the search results. Irrespective of whether the corresponding product really matches the search request or not," says Sven Muhle, head of development at new Bremen-based search specialist aiPhilos.
Unsuitable search results can be frustrating, as you receive hundreds of results of which only a few are relevant. And this type of search is often also very slow. Now aiPhilos has developed a search that changes all this. It is adaptive and can search semantically, i.e. it is able to understand the meaning of the search request.
It does this by using artificial intelligence. The technology is the result of a joint development project between Bremen-based software company ePhilos AG and the German Research Center for Artificial Intelligence (DFKI).
Installed with a few clicks
The aiPhilos technology could revolutionise the search function for many companies, as it is easily integrated into almost any shop system and content management system (CMS). The Bremen-based company's partner agencies are developing plug-ins to facilitate this, for example a Shopware plug-in that can be installed with only a few clicks. "As soon as the plug-in is running, the search engine loads the product catalogue into our cloud and starts training the AI. After only three to five days' training, the AI returns hugely improved search results," says Muhle.
He firmly believes that better search results mean fewer aborted sales and greater customer loyalty. He hopes that the owners of online shops and product catalogues will be willing to pay a fee for this – that is the business model behind aiPhilos. The plan is to spin off the company from its parent, ePhilos AG, and set up a small independent team.
Secure data
The use of AI and cloud technology inevitably raises questions about data security. The company has also thought of this. "Our data is only processed in Germany. Also, no user data from the customer system is transferred to our cloud. Our AI only works with anonymised data," Muhle explains.
The system is unique on the market, a competitive advantage that the company hopes to monetise. In addition to providing better and faster searches, aiPhilos can also provide advice on search engine optimisation, or SEO. This can help shops and merchants to increase their reach and their revenue.
"Alexa, find …"
A particularly interesting area of application for the AI tool is voice-based search, which is currently experiencing a boom thanks to devices such as Amazon's Alexa and Apple's Siri. Especially as we tend to be even less precise when saying what we want than we are when writing it. "I've found these concealers for you" could be a possible response from aiPhilos to the question "Alexa, I need something to hide the bags under my eyes!" without the user needing to know what product they are searching for. "Our AI learns from the user's behaviour and their choice of words. The more the AI is used, the more effective it becomes," says Muhle.
And it makes no difference what it is used for – whether it is internal catalogues or public-facing shops, or documents, pet supplies, cosmetics, screws or camping equipment.
The next generation of AI is already in the pipeline
The DFKI and ePhilos team is currently working on a new research project called 'KI-Staging'. Its goal is to have AI populate the product pages itself and add any missing information, making it much easier to maintain product descriptions.
Muhle is excited about this project. "The key advantage of AI is that we no longer have to adapt to technology. Instead, technology is learning how to process our behaviour. I am inspired by the possibility of making people's daily lives easier," he says.
The development of aiPhilos and its successor project are funded by the research, development and innovation programme (FEI) of BAB, the development bank for Bremen and Bremerhaven. The programme is partially co-funded by the European Regional Development Fund in Bremen (ERDF) and helps small and medium-sized enterprises to minimise the risks associated with developing products, processes and services.