Media centre
Brand toolkit for public and private partners
Perhaps you need the correct Bremen logo for your poster, flyer or trade fair stand? Maybe you would like to use the Bremen communications templates to design a brochure, flyer or other print product? We want to make this as easy for you as possible so that you can play your part in establishing the Bremen brand.
We support the work of organisations, institutions and initiatives in Bremen with a comprehensive portfolio of integrated marketing services.
The corporate design manual
Introduced in March 2016, the corporate design manual provides standard formulations for the core Bremen city brand as well as copyright-free photos and the brand architecture for the Bremen region.
The manual specifies a corporate design for Bremen, the Bremen region and Bremerhaven that is to be used in more official communications, as well as an overarching 'umbrella' branding system for Bremen and Bremerhaven together.
Brand manual
The branding puts the two cities on an equal footing. The slogans or straplines that are integrated into the wordmarks indicate what product line or campaign is being featured.
The corporate design manual also contains marketing templates for print media of all types and sizes. When used in combination with the Bremen branding, these help to make official Bremen communications more easily recognisable.

A graphical representation of the brand architecture and the complete design manual as well as examples of the logo can be downloaded below.


Brand-Manual Bremen and Bremerhaven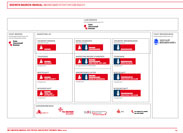 brand architecture Free Hanseatic City of Bremen
Tourism

Economy


Bremen + Bremerhaven

Home of Innovation