25 October 2018
-
Jann Raveling
Bringing India and Germany closer together
Startups
Dhewish is using digitisation to connect industry in the two countries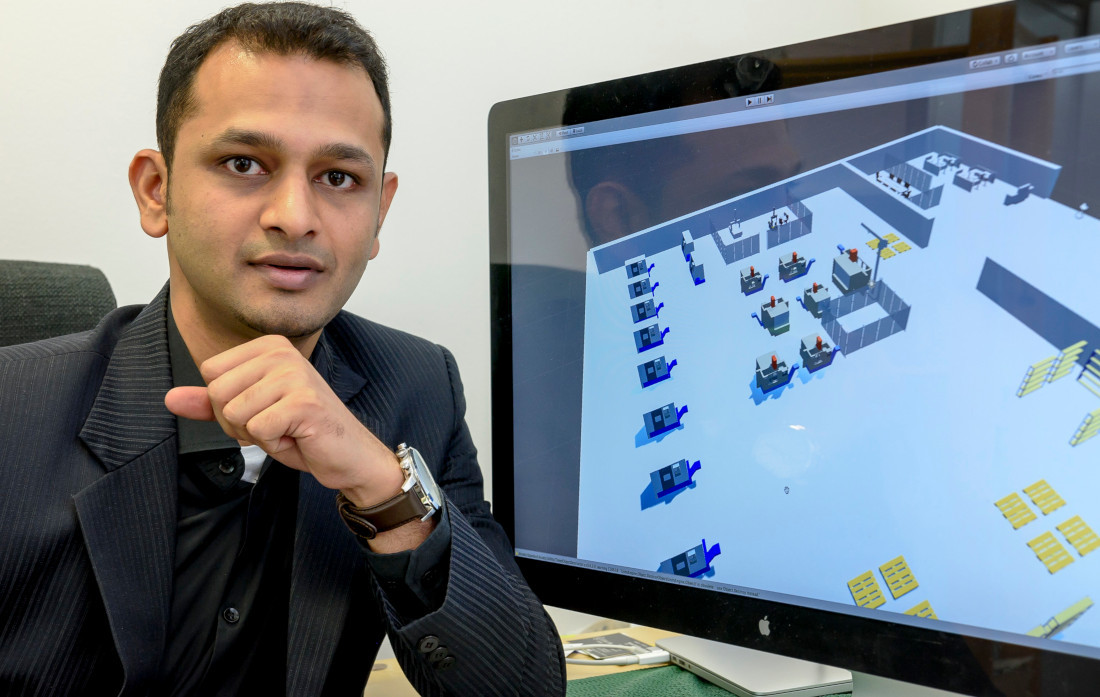 The best of both worlds. A young Indian from Bremen is helping German engineering to benefit from India's factory capacities and vice versa. And everything is completely digitalised – with one click in real time, an order can be sent straight to the Indian factory. The benefit for manufacturers is huge.
Padmaraj Pattanashetti is a citizen of Bremen by choice. The 32-year-old Indian loves to have a beer on the Schlachte riverbank, likes the historical architecture around the city centre, and enjoys the peace and quiet and above all the mulled wine and Christmas market in winter. He raves about Bremen: "Bremen is my school, this is where I was educated, this is my land of opportunity, this is where I have my contacts".
Padmaraj came to Bremen in 2012. A year earlier, as a young graduate visiting the Hannover Messe, he had witnessed the first presentation of the German government's Industry 4.0 concept. It was immediately clear to him that this was the future. As an engineer, he saw the potential of digitalisation in industry – and so he started looking for relevant master's degree courses in Germany, before discovering the BIBA Institute for Production and Logistics in Bremen. "That's where I wanted to go, I wanted to benefit from all their expertise," recalls the engineer six years later.
He stayed on in the city (a relatively small one by Indian standards) and came to love his new home by the Weser river. It was in Bremen that he published his master's thesis on the subject of networked, remote-controlled machines and where he came up with the idea for his own company: Dhewish.
Combining the best of both countries
Dhewish brings India and Germany closer together. It aims to combine the best of both worlds. "German industry is highly sophisticated, it's a standard-bearer in terms of quality and manufacturing. But this comes at a price. Many branches of industry lack agility – they cannot react quickly enough to changes in the market," says Padmaraj. "Indian industry is much more flexible, faster and significantly cheaper, but it lacks manufacturing know-how."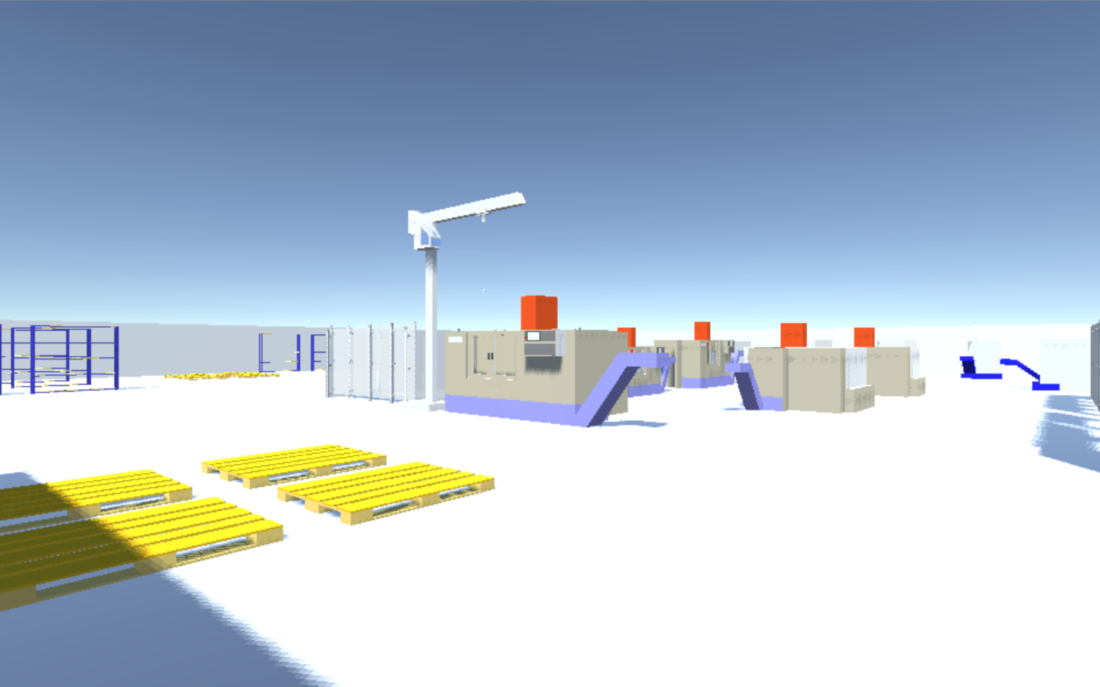 To bridge this gap, Padmaraj developed a digital platform that brings together manufacturers and factory operators from the two countries. The Indian factories have been completely digitised on the platform. Like in a video game, users can move freely in a 3D mock-up of the premises. They even have the option of using virtual reality glasses. Up-to-the-minute plant data, such as the production rate or machine outputs, are recorded and displayed in real time. The factory is completely simulated – a digital twin.
Building trust in foreign production sites
The benefit for German clients is huge. They can get an impression of the factory without actually visiting in person. They can contribute their manufacturing knowledge in real time to optimise processes or make changes, thereby increasing efficiency and production quality.
The platform creates transparency. Transparency that forms the basis of trust. "Typically, manufacturers and suppliers meet at trade shows like the Hannover Messe, visit each other, and then at some point agree to work together. Dhewish accelerates this process and simplifies it at the same time," says Padmaraj.
Dhewish also increases the response time – the time it takes for changes in the production process to be realised. Padmaraj calculates that a client order can be implemented in India within 96 hours. "Nowhere else is it as fast," he says.
Bridging cultures
Dhewish wants to be the Airbnb for factories, a platform where manufacturers and suppliers meet. Unlike the large-scale American model, however, the platform is not open to the public. This is to protect data and safeguard corporate privacy.
Padmaraj facilitates communication between client and contractor. "I know both countries and so can mediate between the two cultures and languages. This prevents misunderstandings," he says. "Indians are often very enthusiastic and highly motivated and first have to get used to the often lengthy processes favoured by German companies."
In order to find the ideal candidate for each enquiry, he compares more than 26 parameters using a specially developed model, which can also factor in any certifications or particular production methods that are required.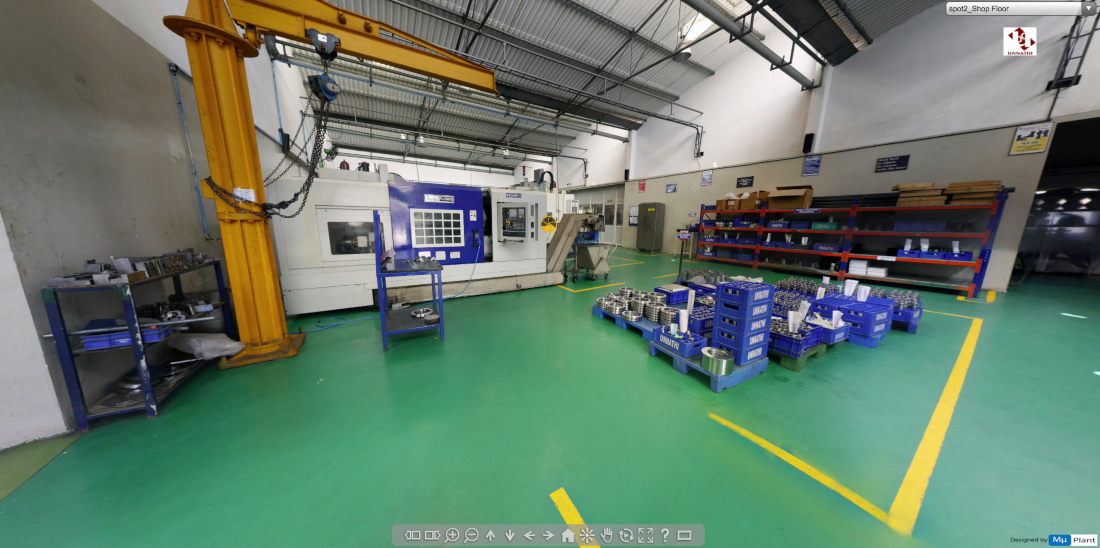 Capitalising on a huge market
Around 30 Indian factories have already been digitised on the platform, and many more are set to follow. Padmaraj has already placed the first clients. They come from various sectors – electric-powered transport, consumer goods and plant engineering. What matters isn't the industry after all, it's the match between the client and supplier. At the end of the day, the quality of the work has to be right.
Clients approach Padmaraj with their designs and material ideas. He then searches for the right supplier and makes an offer. If the proposal meets the needs of both parties, they can then plan and optimize the production process via the digital platform.
A whizz-kid from Bremen
Padmaraj is currently working on finding more clients and contractors, and on optimising and automating his digital model. It's worth noting that he is still a lone warrior. From business development to programming, he does everything by himself. Only his former professor at BIBA supports him as a mentor. In India, he works with a small team that digitises the factories. So that he doesn't get buried in work, he is now looking for investors who can put the company on a secure footing. He has even put up all of his own funding so far.
Dhewish HQ at Bremen's World Trade Center
Padmaraj's desk is located in Bremen's World Trade Center next to New Ideas Craft run by Paramjit Kohli – a good friend. The two Indians met in Bremen and have already worked together at BlumBio Solutions, a brand under which Kohli sells biodegradable single-use tableware. Kohli advises his younger colleague on all matters regarding law, taxes and red tape for a fledgling company in Germany. And it's all because he sees great potential in the platform: "There must always be a bridge, a mediator between worlds. Padmaraj wants to combine the best of both countries, that's what I like about his idea".
---
If you are interested in settling in from abroad, please contact Andreas Gerber, Tel. +49 (0)421 9600 123, andreas.gerber@wfb-bremen.de.
If you have any questions about the World Trade Center Bremen, please contact Elisabeth Breidbach, elisabeth.breidbach@wtc-bremen.de, Tel. +49 (0)421 9600-241
When it comes to founding your own company, there is no way around the Starthaus in Bremen and Bremerhaven: www.starthaus-bremen.de, Tel. +49 (0)421 9600 – 372.
Success Stories
Digitization
2 February 2023
Me AI, you Jane!
ChatGPT is on everyone's lips. But the ingenious artificial intelligence has its flaws and limitations. What can the next step look like? In Bremen, a completely different AI is being created with MUHAI - which for the first time really understands what it says, sees and does. And thus solves an old problem.
Learn more