23 July 2021
-
Jann Raveling
The Commercial Cargo Bike is Here to Stay
Startups
Cargo bikes playing a commercial role in Bremen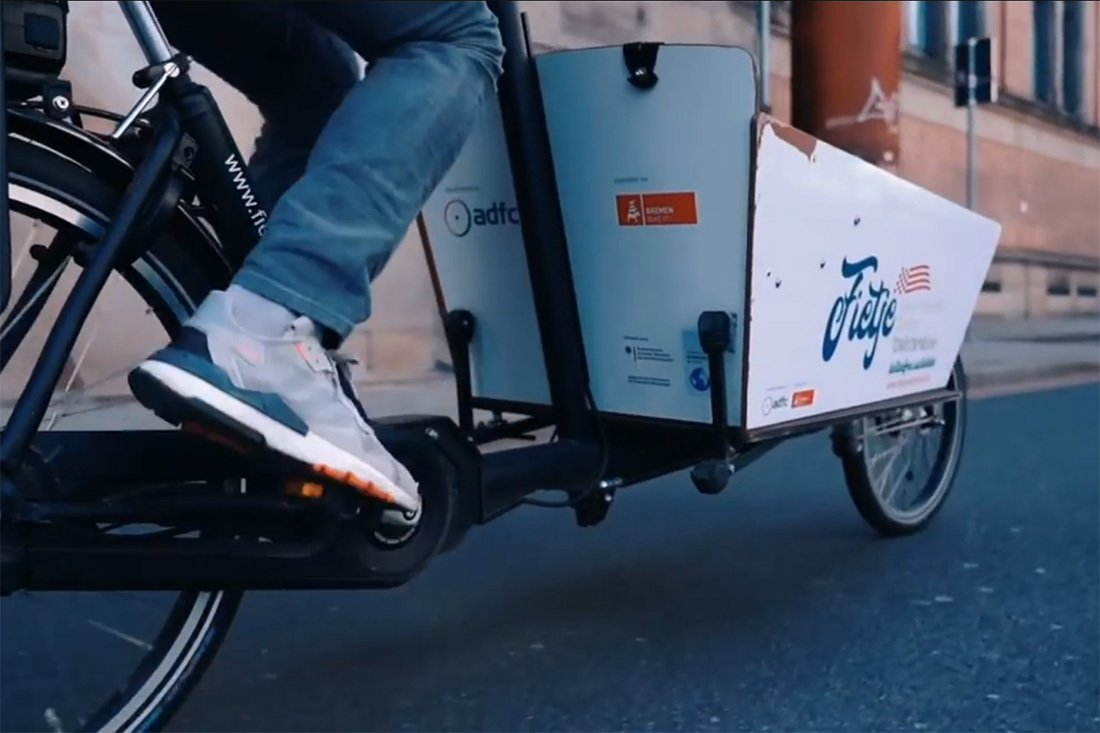 Cargo bikes are quiet and emission-free and take up less space than a car. They improve the atmosphere in a city in so many different ways. No wonder that they're becoming ever more popular with the general public. According to ZIV (the German bicycle association), over 100,000 cargo bikes were sold in Germany last year. Manufacturers such as the Bremen company Velo Lab, which has its production facility in Überseestadt (the New Harbour District), are close to running out of capacity and are often booked out for months ahead.
However, these versatile two-wheelers are also making their presence felt in commercial applications. They offer a real alternative to cars for the stationary retail trade, tradespeople or the hospitality industry, whether as a means of delivery or for purchasing goods. You no longer have to search for a parking space when a cargo bike can be brought directly to the shop door for loading or unloading. There's no parking charges to pay and you can get around the town centre more quickly on a cargo bike than in a car.
"I deliver wine on a cargo bike three times a week", said Diane Boldt, owner of the "Gluck Gluck" wine shop in Bremen Neustadt. She uses the bike-sharing service provided by the Bremen company Cycologic to do so. "I've never had my own car, and I like using the bike. It's also important to me, and to my business, to avoid using a car unnecessarily and reduce emissions."
She is now taking part in a pilot project in Bremen, called "Wir satteln um aufs Lastenrad" (we're switching saddles to a cargo bike), together with five other sole traders in her district. They have clubbed together to buy an electric bike trailer, and plan to use it when they're delivering or purchasing goods in future. They want to pool their resources because cargo bikes or electric bike trailers are often expensive to buy. The project is being backed by the Senator for Business, Work and Europe.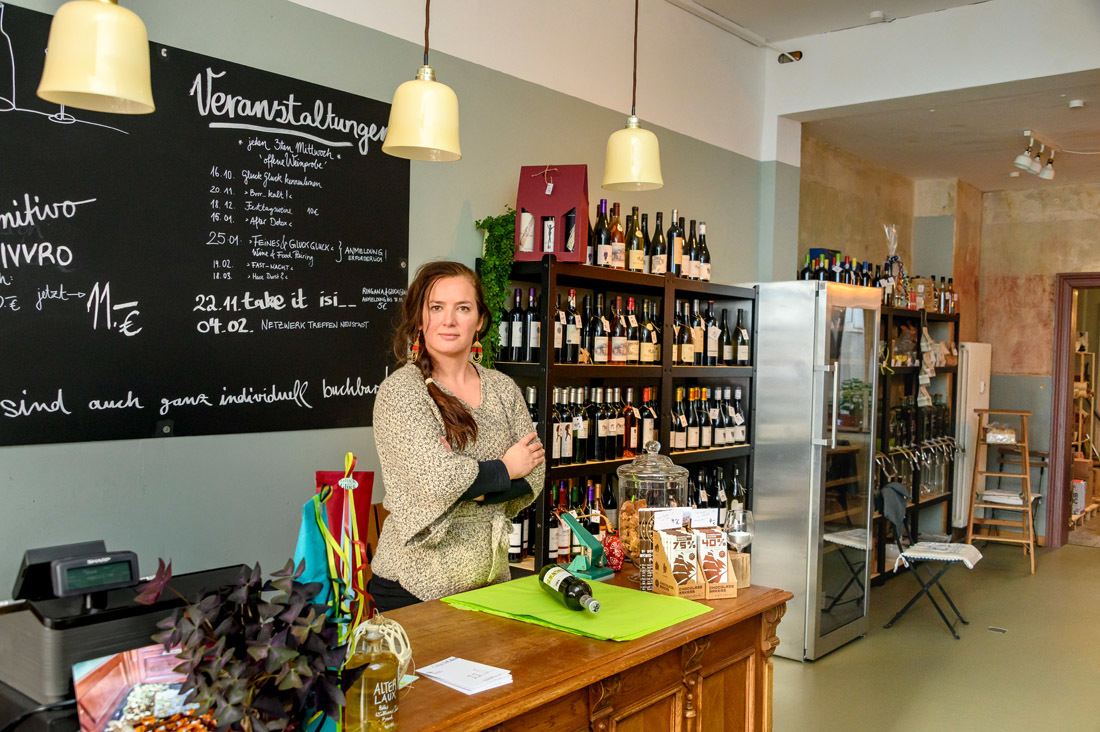 The challenges of commercial cargo bike use
High costs are an obstacle to commercial use – models with an electric drive can easily cost up to half the price of a small car. A bike-sharing service is one way to overcome this difficulty. "Even so, the bikes have to be stored and made available for use at a central location, and have a user-friendly booking system to make them easy to borrow. That all increases the acceptance of bike-sharing offers", said Sven Hermann, Professor of Logistics, who is the Coordinator of the pilot project in Bremen Neustadt. Around 30 percent of all goods transported in the inner city could be moved by cargo bike, he reported in the ADFC Bremen magazine.
"Cargo bikes represent a new way of living in the city, which is no longer centred around the car and which will enable people to benefit from urban space once again", said Hermann. With this aim in mind, the Bremen bicycle dealer Sønstebys rents out cargo bikes to tradespeople.
A multitude of initiatives and projects have been set up in Bremen with the aim of promoting the use of cargo bikes by businesses and private citizens alike:
The Stadt.Land.Lastenrad (Town.Country.Cargo Bike) initiative
This initiative aims to "increase awareness about cargo bikes, create networks of people interested in them and highlight ways in which they can be used". In addition to running the initial discussion meetings, which brought together representatives from Germany, the Netherlands and Austria, Sven Hermann's team is busy coming up with new ideas and uses for cargo bikes. One of their first suggestions is a picnic bike, which will be offered to tourists who want to explore Bremen by bike:


Recommended Editorial Content
Leider ist beim laden des externen Inhalts etwas schiefgelaufen.
The team is also thinking about parking garages for cargo bikes. "One of the major problems with cargo bikes is that they need a lot of space. They often don't fit into standard bike parks, and you can't just park them on the kerbside because there is too much risk of them being stolen", according to Sven Hermann, who, besides being a Professor of Logistics, is not only a keen cyclist but also an innovation coach. A survey of the inhabitants of Bremen Neustadt, performed as part of this project, also confirmed these findings. The survey results revealed that, along with the expense, the lack of space is a primary reason for people not purchasing a cargo bike. The project team is currently working on an initial prototype of a cargo bike garage, which could be installed in public spaces as an alternative to a car parking space.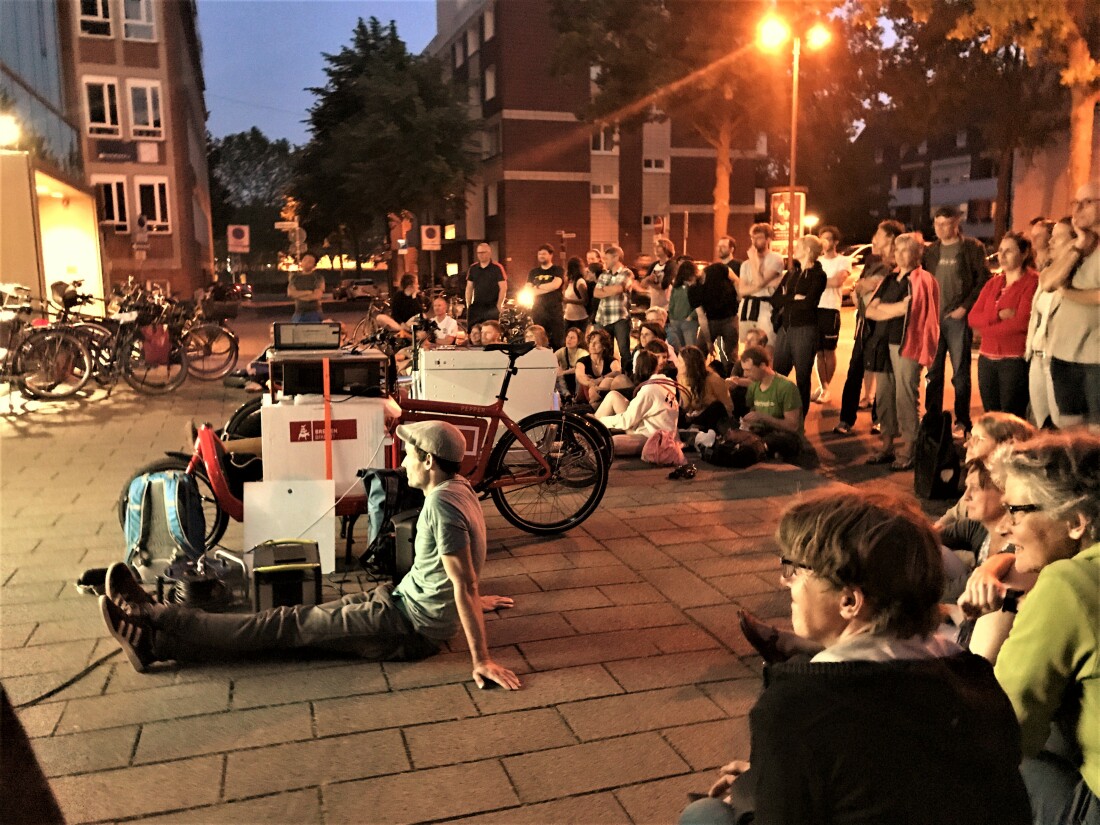 Cargo bike rental and delivery associations
At the same time, a broad range of initiatives and projects are also closely involved with renting out cargo bikes. They include the ADFC (German Bicycle Association) with its "Fietje" (bike) project (supported by BIKE IT!) and numerous neighbourhood initiatives.
In addition to renting a cargo bike, clubbing together to buy one is another way of saving money – which is what Diane Boldt and the other shopkeepers in Bremen Neustadt did. In response to the coronavirus crisis, this neighbourhood also set up a "delivery association" which was supported by the Bremen City Senate. This association initially provided a free delivery service, but will in future become a platform for bike users and offer e-cargo bike sharing options.
Cargo bikes for courier services
Many of Bremen's courier services have switched to using cargo bikes and can now deliver heavy loads, up to and including Euro palettes. An example of this is the Urban-BRE project, which has been testing out a new concept in urban logistics since 2019: using cargo bikes to deliver packages to "micro-hubs". All the deliveries from Bremen's freight centre to the "Viertel" district are gathered together, loaded into the same container and then brought into the neighbourhood by truck. From there, cargo bikes supplied by the Bremen supplier RYTLE transport the packages (some of which can be as big as a pallet, in size) from the container micro hub to their final destination. This saves the CO2 emissions generated by the "last mile", when delivery vehicles often have to stop, park and set off again to make deliveries to individual addresses. Delivery bikes are also more agile and can park more easily in this district's narrow alleyways. The successful pilot project received financial support from Bremen's Senator for Business, Work and Europe and there are plans to extend it.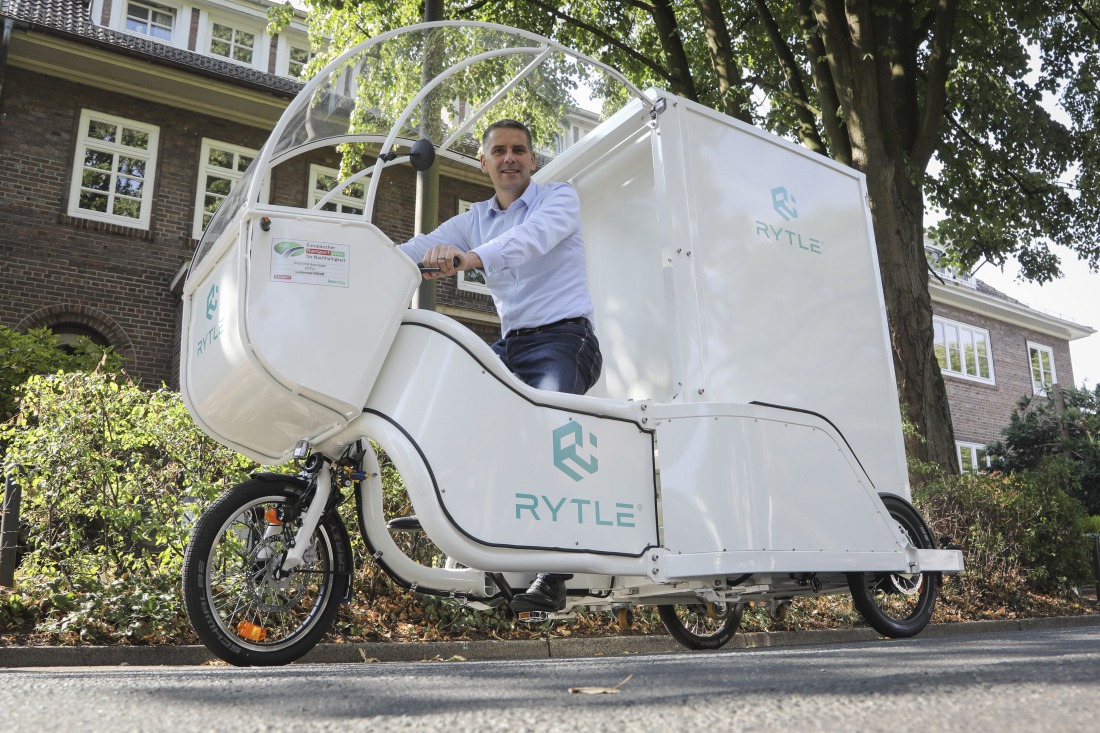 Findings and discoveries from the UrbanBRE project are also being included in the ULaaDS EU initiative. The city of Groningen in the Netherlands, the Belgian town of Mechelen and Bremen are working together to analyse how goods are currently moved around city centres and how this might happen in future. They're researching alternative transport solutions together. They are investigating both private transport and commercial traffic. Micro hubs, electric cargo bikes and on-demand services are just a few of the options currently being analysed. The EU project started in the autumn of 2020 and will run for three years. BIKE IT! is also involved in this.
"Using cargo bikes or e-trailers to transport goods the last mile gives us the opportunity to reduce inner city traffic, drastically cut emissions and improve the quality of life of our citizens. Although Bremen is already the most cycle-friendly major city in Germany, we still need to do more and implement new initiatives", said Jens Joost-Krüger, Location Marketing Project Leader at Bremeninvest.
Promoting cargo bikes:
e-cargo bikes are receiving support at government level
The German Federal Ministry for Environment, Nature Conservation and Nuclear Safety encourages people to buy e-cargo bikes and trailers by paying a quarter of the purchase costs.
Support for cargo bikes in Bremen
The State of Bremen is currently planning its own program of support for cargo bikes to complement the initiative at governmental level. The planned start date is still 2021, but the exact details have yet to be finalised.