9 July 2019
-
Anne-Katrin Wehrmann
The Lego bricks of conveyor technology
Bremen Technology Park
Revolution on the conveyor line: Bremen-based start-up cellumation causes a stir with innovative material handling system
Conveyors transport goods from A to B but, until now, more complex tasks such as turning and sorting required specialised and therefore inflexible systems. The Celluveyor system developed by Cellumation, a start-up located in the northern German city of Bremen now offers the logistics sector an innovative solution that can be adapted to a wide range of requirements. There has been huge interest around the world, and full production is set to start soon.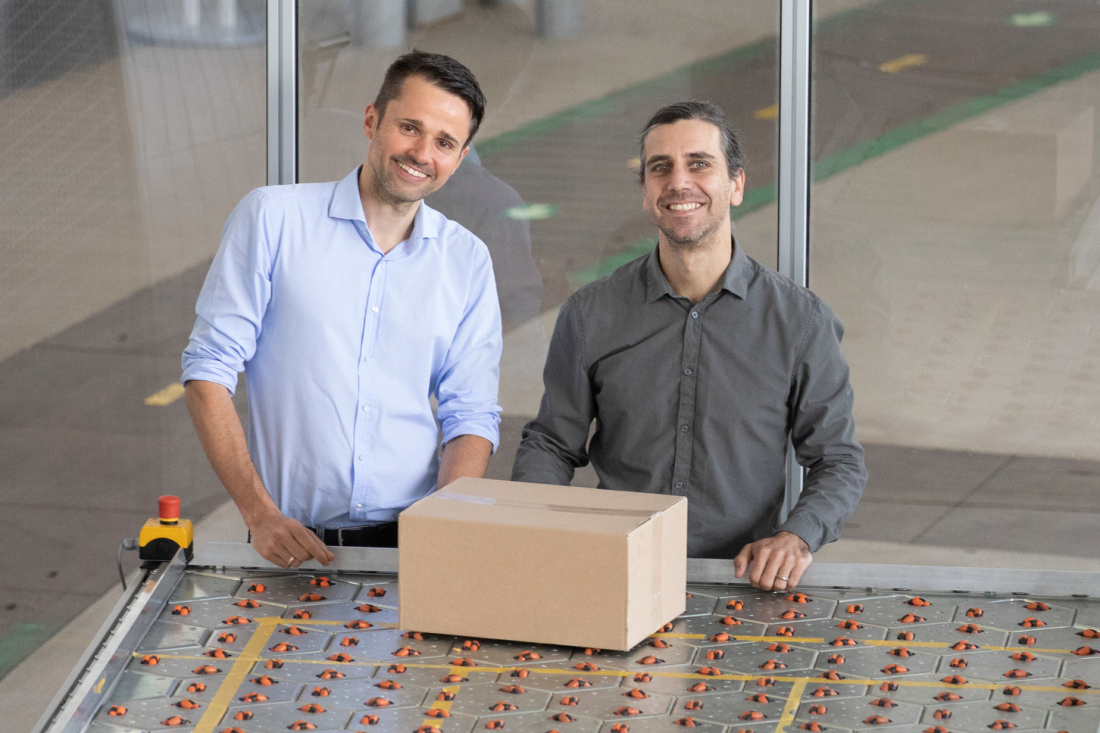 An upside-down football robot
It has been a few years since mechanical engineer and patent scientist Claudio Uriarte, 40, saw a football robot in action on YouTube. The small robot moved around on wheels which could be steered in any direction, making the robot very agile and flexible. It gave Uriarte, who at the time was a research associate at the Bremen Institute for Production and Logistics (BIBA), a great idea: why not turn the robot on its head and use the wheel technology to transport objects?
Using bits and pieces he found lying around his workplace, he constructed a small hexagonal surface with three independently controllable wheels. The first prototype of the 'cellular conveyor', or Celluveyor, was born.
Cells can be combined to create systems of any size
The Celluveyor's USP is that any number of cells can be combined to create systems of any size, and thanks to custom software they can then be used to complete a wide range of tasks. Sorting objects, transporting them at different speeds in straight lines or around corners, rotating, filling pallets – anything is possible as each wheel can be controlled separately. "We've basically created the Lego bricks of conveyor technology," Uriarte says.
It soon became clear to him and his colleagues at BIBA, Hendrik Thamer and Ariandy Yoga Benggolo, that this invention has the potential to revolutionise conveyor systems. The technology was successfully patented, and the three applied for funding from the Federal Ministry for Economic Affairs and Energy, which supports business start-ups within the research community through its 'Exist' programme. "We could see the technology's huge potential right from the outset," says Hendrik Thamer, who is 38 and has a PhD in engineering.
At the same time, the two founders took part in the 12-month coaching programme of the Starthaus Bremen from April 2015 to April 2016 and prepared themselves conceptually and entrepreneurially for the step into self-employment.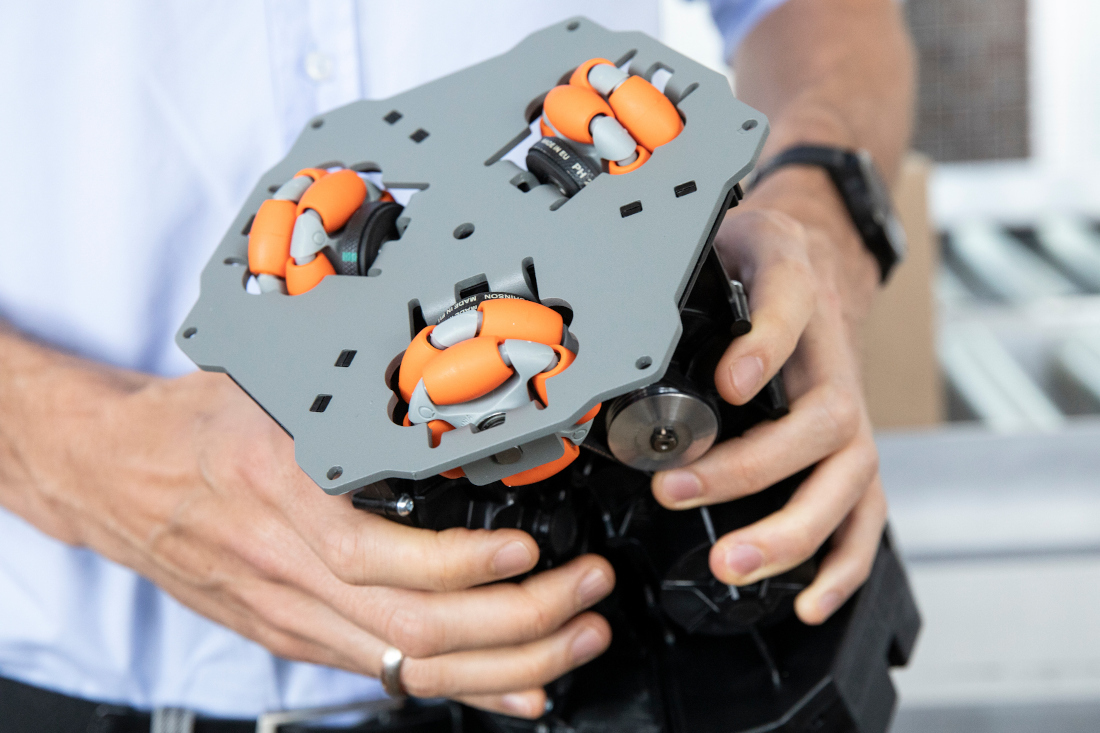 DHL award provides recognition and motivation – and a pilot project
Two years ago, the scientists created cellumation as a spin-off of BIBA. A few months before, the team had won the Shark Tank competition for innovative ideas in logistics at the DHL Innovation Day. Hendrik Thamer believes this is one of the most important awards in the impressive collection that the start-up has garnered so far. "At that point, we had no idea where our work would take us. The DHL award not only provided plenty of recognition and motivation but also ensured that the international world of logistics took notice of us for the first time," Thamer says.
And there was more to come – the logistics giant expressed an interest in running a pilot project at the DHL site in Braunschweig to test how the Celluveyor fared in the real world. "That was ideal for us as we were able to use the feedback to further optimise the system."
Recommended Editorial Content
Leider ist beim laden des externen Inhalts etwas schiefgelaufen.
Simple to use via touchscreen
The individual cells, which consist of a hexagonal piece of sheet metal with three wheels, three electric motors and an integrated control circuit, all look identical. It is the software that controls how the whole system functions. "Controlling each cell is a highly complex affair," explains Thamer, "but operating it is very simple. Anyone who knows how to use a smartphone or a tablet can use the touchscreen to tell the system what to do." If one cell stops working, the neighbouring cells immediately send an alert. One of the great advantages of the modular system is that it is easy to replace a defective module. "This means there's no costly downtime, which makes our system really stand out. What's more, the Celluveyor can fit into the tightest of spaces. It requires up to 95 per cent less space than other conveyor systems," says Uriarte.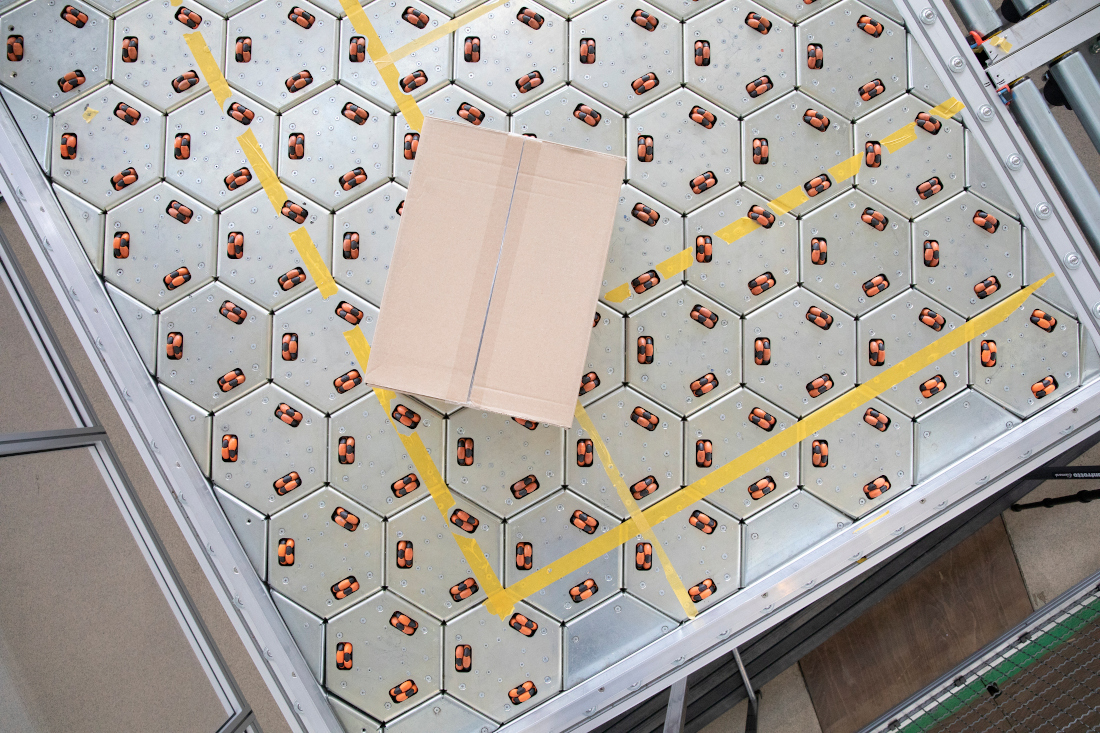 Helping to transform the industry
In the meantime, word of the advantages of this invention is spreading throughout the logistics industry, and the first systems – made by hand at BIBA – have already been sold. Alongside DHL, customers include other well-known manufacturing and logistics companies. The start-up, which now has 21 employees, has recently moved to new premises in Bremen's Technology Park and is planning to start full production at a European site.
The aim is to make the technology the international standard
According to Thamer, the Celluveyor is more than a conveyor system: it also has the potential for entirely new uses in manufacturing and logistics. Keen not to give too much away, he says: "We want to be a company that plays a role in shaping change in the industry – by coming up with new ideas and approaches, and making them a reality. This is the only way that entirely new solutions can be developed." Thamer firmly believes that he and his team will not run out of ideas any time soon. He also considers the company's ambitious target quite realistic: "If everything goes to plan, in a few years' time our technology will have become established as the international standard. The Celluveyor has the potential to change the world of material handling technology in the same way that the industrial robot revolutionised manufacturing."
Press contact:
Laura Billen, marketing, cellumation GmbH, Tel: +49 (0)421 3311 3520, email: l.billen@cellumation.com
---
Starting a business in Germany? Look no further, Bremen is the right choice for you!