Free electric-powered transport
Startups
Bremen set to become incubator for UZE Mobility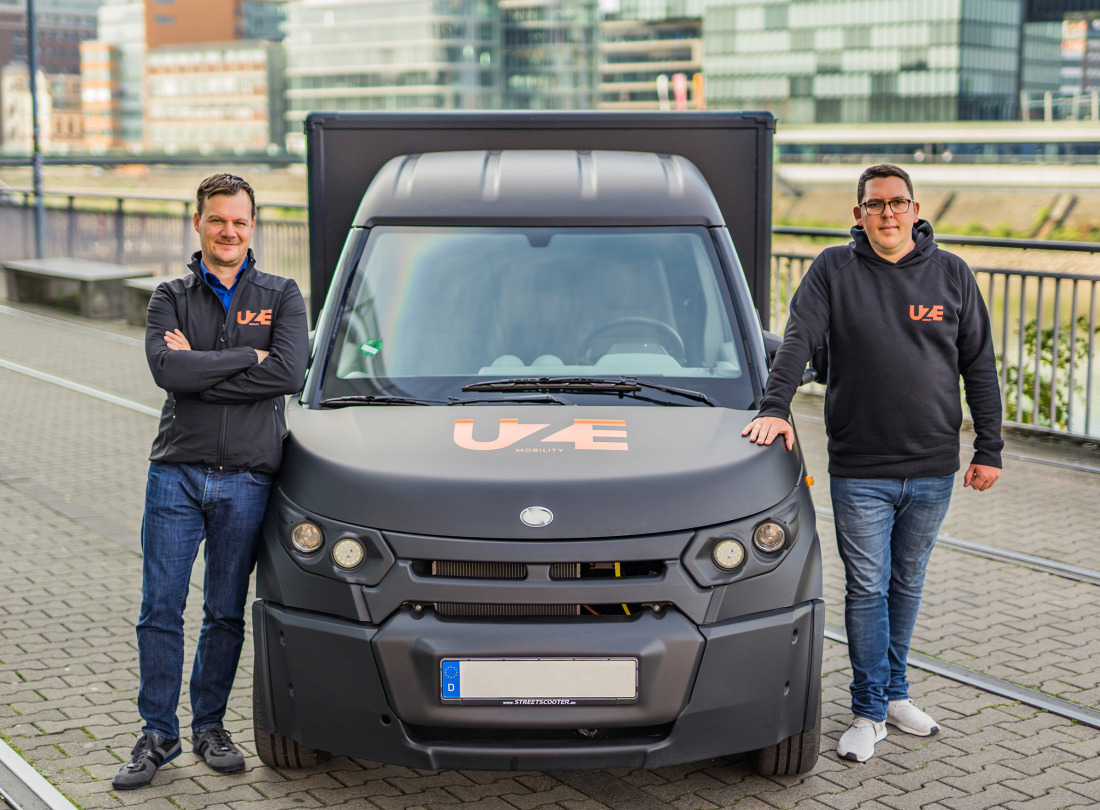 On behalf of its partner UZE Mobility, Bremeninvest announces the following:
Bremen, 19 November 2018 – Start-up firm UZE Mobility has decided to relocate to Bremen at the beginning of 2019. As part of its Smart-Digital-Mobile initiative, the city will be providing UZE Mobility, a spin-off from RWTH Aachen University, with financial and infrastructure support to develop and test new transport concepts. In addition to offering a free e-van rental service for private individuals and businesses, to be financed through the data collected, UZE Mobility is also developing an open innovation platform. This is going to collate and analyse all traffic and vehicle data in order to reduce inner city traffic and make it smarter, in collaboration with the most viable transport solutions from other providers.
UZE Mobility aims to make all city traffic more efficient and to reduce congestion. "We welcome UZE Mobility's holistic approach of using traffic data to elevate electric transport to a new level with the help of digital business models. That makes UZE Mobility an important element of our ambition for Bremen to become a model for other smart, digital cities. This is about much more than just reducing exhaust fumes and traffic noise. Companies like UZE Mobility are developing solutions for which there is global demand. We are very much looking forward to welcoming an up-and-coming company to Bremen that will put new, innovative transport solutions on our streets. This will also strengthen Bremen's overall position as an innovation hub," says Martin Günthner, Senator for Economic Affairs, Labour and Ports of the Federal State of Bremen.
"We are very grateful to Bremeninvest and development bank BAB for their extensive support, and for being so open to new ideas. With Bremen's activities relating to new transport concepts, such as the forward-looking Smart-Digital-Mobile initiative and the Green City master plan, we are confident that the city will be an excellent innovation partner and an ideal location for developing, testing and marketing our solutions," explains Bremen-born Dr Alexander Jablovski, CEO and Managing Director of UZE Mobility. "Naturally we will be painting our first electric company car in the green and white of local football team Werder Bremen," Jablovski adds with a grin.
"Data is the future, and it's the fuel on which smart cities run. But simply having technology is not enough, it needs to be put to use. This is why we will be setting up an information centre in Bremen where local citizens and companies can obtain information about electric-powered transport, traffic digitalisation, self-driving vehicles and smart cities, and add their own voices to the debate," explains Sebastian Thelen, CDO and Managing Director of UZE Mobility.
Bremen is supporting UZE Mobility as part of its smart city activities and the Green City master plan, which specifies a number of key areas, for example:
• Car sharing and non-motorised transport
• Digitalisation and networking of the traffic system
• Autonomous driving
• Changes based on alternative types of engine and fuel
UZE Mobility's UZE box collates and analyses vehicle and traffic data. Based on this, the start-up offers companies space on its vehicles for adverts targeted at specific geographical areas or interest groups. So when a car is in the vicinity of a football stadium, the display could advertise football boots, for example, while in an exclusive residential area it might promote luxury watches. UZE Mobility also intends to use the data to help improve traffic flow and aims to develop other data-based business models utilising blockchain technology. Among other things, the company is hoping to sell data collected by its vehicles about the state of road surfaces.
Backed by strong support from the city of Bremen, UZE Mobility plans to set up its Bremen office and aims to grow from 15 employees in 2018 to more than 50 employees in 2019. Across Germany, the company is hoping to reach 100 employees in 2019. Other pilot projects and city partnerships are scheduled to start at the end of 2018 and the beginning of 2019.
About UZE Mobility
UZE Mobility aims to significantly reduce exhaust fumes, noise and congestion in cities on a global scale by 2025. This will be achieved by analysing all vehicle, traffic and environmental data relating to a city, which will be collected using UZE boxes fitted to UZE Mobility's own vehicles and those of other providers. Based on this data, advertisers will be able to place adverts aimed at specific target groups or locations on the e-fleet of UZE Mobility and other providers. This is intended to finance the free rental of electric vehicles to private individuals and businesses in order to promote a comprehensive electric transport network. The linked UZE boxes will also create an open innovation platform. Using the data collected and analysed through this platform, UZE Mobility wants to link the most viable electric-powered transport solutions from different providers to each other and to their environment, and to develop data-driven business models.

Press contact
uze! Mobility GmbH
Christian Fischer
Press and Public Relations
Karl-Friedrich-Strasse 60 I 52072 Aachen I Germany
Mobile: +49 (0)173 8421 524
Email: christian@uze-mobility.com
Website: www.uze-mobility.com
Success Stories
Startups
9 August 2022
Spare parts from the printer
The pandemic has proven it: When supply routes do not work and production facilities are at a standstill, urgently needed construction and spare parts can often be a long time coming. The Bremen-based start-up WeserCAD has developed an innovative and fast solution.
Learn more