2 July 2021
-
Jann Raveling
Velo Lab: with new premises so it can keep pace with the boom in cargo bikes
Investing in Bremen
Hand-crafted cargo bikes, city bikes and gravel bikes in Überseestadt (the New Harbour District)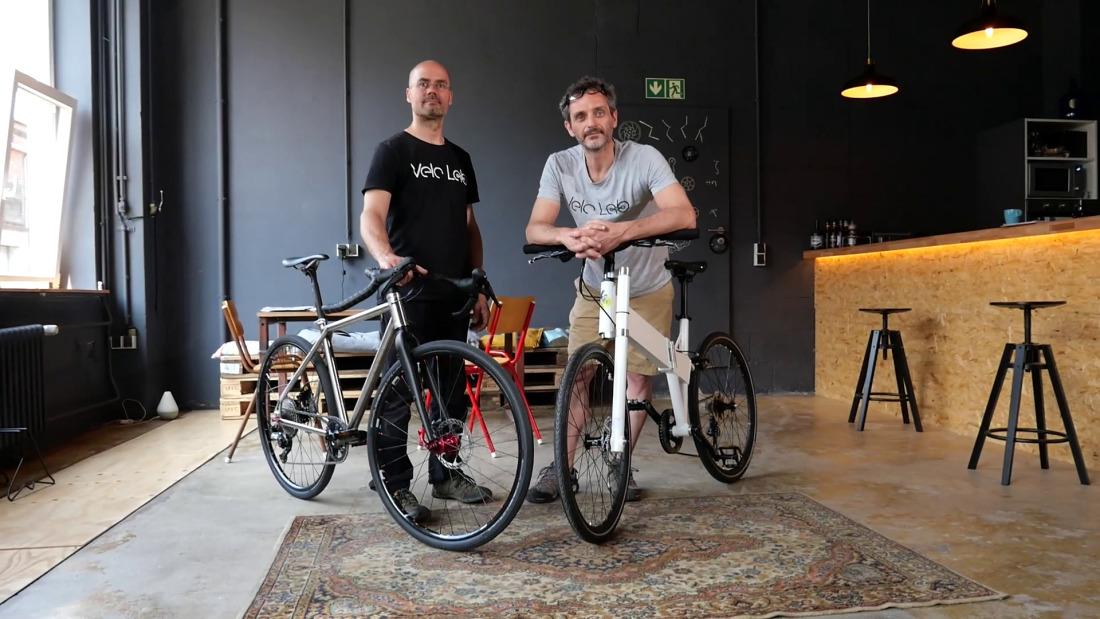 The cargo bike business is booming, as is Bremen bike manufacturer Velo Lab. With a new production facility in the New Harbour District, and innovative bike designs, its founder Stathis Stasinopoulos is truly in tune with the times. A "test drive".
The first time you ride a cargo bike, you'll notice the difference. It handles very differently from normal bikes, because the front wheel is around a metre in front of the handlebars. But, even after just a few metres, you'll get the hang of manoeuvring it and start riding smoothly rather than wobbling about. That's also thanks to the help provided by the compact electric motor that quietly drives the rear wheel. In front, you see a roomy cargo area with enough space for your weekly shop, including a drinks crate. And, if you look slightly further ahead than normal, when riding, there's no real difference from a normal bike.
Velo Lab best seller: The "Kàro" model
This Bremen company can supply electric motors on request, but if you want to rely exclusively on your own physical "drive units" (your legs!), choose the standard version of the "Kàro" model. Then you'll be the proud owner of the world's lightest cargo bike, which weighs in at a mere 18 kilograms without accessories. Some Dutch bicycles are much heavier. You'll really notice the difference, particularly on longer journeys.
Among other things, it's the lightweight aluminium frame and patented steering system, which uses Bowden cables instead of a clunky steering bar, that make this Bremen-built bicycle such a pleasure to ride. Using this innovative system, the front wheel can turn much further than any of its competitors, because steering bars are simply not as manoeuvrable as cables. The "Kàro" is as supple as an eel.
The cargo box is available in two sizes. The larger can easily accommodate two crates of beer. What's more, everything is built by hand, in the middle of Bremen's New Harbour District.
Recommended Editorial Content
Leider ist beim laden des externen Inhalts etwas schiefgelaufen.
A Greek in North Germany
Stathis Stasinopoulos and Jap Kellner are the people responsible for Velo Lab's existence. Stathis, a Greek citizen and experienced engineer, arrived in Bremen in 2017. It was the economic crisis in Greece and the difficulties facing cyclists in Athens that drove him to the banks of the Weser. However, he'd already started designing bikes before this: his first prototype came into being in 2012.
Stasinopoulos presented a more advanced model at the Eurobike trade show, Europe's largest bike trade show, in Friedrichshafen in 2014. His début was in a modest stand, which he'd built himself, and at night he slept in a camper van in the car park. "However, it was my bike that did the talking for me. A folding bicycle that was comfortable to ride and also looked smart was a novelty. There were lots of people interested in it, from countries such as Germany, the United Kingdom, Switzerland, France and Spain", said Stasinopoulos.
At that time, one of his friends was working as a shipping agent in Bremen and he got to know and love the city on the Weser through them. "Bremen is a fantastic city for bike-lovers. Not only that, but from here, you can easily serve the markets and trade shows in Germany, the Netherlands, Denmark, Italy and the United Kingdom". These factors were the reasons for Stasinopoulos' decision to emigrate to the Hanseatic city in 2017.
In Bremen he joined forces with Jap Kellner. Kellner, an engineer in the clothing technology industry, is also a bike geek and quite happily commutes the 40 kilometres to the office in Bremen by bike. He only leaves the bike at home if it's bucketing down, and then only unwillingly. These two kindred spirits met each other quite by chance. Kellner got a tip about asking Stasinopoulos for a job from his sister-in-law, who went to the same school in Greece as Stasinopoulos' wife. A real stroke of luck for them both (and for the business).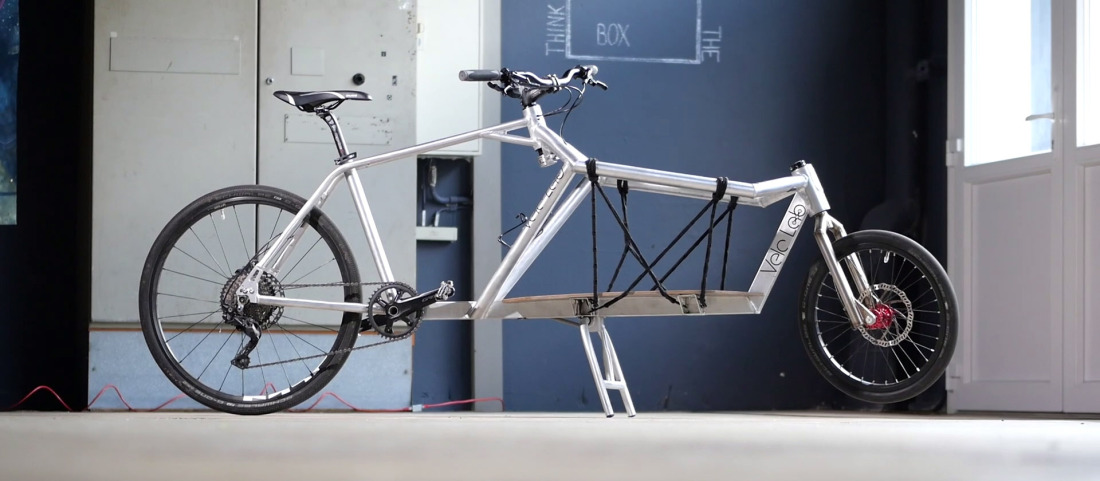 A creative environment in Bremen's New Harbour District
Today, Kellner's main area of responsibility is sales, visiting bicycle shops that want to sell Velo Lab bikes. In the meantime, Stasinopoulos designs new models and optimises operations.
All this has expanded significantly in the past few years. The two business partners have already relocated their business twice within Bremen, to larger premises every time, and have most recently moved into the New Harbour District. "We really like the special chemistry in the atmosphere here on Überseeinsel", said Kellner. The Überseeinsel is a urban development project within Bremen's New Harbour District. It's here that investor Klaus Meier is building a new city quarter with a mix of housing, workplaces and leisure opportunities, all designed to be available to all (German).
In addition to the two business partners, the company now has twelve employees working in the 450 square meter workshop, which also houses a modest show room and a bike café. "This is the ideal location for us. We share the building with studios and artisans' workshops and have already been able to use our contacts within this community to recruit new employees", said Kellner.
Bremeninvest helped Stasinopoulos at the outset, when he was setting up his own company. Since then, Bremeninvest has continued this close relationship with the ambitious bike-builder and provided support when he was looking for new commercial premises.
Sustainability at the core of every aspect of bike-building
The company aims to manufacture between 100 and 300 bicycles this year. In addition to its many and varied versions of cargo bikes, Velo Lab's portfolio includes a folding bicycle, a city bike and – their very latest product – a gravel bike. It's the unpainted stainless steel frame and expertly, almost artistically finished stainless steel welded joints that make their gravel bike stand out from the crowd. "I could never do that as well as our welders do", said Kellner, who is constantly surprised by the excellence of his workers' craftsmanship.
Sustainability is always a key issue for both the bike enthusiasts. "Our aluminium comes from Greece, which means the CO2 emissions produced when it is manufactured are two-thirds lower than if it came from Asia", explained Stasinopoulos. The wood we use for our cargo bike boxes or accessories is supplied by Weltholz in Bremen. This timber merchant only supplies and handles wood from sustainable sources.
Long waiting lists in the cargo bike market
Anyone who wants to buy a cargo bike directly from Velo Lab will need a certain amount of patience. "We're getting three to four enquiries every day. In addition, we're also feeling the effects of the bottlenecks in the global market, especially for components such as brakes or gears", said Kellner.
Cargo bikes have enjoyed increasing popularity over many years. In 2020, according to the ZIV (ZweiradIndustrie-Verband (German Bicycle Association)), more than 100,000 cargo bikes were sold in Germany. 43 percent more electric cargo bikes were sold than in the previous year. The majority of these bikes are produced by small and medium-sized companies such as Velo Lab. "There are a lot of newcomers in the market. As we're still pretty small and agile, we can easily produce small batches, and find our niche" Stasinopoulos also confirmed.
At the moment, trying rather than buying is the best option: If you register in advance, Velo Lab will let you take test rides, either directly in their show room or in the bicycle shop. "We sell our bikes to retailers in many parts of Germany". We only supply bikes directly from the workshop if we don't have a local retail outlet. By doing this, we're doing our best to support local businesses ", said Kellner.