17 June 2020
-
Anne-Katrin Wehrmann
Copper tape against coronavirus
Success stories
How a Bremen company's invention is set to keep viruses at bay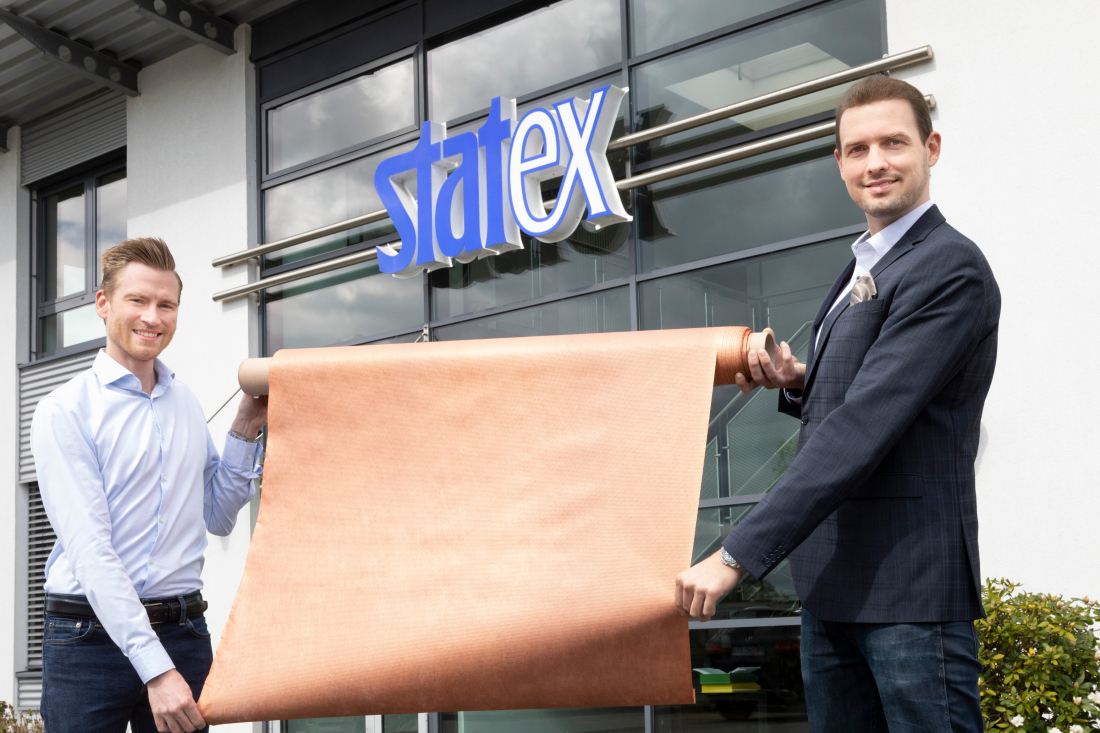 At the start of the coronavirus pandemic, the main aim of Robert Erichsen, CEO of Bremen company Statex, was to provide his employees with the best possible protection against the virus. His efforts eventually resulted in a product that is now being sold around the world: a self-adhesive copper-coated fleece on which viruses and bacteria are unable to survive for long. Erichsen decided to install his new copper tape on door handles, toilet flushes and on the switches of coffee makers – anywhere that comes into regular contact with the skin – throughout his company, which produces metallised textiles. To establish its effectiveness, he commissioned several laboratory tests. "They showed that the copper in our tape rendered 99.98 per cent of coronavirus present inactive within a few minutes so it was no longer infectious," he reports.
Copper against a virus: acting as a disinfectant
Even in ancient times, people knew that copper had disinfectant properties. More recently, hospitals have begun to take advantage of the metal's positive impact on hygiene by fitting copper door handles to reduce the number of germs. "The more copper ions are released, the quicker viruses and bacteria become inactive," Erichsen explains. "Since we already had a number of copper-coated textiles in our product range anyway, we just needed to look for a variant that would work particularly well in this context." The 'winner' of this internal search was a copper-coated polyamide fleece that – in a direct comparison – releases seven times more ions than metallic copper.
The Statex boss and his team attached adhesive film to this textile, cut it to the required size and fitted the resulting pieces to handles and buttons around the company. Visitors soon began to notice the new copper tape. Erichsen recognised that there was demand outside the company and began to produce the tape for sale. "I'm not trying to profit from the crisis," he emphasises. "But if we can do our bit to potentially limit the spread of viruses and bacteria then we regard it as our duty."
Product is additional hygiene measure
So far it hasn't been scientifically established exactly how coronavirus is spread, and what role the touching of surfaces might play in this. But studies in the US suggest that the virus can survive for several days on certain materials. "We see our copper tape as an additional element that supports the hygiene measures being implemented by businesses and public organisations," says the 31-year-old CEO. "And that in turn increases the safety of employees and customers, and their families." That aspect is very important to Erichsen, who took charge of the company at the start of 2020, the third generation of his family to do so.
Global market leader in silver-coated textiles
Founded in 1978 by his grandfather, Statex originally specialised in anti-static carpets. These days the company describes itself as the global market leader in silver-coated fabrics and also develops new metallised yarns and finished goods. Its products are used in the space and aeronautics industries and in the car industry, for example to shield against electromagnetic radiation. There are also medical applications, with antiviral, antibacterial and fungicidal materials being used in the production of plasters and dressings for over 20 years. "We are the only company able to apply a variety of alloys and laminations of different metals on textiles," Erichsen says.
Employees are the secret to success
He doesn't want to discuss details of the production process, and his company hasn't registered any patents – too much danger of competitors getting hold of crucial features. "Our employees are our real secret," he explains. "If we were to lose them then everything here would grind to a halt – and no competitive advantage could save us." That is why the CEO called a crisis meeting as soon as the first cases of coronavirus emerged in Italy back in February. In addition to safeguarding the supply chain, the other main topic was the health of the employees.
A mobile solution for now and for later
The copper tape isn't just intended for use during the coronavirus period. "Irrespective of the current situation, we see it as a preventative measure for the long term, because it also deactivates flu and gastro-intestinal viruses, as well as other pathogens that can be transmitted via surfaces and handles," he says. From supermarkets to schools and public transport – the tape is a mobile solution that can be installed practically anywhere people come into contact with germs. The Statex boss is certain that the coronavirus pandemic is going to change people's attitudes permanently. "Hygiene awareness continues to increase. Even when this crisis is over there will still be demand for additional safeguards."
Buying the copper tape: https://protexus.de/