12 May 2023
-
Jann Raveling
Hydrogen-Powered Vehicles from Bremen – how ENGINIUS is growing in Bremen
Investing in Bremen
Climate-Friendly Public Service Vehicles for the Municipal Sector and Logistics
Hydrogen offers decisive advantages for municipal vehicles and in the transport sector - ENGINIUS GmbH is certain of this. At its Bremen plant, the vehicle manufacturer has been building hydrogen trucks for the waste sector for just over a year. Managing Director Thorsten Baumeister sees strong growth in the future.
60 garbage trucks made by ENGINIUS are already rolling through residential areas in cities such as Berlin and Hanover, or in the Ruhr area, with scarcely a sound or any harmful emissions. The 27-tonners are not only protecting the environment, but also the ears of residents – a win-win situation for everyone. Thanks to a combination of a 16-kilogramme hydrogen tank and an electrical battery, they can run for a whole day, and travel up to 400 kilometres, without any problems.
Demand for hydrogen-powered utility vehicles continues to grow
The garbage trucks are produced by ENGINIUS in Bremen. If everything goes to Managing Director Thorsten Baumeister's plans, eight to ten lorries leave the Bremen plant every month: "Hydrogen is a genuine alternative for utility vehicles. Purely battery-driven vehicles are heavy, which reduces their maximum payload and range. In addition, there is often a lack of charging infrastructure. We don't have that problem with hydrogen. There is a lot of interest", he says.
You can fill a vehicle with hydrogen almost as quickly as with diesel. However, the filling station network is still small, with only 91 filling stations currently operated across Germany by the provider H2 Mobility, for example. That's only a fraction of the 15,000 normal filling stations. But their number is increasing constantly and some hydrogen users even produce their own fuel: A number of waste disposal operators produce power from rubbish and use it to produce hydrogen for our vehicles", explains Baumeister, who took up the post of Managing Director of ENGINIUS in 2023.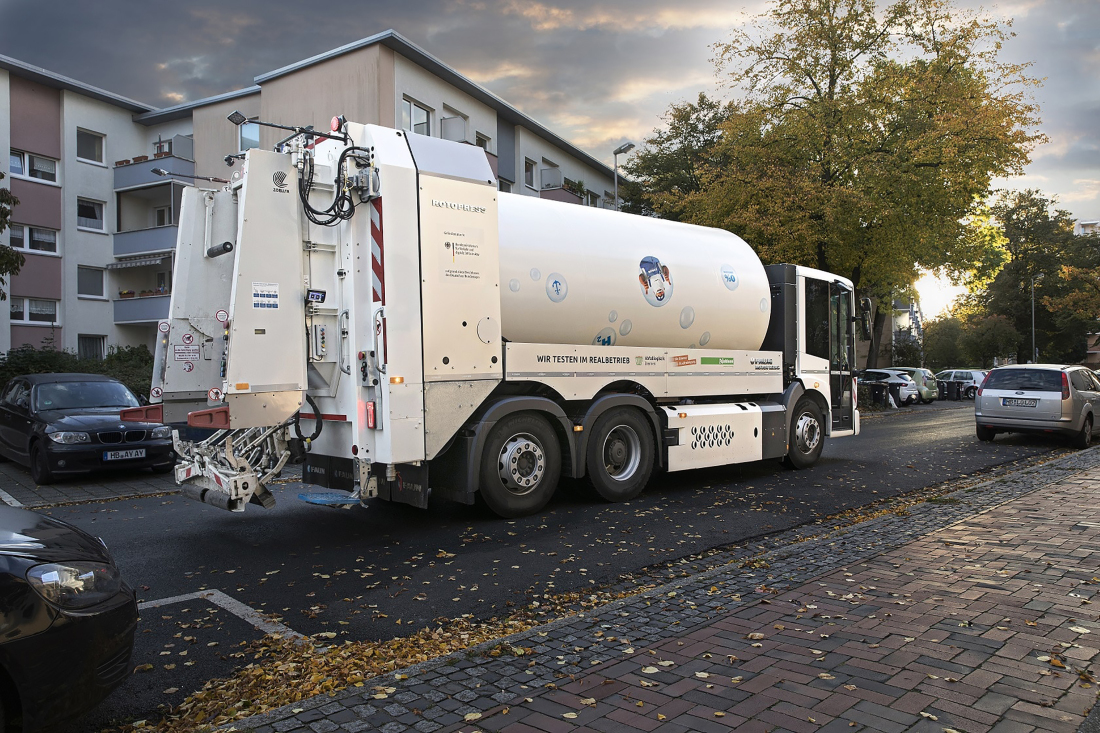 ENGINIUS: a brand for sustainable drive concepts
FAUN, the public service vehicle manufacturer from Osterholz-Scharmbeck, achieved a milestone with the opening of its plant in Bremen in 2022 – it's had been a long time since the first investigations into alternative drive technologies in 2006. During 2022, the FAUN group's hydrogen-related activities were spun off into a separate subsidiary in Bremen, called ENGINIUS. "The name FAUN is often associated with many public service vehicles. We wanted to grow out of that market by creating ENGINIUS", Baumeister says.
One indication of that: In 2022, ENGINIUS's garbage truck was granted type approval: the first hydrogen-powered truck to achieve that in Europe. This enables ENGINIUS vehicles to be approved for road use across Europe, without having to fulfil any other official requirements. It is a milestone in the industry sector and has caused a sensation.
"By 2030 we want to significantly increase the market share of waste-handling vehicles with an alternative drive system", says Baumeister confidently.
From a chassis to a finished truck
If you want to have a really close look at modern hydrogen technology, you have to be there as the vehicles are being built. The 4,000 square metre hall at Bremen's motorway intersection houses half a dozen trucks in different stages of construction. Here, all the components that a hydrogen-powered vehicle needs are installed in the chassis, which is supplied in a ready-to-use state: the high-pressure tanks, the fuel cells, a buffer battery and a great deal of intelligent control technology.
It takes four weeks to transform a chassis into a hydrogen-powered truck. The truck is then taken to the FAUN construction plant in Osterholz-Scharmbeck or to other manufacturers. "There is a hydrogen fuelling point just a few hundred meters from here, close to the Weserpark Shopping Centre. This is of course very practical for us, for filling the trucks for the first time and was a plus point for our decision to come to Bremen", says Baumeister.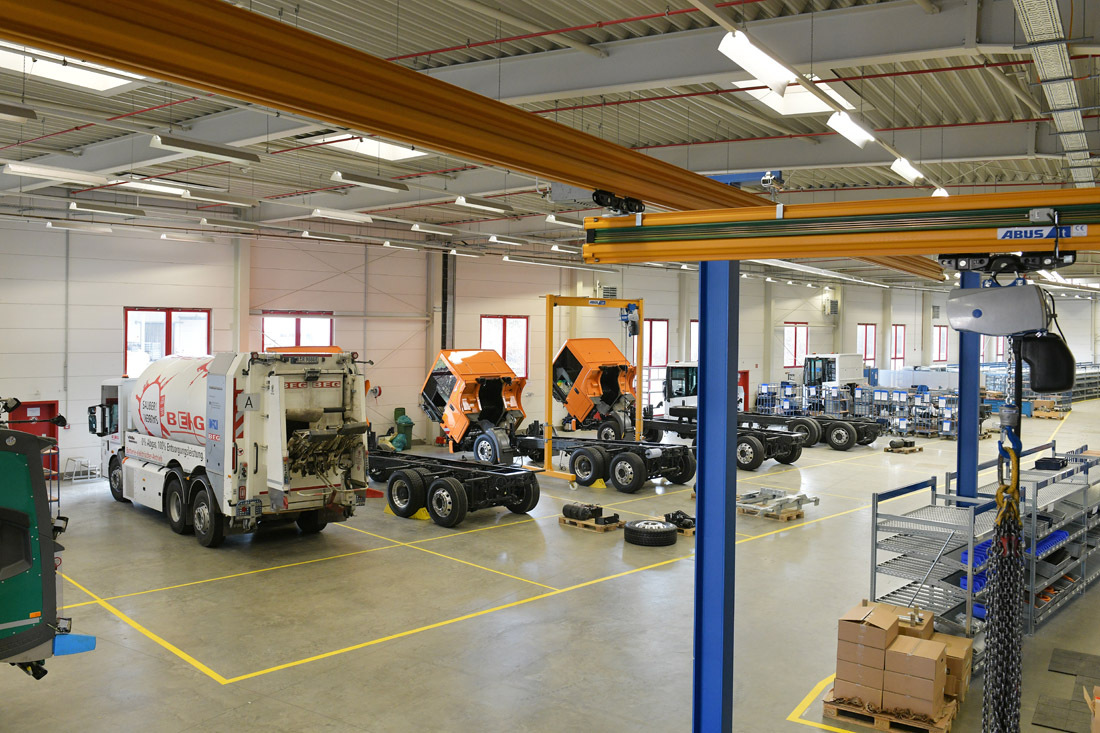 Bremen in demand as a development site
100 people are already employed at the plant. In addition to technical specialists who can perform the installation, there are also engineers working on developing the technology even further. Baumeister believes that production and development are closely intertwined. In this respect, Bremen could lead the field as a high-tech location. "We feel very much at home in this region. Attracting new specialist staff is increasingly becoming a challenge for many companies. Being in Bremen and its surroundings makes us attractive when it comes to engaging new technical staff", continues the Managing Director.
For this reason, he is set on growing the business in the North. By 2027, the company plans to hire 900 people. "We are always looking for new staff – that is a very important factor in our ability to succeed in future", he adds.
The positive points of the new Bremen site include its proximity to the motorway and to major automotive component suppliers in, for example, the Bremen Hansalinie Industrial Estate, a location which has a number of complementary benefits. An excellent working relationship with Bremeninvest was also a decisive factor. Bremeninvest provided services and consultation support throughout the entire relocation process.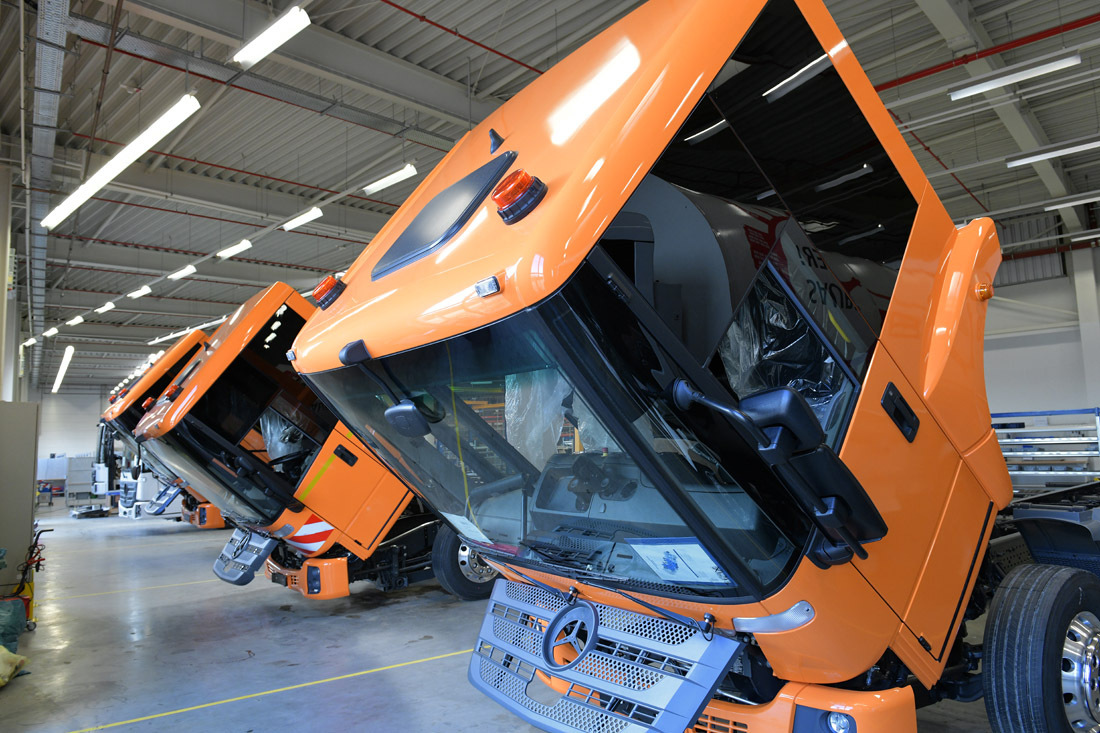 Bremen: the ideal location for a growing hydrogen economy
The Federal State of Bremen and ENGINIUS benefit from each other on a number of different levels. This brand-new technology attracts many experts from all over the world and is one of the prime examples of the hydrogen infrastructure in the country, making it a great advertisement for the location. Delegations from countries as diverse as Scotland, the Netherlands and Japan regularly come to Bremen to find out what's going on there when it comes to hydrogen. A visit to ENGINIUS is always included. The company is a regular exhibitor at trade fairs, such as the "Hydrogen Technology Expo" in Bremen, which is the world's leading specialist event for hydrogen technologies. "We can show applications that are being used in real life, whereas many others are still at the planning stage, and the interest in that is picking up" explained Baumeister. "And, of course, it's a great advertisement for us at the same time."
The company is also involved in other activities in the State including, among others, the Clean Hydrogen Coastline project. The North-West German research project is working on building a comprehensive supply network in the north of Germany and is trying it out with the help of hydrogen-powered utility vehicles like those manufactured by ENGINIUS. The vehicle manufacturer is participating in this EU-supported project as an industrial partner.
Scaling effects are stimulating the hydrogen economy
Joint research ventures such as these not only drive the company forward but also help develop the entire sector even further. The costs for hydrogen and the vehicles themselves are still comparatively high and financial support, such as subsidies, are important for smoothing the path of this sector. Costs will only decrease noticeably with scaling effects. In other words, when hundreds and thousands of vehicles are travelling the roads and the demand for hydrogen sky-rockets. "The current price of between 10 and 13 Euros for a kilogramme of hydrogen must drop significantly in future to make it really attractive for end users", states Managing Director Baumeister.
Scaling effects that battery production has already experienced: Between 2011 and 2020, the price of battery packs sank by around 85 percent per kilowatt hour. Baumeister firmly believes that this effect will be repeated in the case of hydrogen, as soon as the necessary infrastructure is put in place for it. Research projects like those in the State of Bremen are paving the way forward for this.
Baumeister can see this future coming, and is looking forward to exciting years ahead: "In 2022, we brought series production up to the starting grid and got to grips with organisational structures and supply chains in a major way. In 2023, we want to grow and continue developing what we do. Working together with a great team, to bring new technologies into practical use, is something that really motivates me."