20 February 2019
-
Reinhard Wirtz
Bremeninvest is highly appreciated in Turkey
Success stories
Bremen is popular with Turkish companies thanks to its location, its ports and the excellent Cargo Distribution Center.
Izmir, twinned with Bremen since 1995, is Turkey's third-largest city and home to the country's second-largest docks. Since 2011, the Bremeninvest office in Izmir has been working to strengthen the economic ties between the two cities.
In May, June and October 2018, the office joined forces with key local players to hold information days in Izmir, where companies with expansion plans were invited to find out all about Bremen as a business hub. Kolja Umland, project manager at Bremeninvest for international relocation from Turkey, and Erol Tüfekҫi, director of the Bremeninvest office in Izmir, talk about current activities. Bremen has had its own office and representative in Izmir since 2011.
Why did you open the office here, rather than in Ankara or Istanbul?
Kolja Umland: The advantage for us is that we are the only German federal state that has a representative office in Izmir. All the other federal states have based themselves in Istanbul. Izmir is not only Turkey's third-largest city and home to the country's second-largest port –there is also a lot happening there at the moment. This is immediately obvious from all the construction work that is going on. Bremeninvest benefits from having the only agency office there – we have built up a strong network in the region and our name is well known. Now people often come to us, or Erol Tüfekҫi receives calls from companies that have heard of us and who know that we provide support and a good service.
So we are often contacted directly without having to canvas for business. How interested are Turkish companies in Bremen at the moment, and what expectations do they have?
Kolja Umland: Germany remains Turkey's biggest foreign trade partner. Turkey has a trade deficit, and export-oriented companies are encouraged to export abroad. This is where we come in. Many companies based in Turkey are already doing business with companies in Germany, but they don't have offices here. Once they reach a certain size, some Turkish companies might be interested in expanding abroad and opening a branch here.
Mr Tüfekҫi, what was the response to the recent Bremeninvest information days?
Erol Tüfekҫi: We had a very good response. We had direct talks with 23 companies at our event on 17 October alone, which is an impressive figure. We were unable to manage that all on a single day, which is why we were welcoming companies for talks at our office in the run up to the event and afterwards. Not every contact leads directly to a project – some companies want to find out about Bremen and our services first. But then they know where to turn to for help and come back to us in the future. Of the 23 Turkish companies I mentioned, there are three or four potential candidates for relocation to Bremen.
From which sectors?
Erol Tüfekҫi: The enquiries are rarely sector-specific. When presenting Bremen, we focus on Bremen's key sectors, of course, such as automotive, logistics, aerospace, food, drink and tobacco, renewable energy and the port industries. We are often dealing with export-oriented companies that already have business contacts in Germany and Europe, and these companies want to be closer to their customers. They are interested in warehousing and logistics that will shorten their delivery times. This is where Bremen scores very highly thanks to its ports, its central location in Germany and the excellent Cargo Distribution Center. We are open to anyone who is interested in Bremen as a location for their business.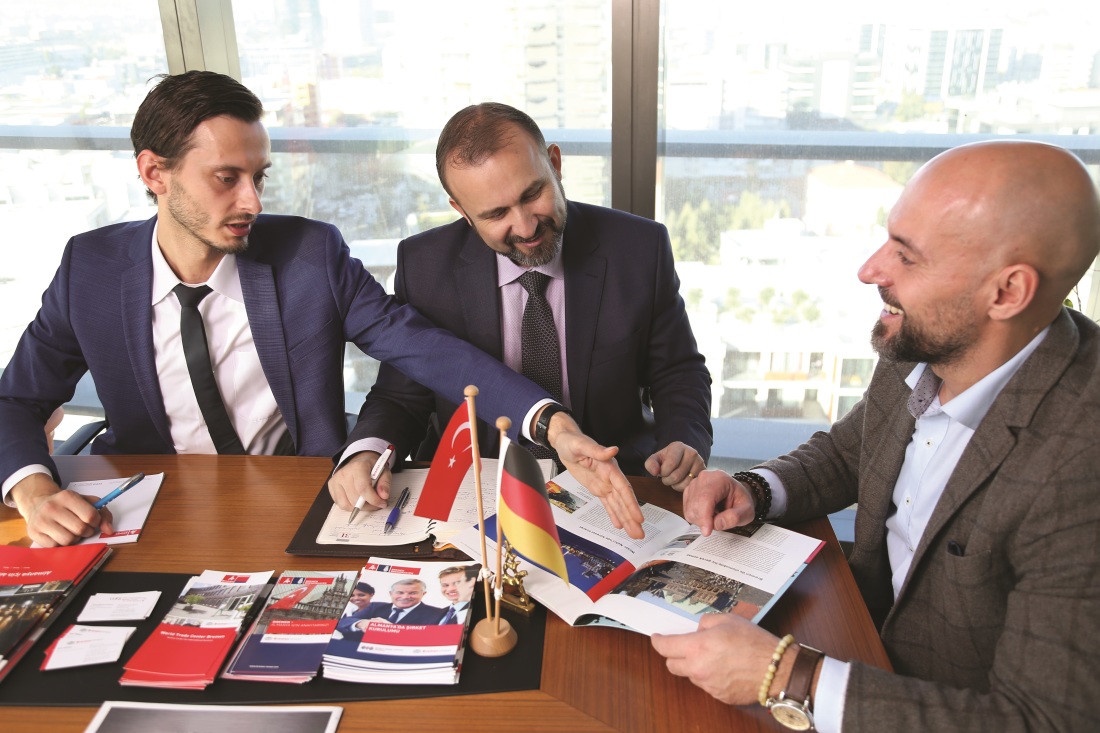 How many Turkish companies are currently located in Bremen?
Kolja Umland: It can be difficult to define whether a company is German or Turkish, and there are no official figures. Four companies opened up branches here in 2018, and we expect a further one or two to do so shortly. A lot is being said and written in Germany about what is happening in Turkey, and the assessments of the situation are often controversial.
Do you think there are factors that are blocking or putting the brakes on business relationships and economic cooperation?
Erol Tüfekҫi: Not as far as I can see. Everyday life and business are carrying on as usual here in Izmir, in particular. We haven't encountered any obstacles in our work so far. But there is the issue of visas: many Turkish business people first need a Schengen visa if they want to visit Germany on business or set up a company here.
What are Bremeninvest's upcoming plans for Turkey?
Kolja Umland: We plan to continue our Bremeninvest information days, as they have been very well received. We are also considering sending a delegation to visit Izmir in the first half of 2019.
Kolja Umland, Corporate Service and Sales, international relocation project manager with a focus on Turkey, Tel: +49 (0)421 960 0339, umland@bremen-invest.com
Erol Tüfekçi, Bremeninvest Turkey / Izmir office, Director of Bremeninvest Turkey, Bayraklı Tower, Ankara Cad.No:81 K:12: D:89, TR-35030 Bayraklı / Izmir, Turkey, Tel: +90 232 422 1245, erol.tufekci@bremen-invest.com