17 September 2021
-
Jann Raveling
Profile of Bremen's eight ports
Maritime economy and logistics
Industry, jobs and shipping in the Hanseatic city's ports 2021
The ports in Bremen are the region's engine for trade and industry, creating thousands of jobs in connection with the dispatch of ships, the transport and transshipment of goods, repairs, logistics and other services.
The federal state of Bremen has not one but eight ports in total. They are located in its sister-city Bremerhaven and in the city of Bremen itself. Each port specialises in a particular sector and has its own history and unique features.
The port and logistics industries employ a total of up to 40,000 people. More broadly speaking, one in three jobs in Bremen is dependent on the transport and transshipment sectors. Together, they make it possible to transship 66.5 million tonnes of goods per year at the following eight ports: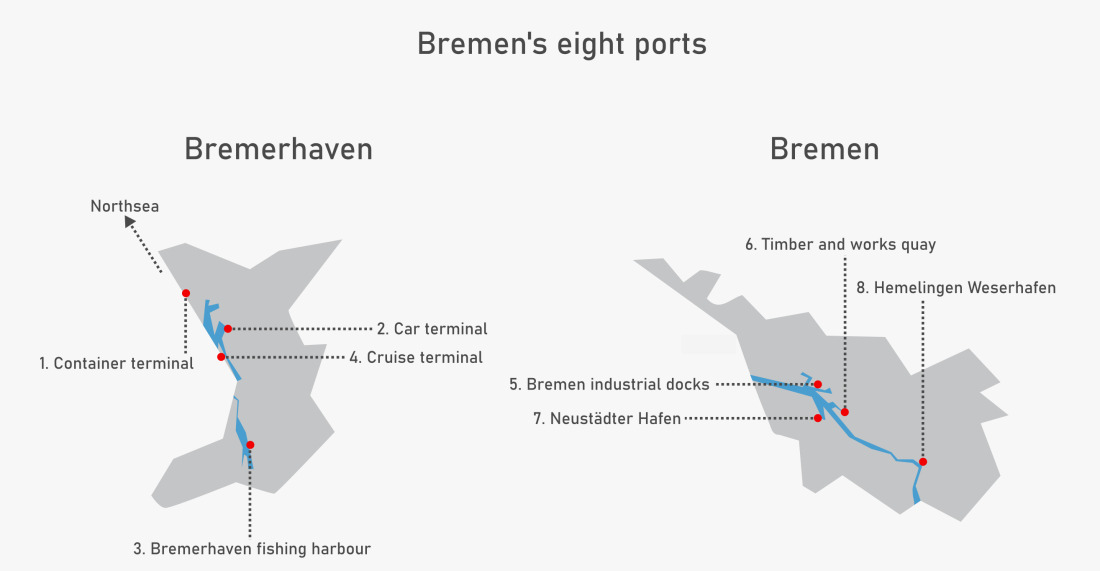 The eight ports in Bremen:
1. Bremerhaven container terminal
The state's biggest port complex by area is used for the container business. It is the fourth-largest container port in Northern Europe and handled 4.8 million standard container equivalents (TEUs) in 2020. The biggest ships that travel the world's oceans dock here regularly. Construction of the terminal began in 1968, just two years after the first container ship docked in Europe (in Bremen's Europahafen port). It was clear early on that only a container port deep enough for ocean-going vessels had a chance of becoming a global player. The port has since developed into a gargantuan facility with a quay stretching five kilometres, the longest in the world. The opening followed in September 1971 - which means that the quay will celebrate its 50th anniversary in 2021.
2. Bremerhaven car terminal
The container terminal's immediate neighbour also boasts record-breaking statistics. The Bremerhaven car terminal is effectively Europe's largest car park, and up to 95,000 cars can be held here before being dispatched worldwide as exports or transported elsewhere in Germany as imports. International logistics provider BLG LOGISTICS handles a total of 1.7 million vehicles here every year (2020).
3. Bremerhaven fishing harbour
Bremerhaven is sometimes referred to as the deep freezer of Europe. Frosta, Nordsee, Frozen Fish and Deutsche See – some of Germany's largest producers of frozen foods – are based here and their output includes 2.7 billion fish fingers per year. The land surrounding the premises of these companies is known as the fishing harbour. The transshipment of food takes place here on a grand scale. There are also large areas used by wind power companies to load rotors, towers and nacelles onto wind turbine installation vessels.
4. Cruise terminal
Until the pandemic, Cruise tourism was booming, both internationally and in Bremen. Cruise ships on North Sea routes were increasingly including Bremerhaven in their itineraries. They arrived at the cruise terminal, where passengers join the ship or disembark for day trips in the local area. In 2019, 115 ships arrived with 247,000 passengers. The pandemic brought this business to an almost complete standstill in 2020, with traffic plummeting by 90 percent to 2,500 passengers - business is only expected to pick up gradually.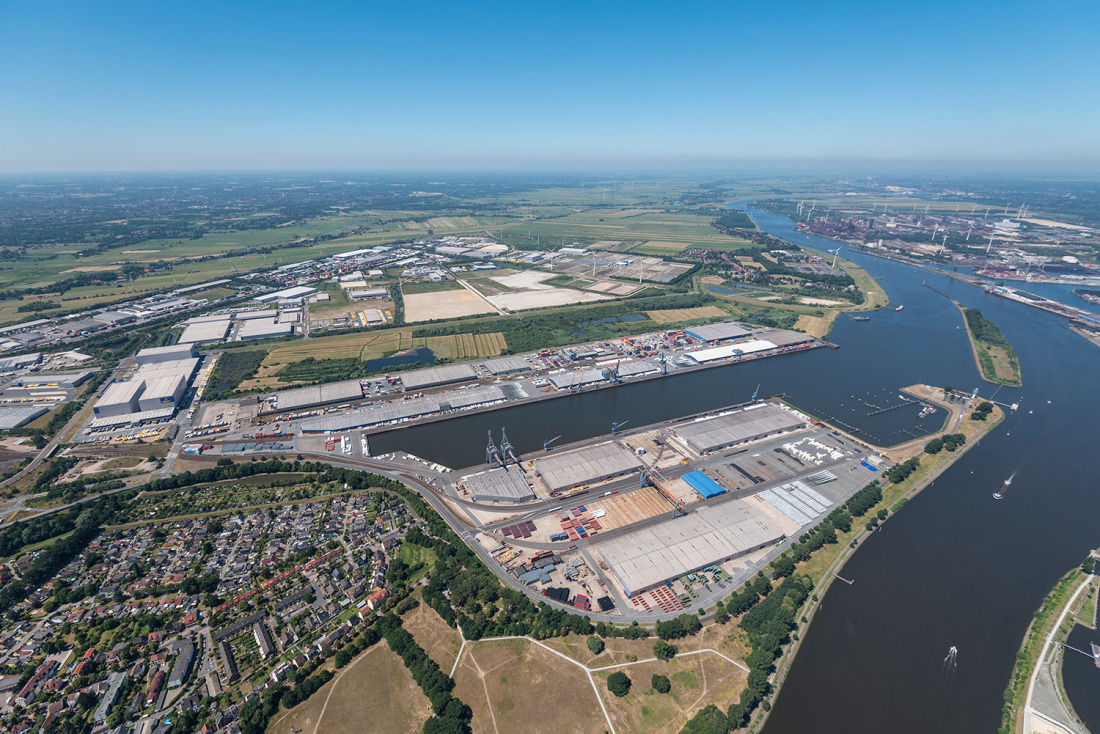 5. Bremen industrial docks
The first of the four ports in the city of Bremen itself is located in the north of the Hanseatic city. It accounts for about half of the city's transshipment volume of around 12 million tonnes. Ships that have passed through the 250-metre Oslebshauser lock use the docks to load and unload steel, steel products, timber, project cargo, vehicle and machinery parts, bulk cargo, construction materials, waste and lubricating oils. Coal for ArcelorMittal's steelworks in Bremen also arrives here. Situated around the harbour basin are many industrial firms that process or dispatch the goods that pass through the docks.
6. Timber and works quay
The timber and works quay, which is located upstream from the industrial docks in Bremen's Überseestadt (New Harbour District), handles a wide variety of commodities for the food industry. These include animal feed, grain, cocoa and coffee. Kaffee HAG, which invented decaffeinated coffee, is headquartered here, as is flour producer Roland Mills United, whose raw materials arrive by ship. The grain harbour occupies part of the harbour basin and includes the Bremen grain storehouse, a historical building that dates back more than a century and is still in use today.
7. Neustädter Hafen
The port of Neustädter Hafen is located on the left side of the Weser river and specialises in breakbulk, which is any type of cargo that does not fit in a shipping container. These include steel products such as pipes, timber, machinery and machine parts. Components for wind turbines and paper rolls for the paper industry are brought ashore here. A small number of containers also pass through Neustädter Hafen. Its proximity to the Bremen Cargo Distribution Center means that goods do not have to be transported far.
8. Hemelingen Weserhafen
The Weserhafen port in Hemelingen is the furthest inland of the eight ports. It is purely a river port and does not accommodate large sea-going vessels as they would be unable to pass under the bridges downstream in central Bremen or through the lock at the Weser barrage. The port complex is relatively new, having been built in 1968. It specialises in the transport of steel, other metals, scrap, sand and gravel to inland destinations.
And that is it – all of the eight ports with sea freight transshipment operations in the federal state of Bremen. Further details about the individual ports can be found here: bremenports.