3 February 2022
-
Wolfgang Heumer
Valuable Cargo: Logistics Experts import Classic Cars from all around the World
Maritime economy and logistics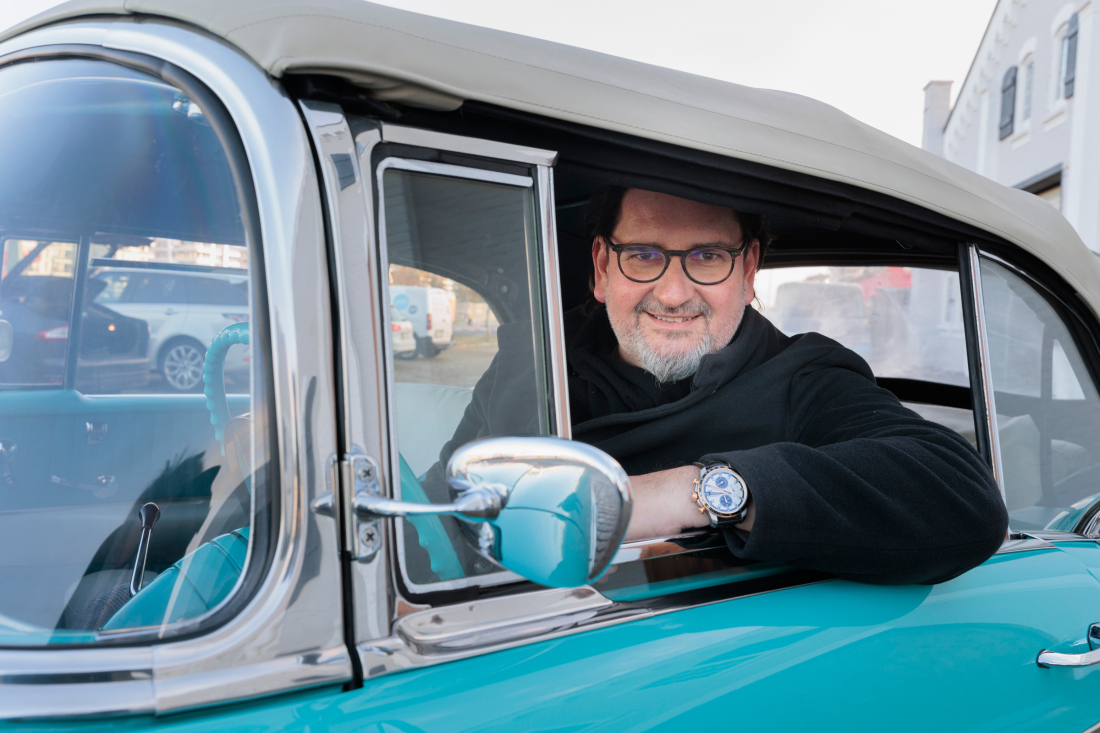 Classic cars are style icons, collectors' pieces and investments. Anyone who wants one can call on the services of Michael Esin: his company, LPL Automotive, sources classic cars all over the world and brings them to his customers' preferred locations, via the Bremerhaven container terminal.
Cars play a major role in Bremerhaven: around two million vehicles a year roll through the port's AutoTerminal. New cars from Asia and the international sites operated by German manufacturers arrive there. It is also there that export vehicles from all the prestigious German automobile brands start their sea voyages. It's always the latest models that pass through the biggest Automobile Hub in Europe.
Right next to the AutoTerminal, you will also find Europe's largest vehicle workshops, in which thousands of imported vehicles are modified to suit individual requirements, or entire series from particular manufacturers are customised as special models every year. This expertise in automotive engineering is unique in Europe and includes the associated logistics and shipping companies. All that explains why not only new vehicles of all classes, but also valuable classic cars are transshipped in Bremerhaven, with the help of Michael Esin, the 54-year freight forwarding specialist, and his team.
"Wow, that's a real gem!", said Michael enthusiastically, looking at a turquoise and pearl-white Chevrolet Bel Air, a cabriolet built in 1956. "You can even move the roof electrically, a very advanced feature for the time." As logistics specialists and shippers, Esin and the 25 staff at LPL Automotive bring together classic cars and classic car lovers from all over the world.
Classic cars have been rolling through the terminals at Bremerhaven since the 1980s
In the 1980s and 1990s, classic cars were an everyday sight at the AutoTerminal in Bremerhaven. At that time, mainly male car enthusiasts liked taking holidays in the USA, where they could buy an old "street cruiser" and then bring it home via Bremerhaven. Reimported German classic sports cars were also popular. Back then, Bremerhaven was also the most important port for supplying the American Army in Europe: military equipment and the personal property of soldiers and their families was also transported via the port.
Classic cars have become expensive collectors' items
This was when Michael Esin began studying to be a freight forwarding specialist. He admits that it wasn't his dream job to start with. But he then recognised the benefits: "It's an exciting and multi-faceted business, which is why I've stayed in it." The business is still exciting and ever-changing, but the market for classic cars and vehicle imports has changed. "If I see a classic car at the port nowadays, I'm more inclined to shudder", said Esin, explaining that "if a car is standing around here, in the open, that's usually an indication of poor quality."
The reason ist that old classic cars, such as Italian sports cars, became expensive collectors' items a long time ago. When they are transported by ship, they are provided with suitable protection, in containers. They then only see the light of day again in specially set-up warehouses. However, before Esin's team unloads a container, the state of the vehicle is first documented in detail: "Space is tight in shipping containers. That is why we have specially attached a GoPro camera to a long handle so we can film the entire vehicle from all sides before we roll it out of the container", explained Esin. That prevents misunderstandings about any damage that has occurred.
The portfolio includes new cars as well as vintage models
For a number of years, Bremerhaven-based Esin dealt with the four-wheel collectors' items personally: "However, the effort involved in finding suitable vehicles and selling them has grown and grown", he said. In addition, the prices have shot up so much that no small amount of capital is tied up in the time between buying and selling a classic car, he explained. For this reason, the car specialist now focusses on the things he learnt during his studies: how to bring a load – in this case, vehicles – from A to B safely. Esin doesn't just arrange the transportation of vintage cars. His new vehicles portfolio includes the export of trucks made by a large German manufacturer. In total, Esin's company moves 7,000 to 9,000 vehicles per year: "At peak times, it may be as many as 20,000."
Brazil and Dubai are among the centres of the classic car world
Customers who have a collector´s car sent to them via Bremerhaven are primarily based in Germany and neighbouring countries: "However, in principle, we will deliver anywhere." LPL Automotive's services range from collection from the seller to delivery to the required destination. The trade in classic cars is a global business. "Japan, Brazil, the USA, Central America and Dubai are the most important regions for sourcing classic cars", revealed Esin. In Brazil, one vehicle type in particular is dominant: "VW built the camper van, referred to as the "Bulli" in Germany, for a very long time there." Consequently, there is still a large number of them in Brazil. Both European and American classic cars are found in the USA and Central America. Dubai regularly organises the largest classic cars auction in the world, selling old luxury cars from many countries.
Buying a car is a matter of confidence
The basic principle on which the used car trade operates, "sold as seen", does not apply when you buy a classic car. That is because, very often, the buyers have only seen photos of the vehicle of their dreams. As the shipper, Esin is not only responsible for transporting the vehicle securely. He also acts as a sort of trusted intermediary. "We make sure that the car actually exists", said Esin. If the purchaser wishes, an independent appraiser can also be asked to assess the car. If everything is all right, the shipper informs the purchaser that they can arrange payment. "It's hard to imagine how many different ways there are to falsely present a car as being in a good state", Esin told us. Even the old trick of using a magnet to check whether the paint is hiding cheap filler or expensive sheet metal doesn't work anymore: "Nowadays, the fraudsters add iron filings to the paint."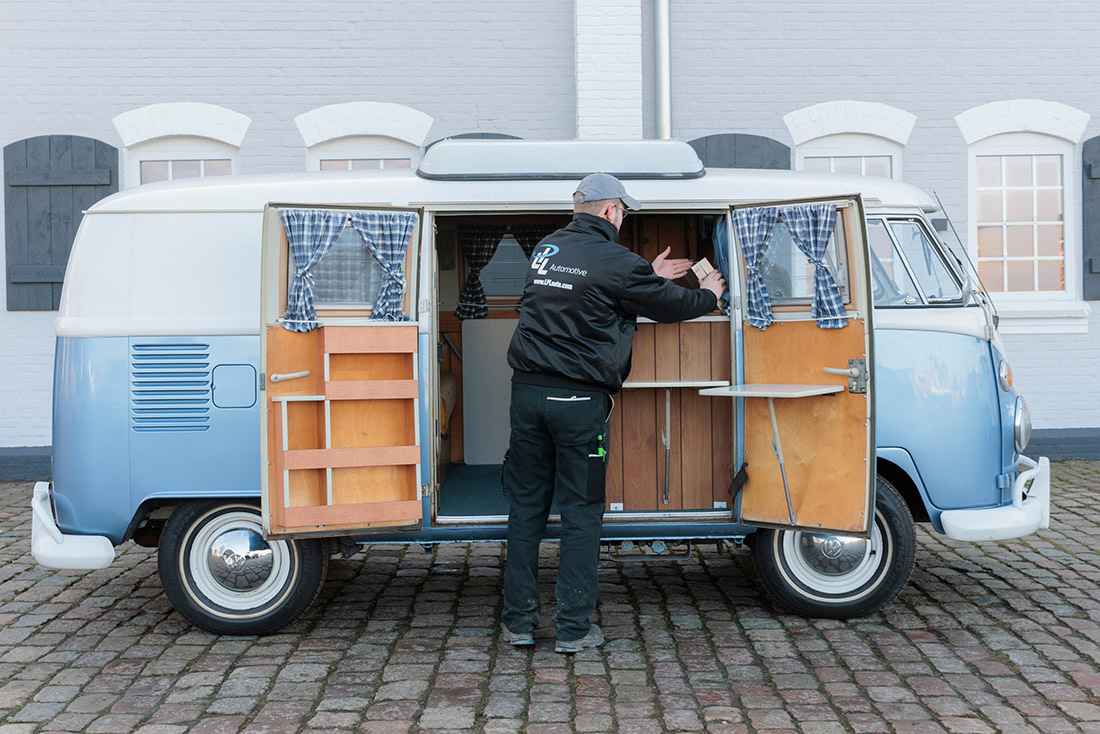 Customised VW camper van with a special history
Attempts to perpetrate a fraud don't put Esin off classic cars. He has even snapped up a few of the vehicles offered to him, to add to his own collection. Esin parks customer vehicles in the restored dockside storage sheds on the Kaiserhafen quayside in Bremerhaven. There, his VW T1 camper van with original Westfalia camping fittings stands next to the Chevrolet Bel Air. The camper van's story is rather unusual: "A German who lived in America ordered the vehicle from VW in Wolfsburg and went there to collect it. He then toured around Europe for three months with his wife." They then returned to the US with it and travelled diagonally right across the country, from New York to their chosen home of California. Esin found the vehicle there, entirely by chance, and was immediately so impressed by it that he bought it on the spot. Bremerhaven was at the heart of this story: "The camper van was taken to the USA from here, and we brought it back to Germany again via Bremerhaven too."