25 June 2019
-
Jann Raveling
Ten logistics companies from Bremen
Maritime economy and logistics
Firms in the transport and freight sectors
Bremen's logistics companies are the backbone of the federal state's economy. With several major ports, its transport sector has always played an important role. Let's take a brief look at ten logistics companies.
Bremen's logistics sector is made up of more than 1,000 companies which employ over 20,000 people. Add in the port workers as well, and one in three employees in Bremen is directly or indirectly involved in the freight transport sector. The ports account for a large share of this – Bremerhaven is the fourth-largest container port in Northern Europe, while Bremen's other ports focus on transporting cars and heavy cargo. Bremen's GVZ Cargo Distribution Center also has a significant role to play, with many logistics providers based there.
But what exactly do these firms do? We present ten companies as examples.
Ten logistics companies in Bremen
1. BLG Group
A real industry giant: with 18,000 employees worldwide and a presence in twelve countries, the group is an international heavyweight. BLG Group is active in every area of logistics – such as the consumer goods industry, where it delivers parcels and handles returns for large retail chains. Or in automotive logistics, wind energy, the food industry, in the breakbulk and container sector and much more besides. It also operates its own digital laboratory, BLG Digilab, to ensure it remains at the cutting edge of the digital revolution.
2. Stute Logistics
When it comes to showing that there's more to logistics than simply transporting things from A to B, Stute Logistics is another case in point. With its 3,000 employees, the company doesn't only move freight: it also handles every aspect of its customers' logistics. That includes warehouse automation, the operation of logistics hubs, warehouse systems and setting up freight centres. Stute can even take care of logistics within the manufacturing process. One example is the ArcelorMittal steel plant in Bremen, where Stute is responsible for storing, packaging and loading steel coils.
3. SCC Container Carrier
Transport, transshipment, storage – SSC has been providing the 'big three' haulage industry services for 30 years. In addition to picking up containers and transporting them to customers, the company can also take over the actual loading and unloading, as well as temporarily storing goods, dealing with import and export arrangements, and handling refrigerated containers and hazardous goods cargo. At the heart of its operation is the company's 15,000 square metre logistics centre at the Cargo Distribution Center (GVZ) in Bremen.
4. Kühne + Nagel Group
From its origins in Bremen, Kühne + Nagel has grown into one of Germany's largest logistics companies, with a presence in over 100 countries and more than 82,000 employees. Although its head office is located in Hamburg these days, the industry giant continues to operate several sites in Bremen. It is also building itself prestigious new high-rise offices in the city centre, part of a number of new developments in the centre of Bremen.
5. DB Cargo Logistics Auto Terminal Bremen (ATB)
Exporting cars from the Mercedes-Benz plant in Bremen often involves more than simply moving them onto a ship or train. The vehicles first need to be checked for damage or faults, or to be specially adapted for the relevant market or for specific customers. This work is done at the Auto Terminal Bremen, operated by DB Cargo Logistics GmbH, which has the capacity to transship up to 250,000 vehicles a year.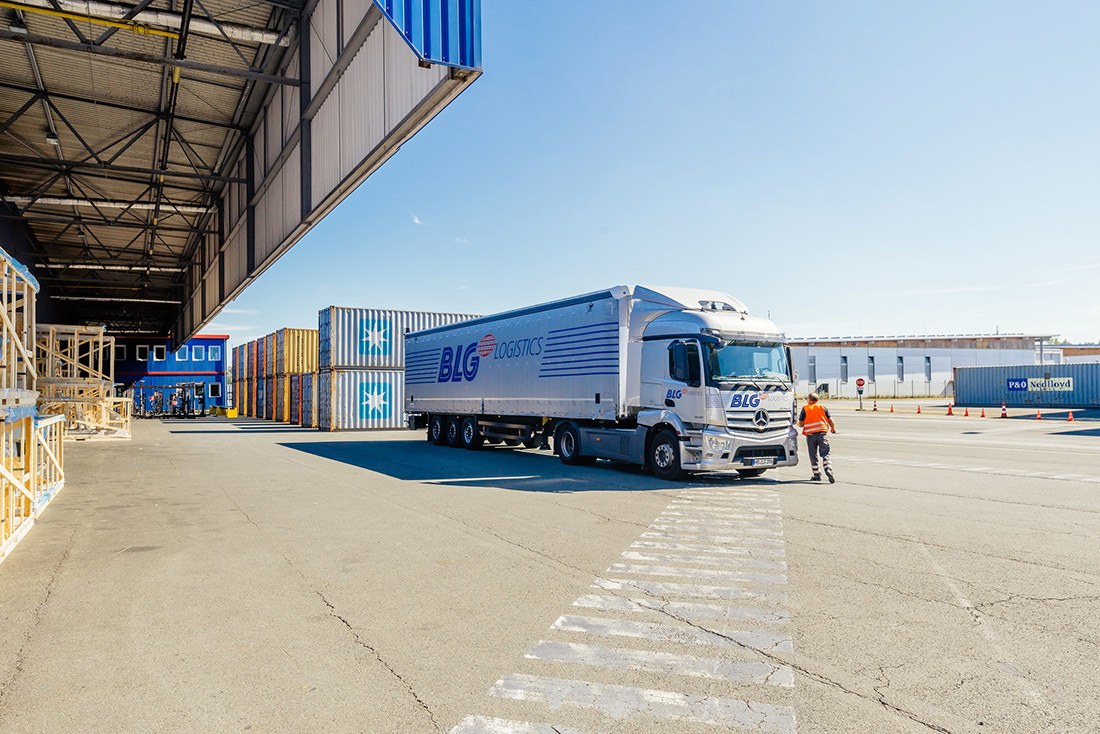 6. Bremer Schlüssel
Sometimes time is of the essence – and that is where Bremer Schlüssel comes in. The company handles direct, express and service deliveries in Germany and neighbouring countries. These assignments can involve vehicles in a range of sizes, from small vans for journeys within Bremen right up to articulated trucks for transporting large cargoes. The company also provides a 24 hour emergency service.
7. Kloska
With a product range of 130,000 different items, Kloska can satisfy just about any requirement within its areas of expertise, which include equipment for shipping companies and the offshore wind energy industry. From food for crews and spare parts for machinery to resources for technical specialists or equipment repairs – Kloska supplies anything that might possibly be needed on the high seas. And it delivers to any port in the world, which is why this company from Bremen has become an indispensable supplier for many maritime businesses.
8. Necoss
Some freight is transported inland from the ports by train. But how exactly does that work? Who puts the waggons together, loads them with containers and coordinates the rail transport? Neutral Container Shuttle System GmbH (Necoss) handles these tasks on behalf of customers from all over Germany – with a fixed timetable and a major transport hub in Bremen.
9. Alexander Global Logistics
Project cargo is a complex business: anything larger than a container needs to be loaded individually, which takes up a lot of resources. Alexander Global Logistics specialises in project cargo and has even set up its own international network – with strict membership criteria.
10. Louis Neukirch
Haulier Louis Neukirch operates in a market niche, namely the provision of logistics services for new furniture. In addition to transport, storage and picking, the team also assembles and installs furniture and kitchens, disposes of old furniture and handles returns for its customers.