28 February 2017
-
Hans-Jörg Werth
The biggest car park in Europe
Automotive Industries
BLG LOGISTICS GROUP AG & Co. KG's AutoTerminal in Bremerhaven is a record-breaking automotive hub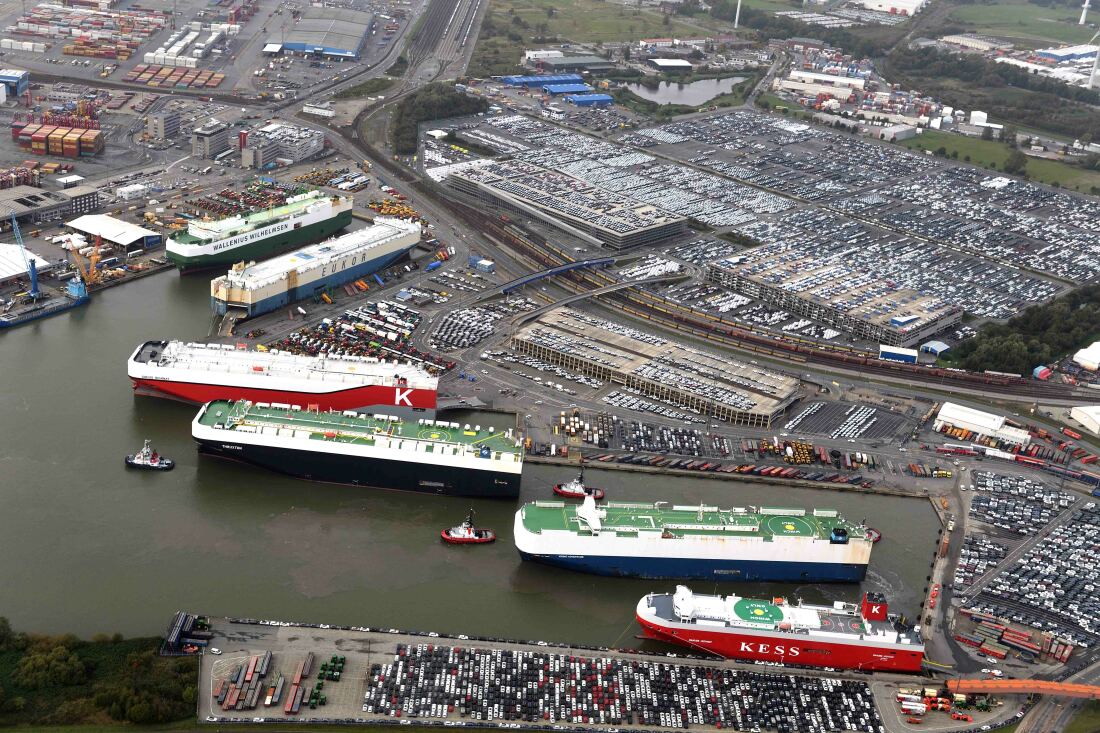 18 ship berths for car carriers, 14 train sidings, and 4 inbound gates for trucks bear witness to the continual flow of vehicles that has to be managed at Bremerhaven. International logistics provider BLG LOGISTICS handles some 2.3 million vehicles at the seaport every year.
Bremerhaven AutoTerminal is an awe-inspiring facility that has been described both as one of the world's most important automotive hubs and as the largest car park in the EU. Bremerhaven has seen more than 2,000 jobs grow up around imports and exports of cars by virtually all leading manufacturers.
Bremerhaven: Hotspot for automotive logistics
The giant container ships heading for the quays at Bremerhaven hold more than 8,000 cars – a daily logistical challenge for the miracle-workers at BLG. BLG's AutoTerminal is particularly striking when seen from the air: row upon endless row of (mostly) brand new cars, partially covered with white, protective film during transportation, give the effect of a huge patchwork carpet – mainly 'woven' out of steel and aluminium.
Vehicles are not only loaded and unloaded, but are also processed, repaired, converted, fitted out with extra features, and finished off at BLG's Bremerhaven AutoTerminal.
Bremerhaven is the largest facility in BLG's AUTOMOBILE division, employing more than 2,000 people
The company's network of terminals covers 19 locations in Germany, Italy, Croatia, Poland, Russia, Slovenia, Turkey and Ukraine. The seaport terminals on the coast in particular serve as hubs, and are export gateways for European vehicle manufacturers shipping their products overseas to markets including China, the US, Russia and Scandinavia. Bremerhaven is a regular port of call for shipping companies such as Eukor, Wallenius Wilhemsen, Höegh, Glovis, MOL, K-Line and NYK with their box-shaped roll-on/roll-off (ro-ro) ships.
"We handle about 7.3 million vehicles each year," said Michael Bünning, executive director of BLG AUTOMOBILE LOGISTICS. "All our terminals are networked with each other and have intermodal transport connections via truck, rail, or inland waterways. As a result, we can guarantee our customers end-to-end logistics chains," he explained.
The Bremerhaven car hub is also driving employment. It features Europe's largest automotive workshop, which alone employs 300 people, and the terminal as a whole boasts a workforce of more than 2,000.
95,000 parking spaces, more than half of which are covered
Sometimes, vehicles spend only one day in the terminal before being shipped out or transported onwards (export) and stays of more than two months are unusual (import). Covering some 240 hectares, BLG's site has space to park approximately 95,000 cars. "A good 50,000 of those parking spaces are under cover in eight, special multi-storey car parks with extra-wide loading ramps," commented Sven Grossmann, executive director of BLG's Bremerhaven AutoTerminal.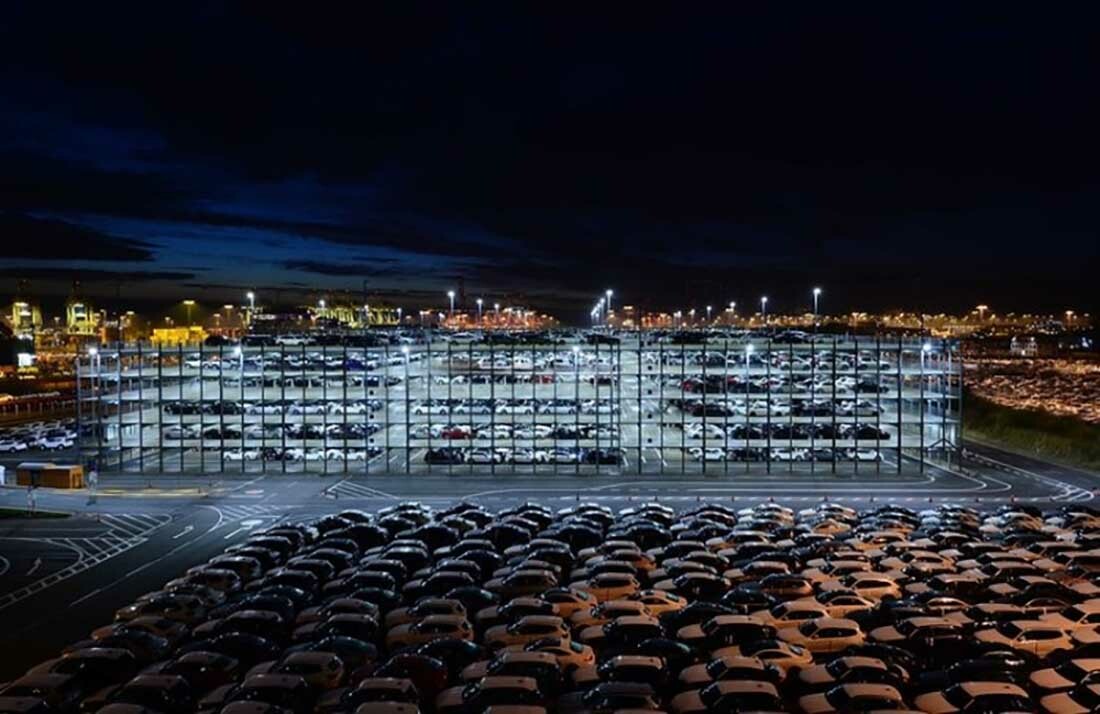 BLG LOGISTICS is one of the market leaders in the automotive logistics sector, as demonstrated by its impressive statistics. "In 2015, 75 per cent of vehicles were being exported and 25 per cent imported. Bremerhaven is one of the world's largest automobile ports," explained Grossmann.
The highest value is added with imports. This is because of the – sometimes extensive – engineering that imported vehicles undergo. As a result of German manufacturers having shifted production facilities abroad, 'German' vehicles are also imported, with BMWs and Mercedes coming from US facilities for example.
Daimler AG is one of the largest vehicle transshipment customers, with vehicles from its European plants passing through BLG's Bremerhaven AutoTerminal on their way to export. Other important customers include BMW and Volkswagen. BLG doesn't only organise the vehicles' transshipment, but also ensures that they reach their destination, thanks to its own fleet of trucks and 1,275 railway wagons for car transportation.
'Wash, paint and blow-dry' in Europe's largest automotive workshop
BLG also operates a number of technology centres in Bremerhaven, which are together described as the 'biggest automotive workshop in Europe'. Some 230,000 vehicles are washed and checked every year.
Special equipment, such as navigation systems, glass roofs, and DVD systems are also installed at the centres. Other everyday services include PDIs (pre-delivery inspections), special paint finishes, and conversions suitable for the destination country.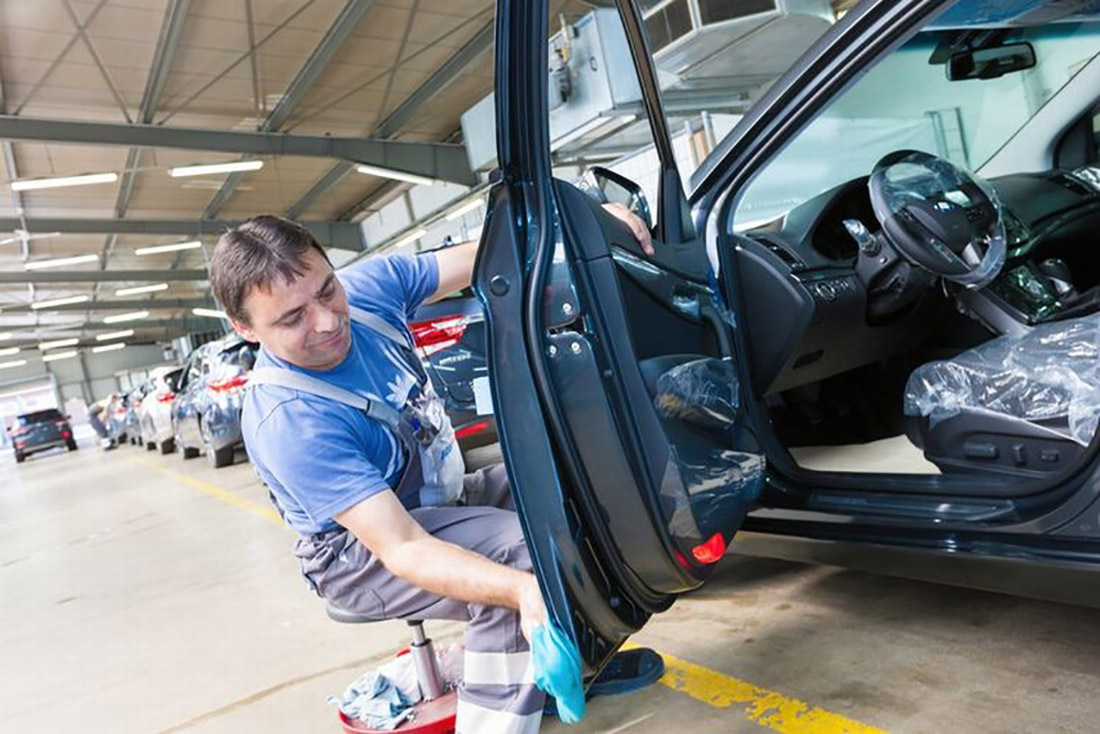 What started off 50 years ago as a simple vehicle transshipment service has since evolved into a comprehensive and increasingly differentiated portfolio of services for manufacturers. BLG LOGISTICS also offers vehicle valuation, for example, as well as fleet and rental preparation, and marketing preparation for vehicles (e.g. photo shoots and vehicle auctions with Auktion & Markt). 
BLG AutoTec mainly processes imported vehicles made by 18 different manufacturers. Standard services include installing special equipment and navigation systems, and inspecting the cars before they are shipped out for delivery. Daimler, BMW, Hyundai, Kia, Gefco, Mitsubishi, Suzuki and Isuzu are among the centre's main customers. Some vehicles destined for export also pass through the BLG technology centre, where they are given underbody protection, for example.
Eight parking decks ready to go since 2015
To create more parking spaces, BLG brought an additional multi-storey car park into service as recently as 2015. The new car park has space for a total of 7,050 vehicles on five levels. This makes the "N3" – the terminal's eighth – one of Germany's highest-capacity multi-storey car parks. This €20 million investment by BLG enabled more space to be created right next to the quay with a shorter distance to the ships, thereby saving time and money.
IT system for terminal management
According to executive director Sören Krüger, parking logistics is a huge challenge: achieving what would be a fantastic ratio of parking spaces in any city centre means intensive work for the terminal's management team. The skill is in parking the vehicles so that they are grouped by destination and departure time, and can be quickly shipped onwards as a result. A highly sophisticated system has been developed to manage the temporary storage of new and second-hand vehicles and the provision of buffer zones for automotive production.
"The cars are identified by their VIN (Vehicle Identification Number) and a bar code," said Sören Krüger. A proprietary IT system with hand scanners helps BLG technicians to keep a constant eye on the facility and the status of all the cars in the terminal.
---
For further information on the AutoTerminal, please contact BLG Logistics Group, tel: 0471 484-4327, communications@blg.de
Bremen is an important centre for the automotive business and automotive research. For more information, please visit the Automotive section of our website.
More information and articles on logistics can be found in our Maritime Economy and Logistics section.
Success Stories
Quality of life
20 April 2023
Bremen – Germany's greenest city
The greenest major city in Germany is Bremen - with an average of 60 square metres of sports, leisure and recreation space per person. Parks, sports facilities, but also water areas invite you to relax from the hustle and bustle of the city every day.
Learn more