29 March 2018
-
Diana Bluhm
Studying, researching and living in Bremen Technology Park
Investing in Bremen
30 successful years as a business park, research hub and suburb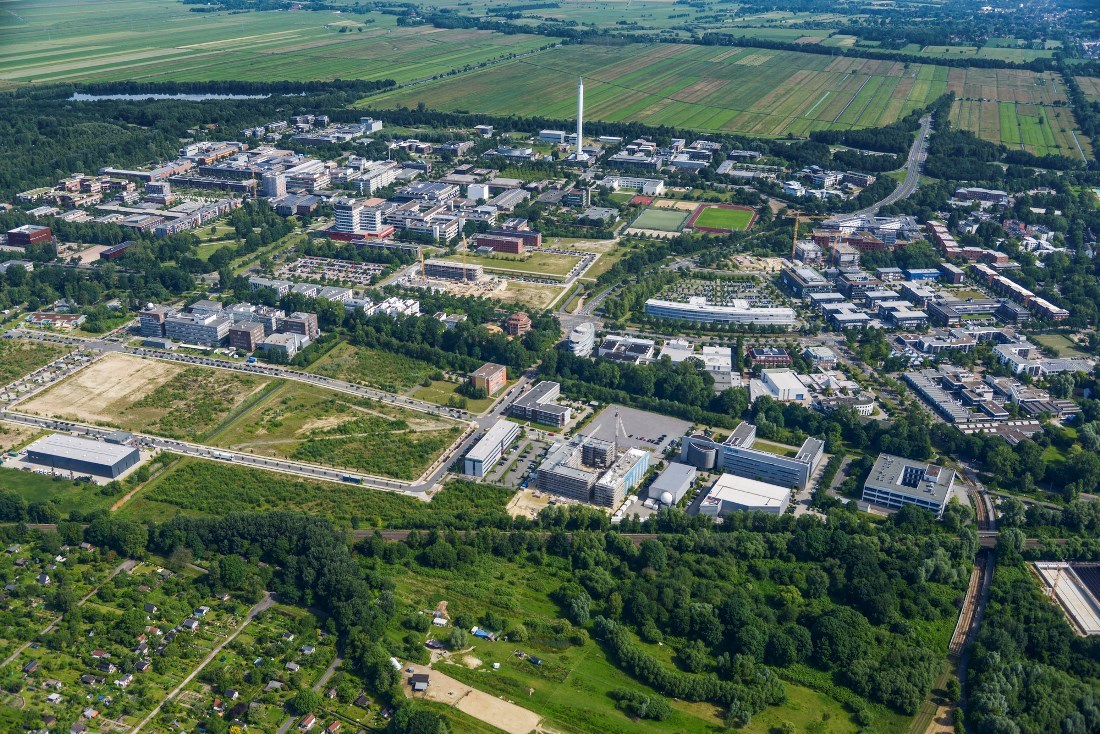 Every day, Bremen Technology Park is a buzzing hub for thousands of people, from students making their way to their lectures through the campus park, to researchers developing new aerospace components and school groups visiting the Universum Bremen science centre. So, what is so special about this district?
On 12 June 1988, the regional government of Bremen decided to build the Technology Park around the city's university. Since then, it has evolved into more than just a business park – it has become a district where people live, learn, teach and conduct research. You can see its famous landmark, the 146 metre high Fallturm drop tower, from miles away. Part of the Center of Applied Space Technology and Microgravity (ZARM), the drop tower is the only laboratory of its kind in Europe and draws scientists from around the world looking to carry out their free-fall experiments here.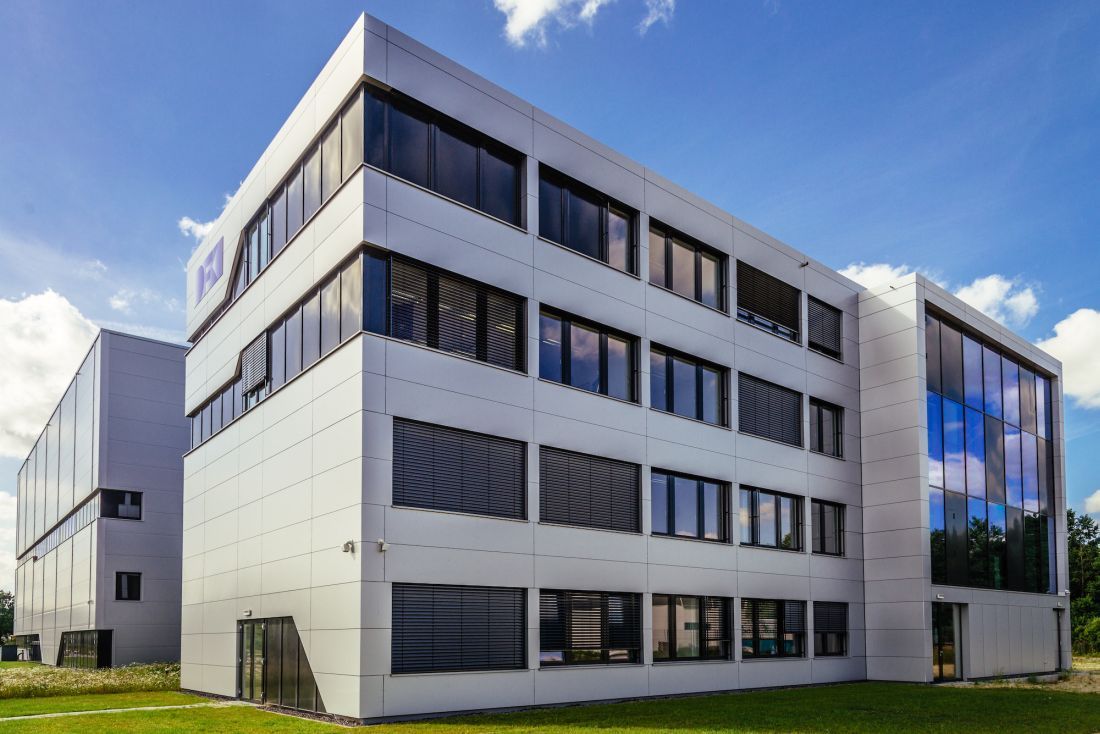 Here are six reasons why Bremen Technology Park is so successful:
#1 In the best company
The 170 hectare site is home to more than 550 companies, institutes and research facilities. These include established businesses such as OHB-System, BEGO, OAS and OMNILAB-LABORZENTRUM, and research institutes such as the Fraunhofer Institute for Manufacturing Technology and Advanced Materials (IFAM) and the Max Planck Institute for Marine Microbiology. They have all set up around the University of Bremen, which has 19,500 students. In total, around 13,500 people work in Bremen Technology Park.
#2 Dialogue between science and business
The close proximity between institutes, university and companies creates an unparalleled density of highly qualified workers and promotes an intense and active dialogue between science and business. The diverse mix of sectors, including IT and communication technology, aerospace, logistics, production engineering and nanotechnology, fosters creative and innovative collaboration.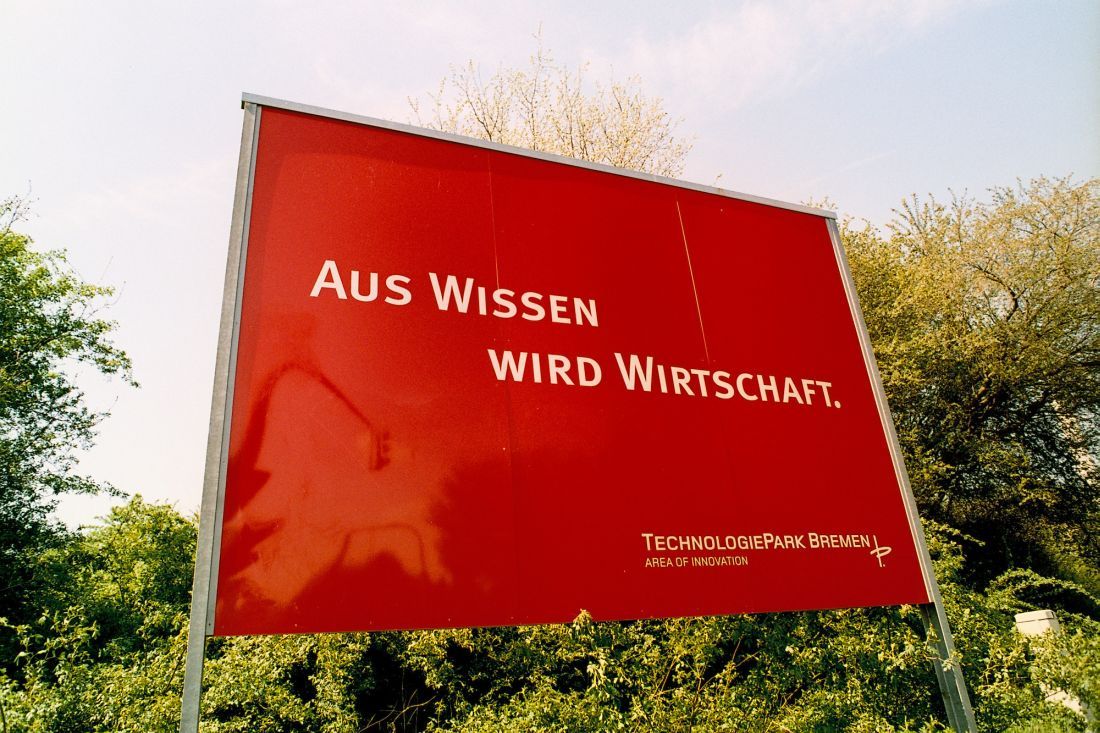 #3 Well connected
Bremen Technology Park is situated just off the A27 near the A1 autobahn. The city centre is a 15-minute drive or tram ride away and the airport is 30 minutes away. The number 6 tram goes directly from the airport via the main train station to the University of Bremen. And that is one of the advantages of the city – you never have to travel too far or for too long.
#4 A great environment for start-ups
The benefit of being so close to the university is that you have access to a large pool of highly qualified professionals. And if the young graduates have an idea for a start-up, then advice and support is available from nearby Bremen Innovation and Technology Centre (BITZ). Here, entrepreneurial spirit and scientific innovation have room to develop, and the BITZ provides the ideal environment for business start-ups and anyone looking to bring their innovative business idea to fruition. Once successfully established, the start-ups 'graduate' to the Fahrenheit Houses opposite where they can concentrate on expanding their business.
#5 Premises to suit all needs
Bremen Technology Park offers a wide range of premises and commercial real estate to suit all needs. Anke Werner, project manager for the Bremen-Ost region at Bremeninvest, is ready to help with straightforward advice that is tailored to your requirements. Bremeninvest can also offer advice on investment opportunities and funding.
#6 Modern architecture and a high quality of life
Everyone who lives or works here can enjoy a high quality of life. After all, Bremen Technology Park is more than just a business park – it is a district in its own right. Making it even more so was the objective of the 'Technology District' development programme adopted in 2008. "One of the central ideas was to liven up the area," says Anke Werner, Bremeninvest's project manager for the Technology Park. "The centrepiece is the leafy Campus Park. It's a popular spot with students, business travellers and local employees for an al fresco break, especially during summer."
The modern architecture and verdant surroundings of the Stadtwald forest also help to create a pleasant atmosphere. Tourists will find welcoming hotels, a wide range of restaurants and cafés, sports facilities and entertainment, such as the Universum Bremen and the Unterwegs – DAV Climbing Centre Bremen. You can read all about our adventures on the climbing taster course here (article only in German available). Students live in accommodation on and around the campus, with further units already under construction, and local workers can leave their children in one of the nearby childcare centres. Aldi Nord is erecting a multifunctional building that will house a supermarket, shops and office space. "We want to improve local service provision," says Werner, who describes successful relocations as "the icing on the cake".
Further success in the future
The business park is highly popular, but is it still missing something? "It would be great if we could get more shops to open here, so that local workers and students don't have so far to travel. A pharmacy or dry cleaners, for example," Werner says. A train station would also improve the Technology Park's transport links and offer many commuters an alternative to driving. "And we also have to think of suitable expansion plans for local businesses, institutes and the university." As it stands, availability of commercial real estate is already quite limited.


---

For further information on the Bremen Technology Park or other Bremen business parks please contact Anke Werner, project manager for the Bremen region east, P +49 (0) 421 9600-331, anke.werner@wfb-bremen.de.