27 October 2023
-
Jann Raveling
Need a base in Europe? Bremen is the Key
Investing in Bremen
How the north german city of Bremen offers the best launch pad for europe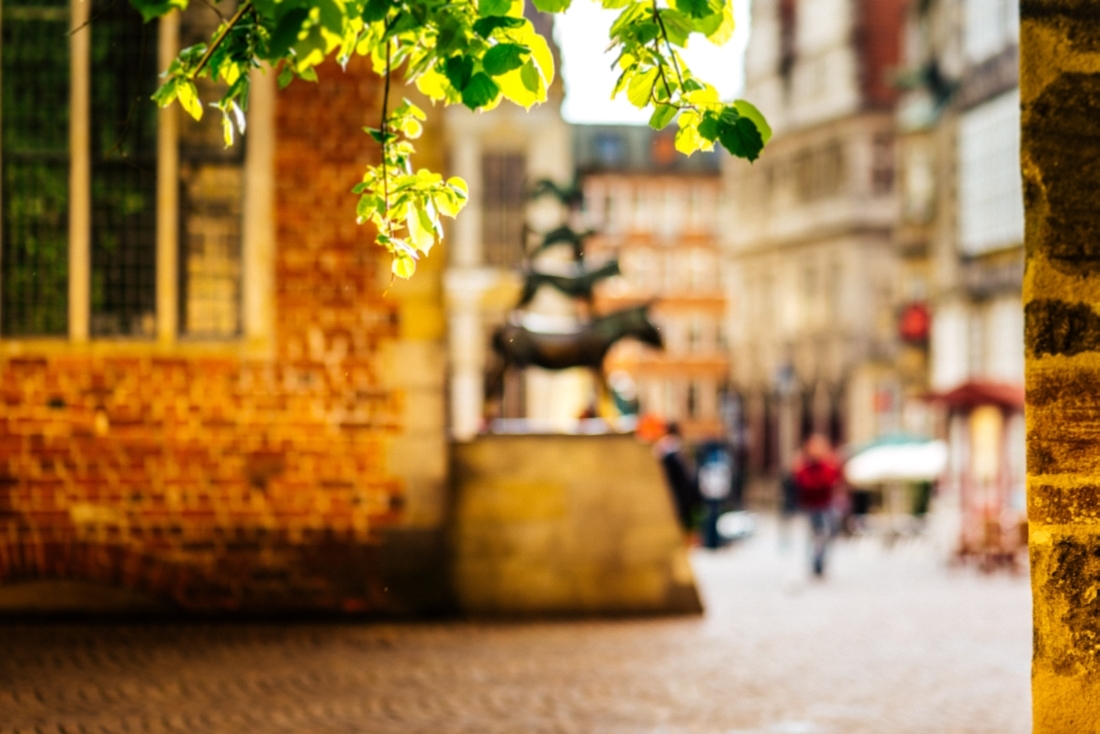 When was the last time you enjoyed a Beck's beer? Or told your children the story of the Bremen Town musicians? The North German Federal State of Bremen is home to 685,000 people and is world-famous for premium brands. It's also the key to Europe.
The German Federal State comprises of the cities Bremen and Bremerhaven. With its international container terminal and 7 additional ports, the state avails the highest german export rate and second-highest import figures, handles goods which are consumed by companies and individuals across Europe. They include coffee, cars, beer, fish and seafood, machine tools and electrical equipment.
And that's always been the case: in the Middle Ages, it was merchants from Bremen who traded across all of Northern Europe as part of the Hanseatic League. The key became part of Bremen's coat of arms in 1366. In a figurative sense, it has represented Bremen as a key to the world ever since.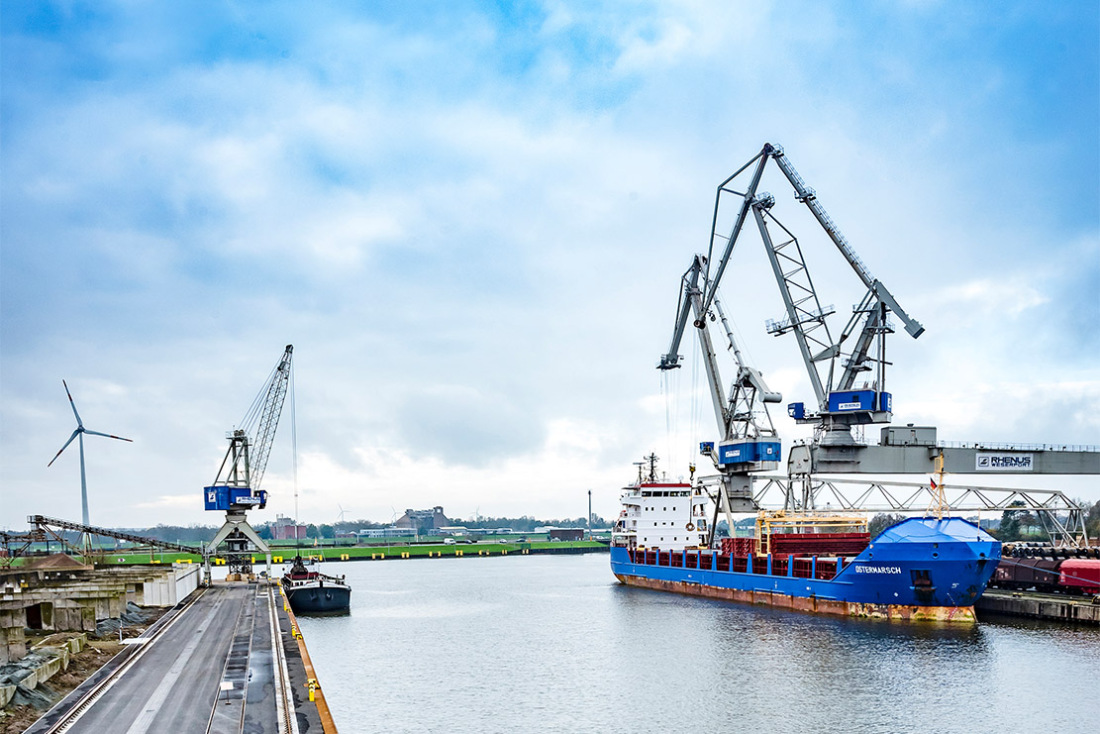 From the ports of Bremen and Bremerhaven, out into the world – the best connection
The ports of Bremen and Bremerhaven live up to their claim to be the key to the world. The fourth largest container port in Northern Europe is located in Germany's smallest Federal State. Commodities from every corner of the globe are held in the 3.2 million square metres of warehousing, making Bremen a major player in the world of logistics. Bremen's Güterverkehrszentrum (Freight Village) is widely recognised as Europe's most advanced logistics facility of this type. As a result, increasing numbers of companies are deciding to use Bremen as their gateway to Europe.
It simply couldn't be in a better location: it's in the middle of Europe and has superb connections to the long-distance road and rail networks, and ports. It is just a short flight away from many locations. The flight from London to Bremen takes only one and a half hours. And once you've landed in Bremen, an 11-minute tram ride brings you directly into the city centre. That's faster than anywhere else.
An attractive location for international business
A host of international companies are already making good use of these benefits. For example, Spirax-Sarco, one of the world leaders in industrial steam technology, has its headquarters in Gloucestershire, United Kingdom. The company also has a German subsidiary in Bremen: "We have the perfect conditions for producing and worldwide distribution of our products. It's not just the excellent infrastructure and the short routes, it's also because attracting specialist workers is easier here than in other places and the quality of life is so high. We shall be expanding within Bremen so we continue growing our global business from here," said Sheldon Banks, Divisional Director, GESTRA, part of Spirax-Sarco Engineering's Steam Specialties Business.
Living and working in Bremen
Finding the right kind of skilled workers is becoming an ever greater challenge for businesses, no matter where they are in the world. However, the prospects for the future in Bremen are bright: With its eight higher education institutions and more than 36,000 students, the city is preparing the workforce of the future in many different sectors. Added to this are the multitude of skilled workers who come through Germany's dual education/training system. The city's relatively low cost of living, coupled with its excellent quality of life, also makes it an attractive destination for newcomers.
Simply take a stroll around town to see just what we mean: Bremen is widely known as Germany's greenest big city. It's also the most bike-friendly city. Go for a spin on Sundays and discover some of Bremen's many parks and open green spaces.
Many of the international expats don't just enjoy the city's green spaces but have also taken to the "green" in sport by supporting Werder Bremen FC with its traditional green and white logo. The club's fame extends well beyond the city limits and is rightly known as a major attraction. Bremen's Old Town is also a magnet for visitors and draws in millions of tourists every year.
Of course, there's more to a good quality of life than leisure and relaxation. Ensuring the children get an excellent education is also a primary concern. This is where Bremen can offer skilled workers a really attractive all-round package. There's the British Kindergarten for example for the very youngest, who can then go on to the International School. Opportunities for tertiary education include, for example, the International Constructor University whose graduates include a multitude of well-known researchers.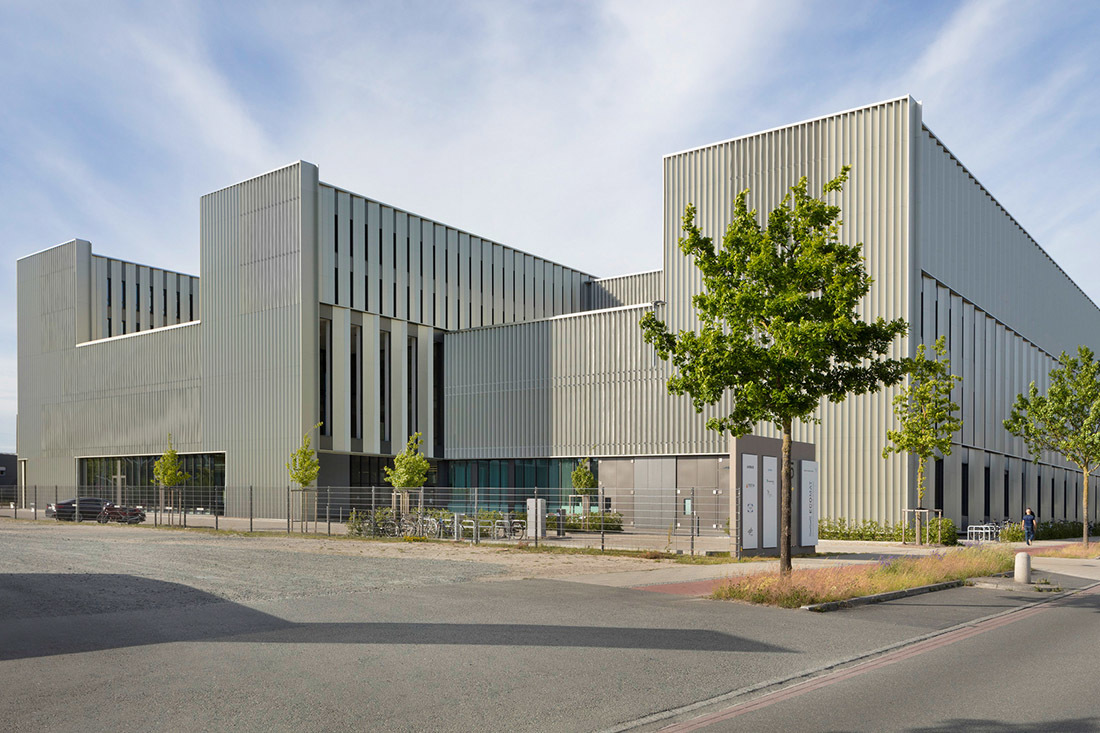 Science and Innovation: Hand in Hand
These researchers could work at one of the 50 institutes in the Federal State. The world-class research projects currently running here cover sectors as diverse as marine biology, aerospace and aviation, materials science and AI technology. The city is renowned as a top scientific location and is the global leader in many areas.
That is something that the host of innovative companies who run their development facilities here, working closely together with the local scientific community, make full use of. Cooperative ventures like this are supported and promoted by the Digital Hub Industry and the ECOMAT Center for Eco-efficient Materials and Technologies which nurtures interdisciplinary innovations.
Innovations are also on offer in 3D printing, a sector in which Bremen is one of the leading hotspots in Europe, thanks to a mix of applied research, start-ups and industrial expertise.
Industrial heavyweights ready to do business
The ECOMAT Center is a focal point for the aerospace and aviation technology. Bremen is home to Germany's second-largest aerospace and aviation hub. It's where the landing flaps for all Airbus airplanes are built and then mounted into wings that come from British assembly lines. The aviation industry complements a dynamic aerospace sector which includes giants such as Airbus, ArianeSpace and the satellite manufacturer OHB. Around 12,000 skilled workers are employed by the 140 companies and 20 institutes.
Thanks to being the location for the world's second-largest Mercedes-Benz plant, Bremen is also a well-known premium name in the automobile sector. This has attracted a great many component suppliers who are actively involved in the power sources of the future: electricity and hydrogen. Tank systems and hydrogen-powered commercial vehicles are also manufactured here. The use of hydrogen as a fuel for the future is also being intensively researched in the aviation and maritime sectors, as it is in Bremen's steel plant (which is part of the ArcelorMittal group). In recent years, the hydrogen industry that has grown up here has come to wider international attention: Bremen regularly welcomes delegations from interested parties.
Bremen is also an important player in the food and beverage industry and the wind power sector. For example, German project developers operate British or Taiwanese wind farms and fish from the North Sea that finds its way to the rest of Europe through Bremen.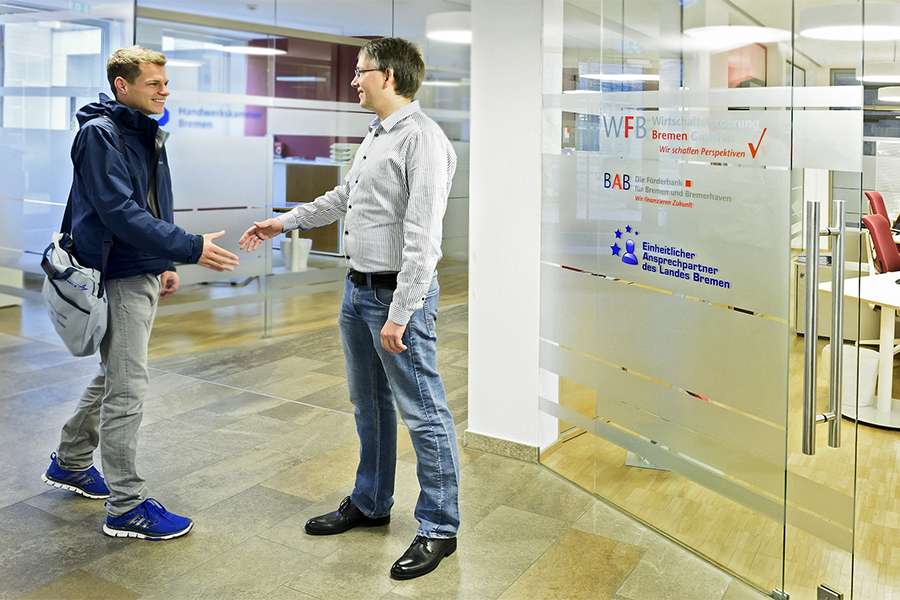 The fast lane to Europe: Bremeninvest opens the gates
We roll out the red carpet for everyone who decides to invest in Bremen. Bremeninvest supports companies at every stage in the settlement process, from making initial contacts to handing over the door keys. A warm welcome to our Hanseatic city is as assured as the services and guidance through any bureaucratic issues. Bremeninvest and its extensive network of contacts can help with private issues, staff recruitment and even assisting spouses and partners relocate to the city. Bremen's friendly and welcoming atmosphere is obvious from the moment you arrive. Because that's what it's all about: opening doors for new opportunities. And the key to that lies in Bremen.