1 December 2016
-
Nina Svensson
Innovative spinal surgery company NuVasive finds success in Bremen
Investing in Bremen
European headquarters of a Californian company at the heart of Bremen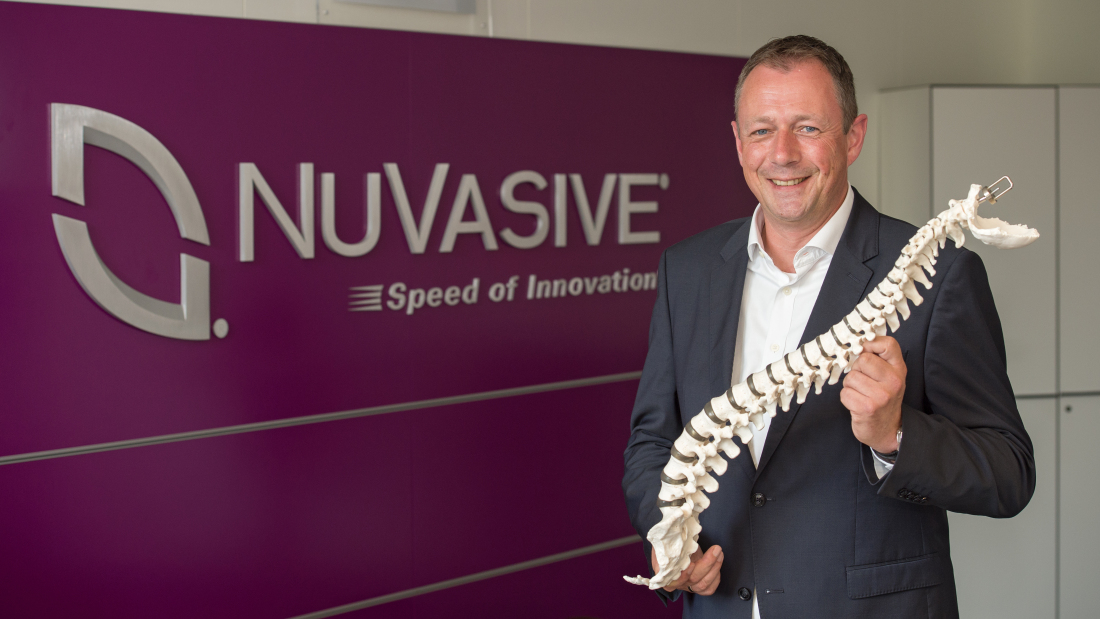 You might expect a Bremen-based company specialising in innovative instruments and implants for spinal surgery to be located at the Technology Park. But you'd be wrong. NuVasive Germany GmbH has its head office at the heart of the city centre next to Wallanlagen Park. Now employing a team of 44 people, the company generates annual revenue of more than €10 million – a figure that looks set to rise.
NuVasive was founded in San Diego, California, in 1998. Its aim was – and still is – to develop high-quality and minimally disruptive surgical products and procedures for the spine, with particular emphasis on protecting nerve tracts and the spinal cord. In 2002, for example, it launched a procedure that uses neuromonitoring to assess the nervous system during surgery. And in 2009 NuVasive pioneered a technique for accessing the spinal cord laterally during operations, making the procedure as minimally invasive as possible.
That same year, NuVasive moved its European headquarters, with a team of twelve employees, from Bavaria to Bremen. The managing director at the time already had a network of contacts in Bremen and this was one of the reasons behind the relocation. NuVasive received help with the move from Bremeninvest and was given funding of €60,000 as part of the LIP Bremen regional investment programme.
Stability is a priority
Frank Middeke has been managing director since 2013. His first concern is to provide stability at NuVasive and focus sales and service on the German-speaking countries (Germany, Austria and Switzerland). He has also developed a vision for the company and repositioned NuVasive Germany under the banner 'home of spine'.
Our customers have told us that they would like to have a 'home' for products and solutions relating to spinal surgery – and that is what we offer them.

– Frank Middeke, Managing Director of NuVasive Germany GmbH
The company is clearly successful. NuVasive currently employs 44 people in Bremen and plans to take on more staff in the coming years. Through the acquisition of Ellipse, NuVasive is set to achieve further growth this year and will add new innovative products to its existing portfolio. NuVasive generated revenue of more than €10 million in 2015, it most successful year since 2009.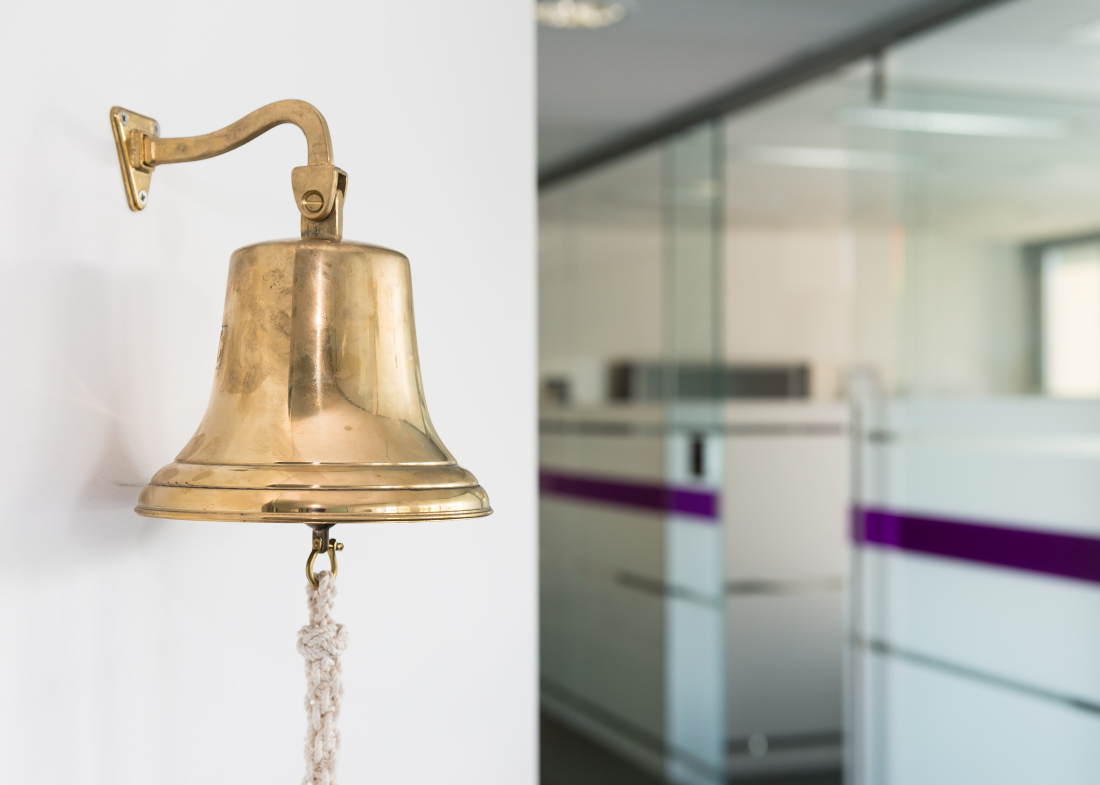 Expertise and enthusiasm – that is what Frank Middeke expects from his team. "We seek close contact to clients and patients so that we are always working with the very latest information. Our employees – and not just those who work in the field – are regularly present during operations: firstly, to ensure the quality of our instruments and implants in real-world applications, and, secondly, to ensure that they have a precise understanding of procedures and requirements before, during and after surgery."
Serving the market with all-in-one solutions
The market has changed in recent years. The population is getting older and the number of age-related spinal conditions is rising accordingly. The costs for health insurance companies are also increasing. As a result, more and more hospitals are forming purchasing syndicates or chains to negotiate framework agreements with suppliers such as NuVasive. "Our strength lies in the fact that we offer all-in-one solutions as well as the individual instruments and implants," says Middeke.
The aim is to ensure that the spine is perfectly aligned after surgery. For this, NuVasive offers solutions that show the surgeon during the operation – and not just afterwards – whether the optimum condition has been achieved or whether further corrections need to be made. Training is another important pillar of NuVasive's business alongside products, solutions and aftersales. "We work closely with the German Spine Society (DWG), offering courses for certifications and providing the products."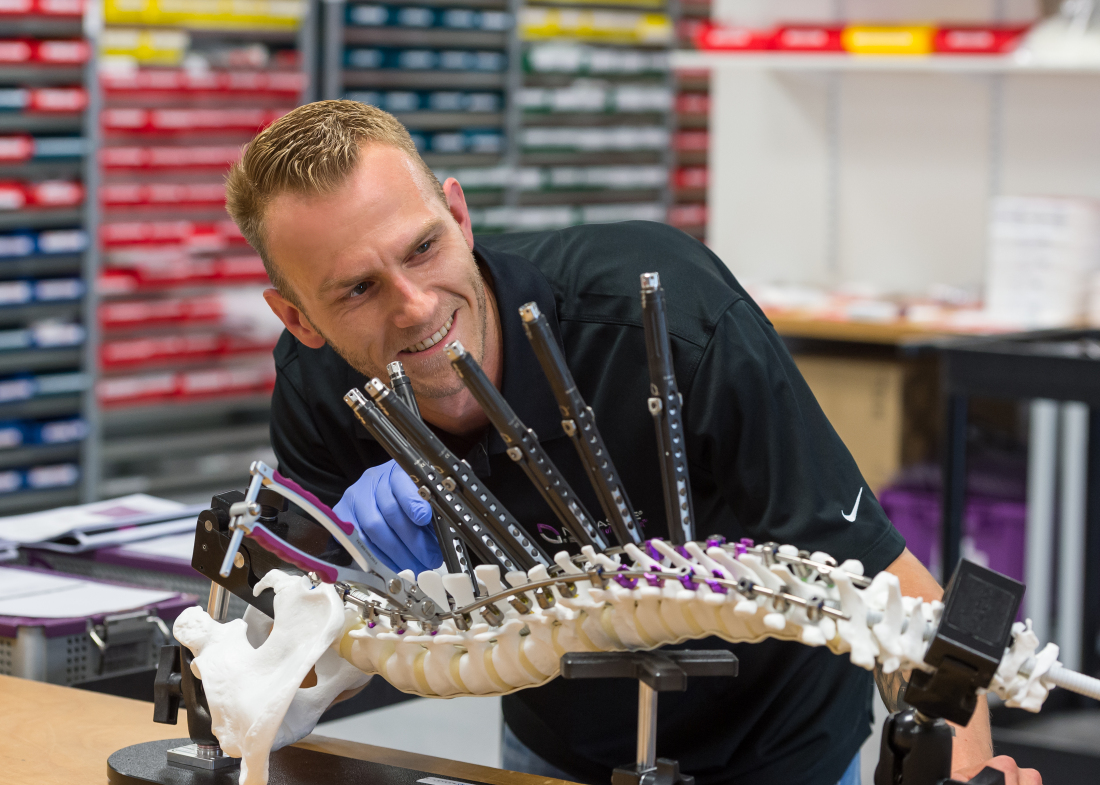 In 2017 NuVasive will start training management assistants in office communications. Continuing professional development is also a subject that Middeke feels strongly about. "Our products are special and so we need to make sure that our employees have the right training and the right mindset: for each operation, every single instrument and implant has to be available at the right time, in the exact specification and in perfect working order. We are talking about patients here – so excellent quality management, a high level of care and reliable logistics are essential."
When looking for skilled staff, Middeke feels that he is well served in Bremen. "In the areas of logistics, customer service and sales, we benefit from our network of universities and partners in the region. Bremen is ideal for us in other ways too. The city is of a manageable size and, thanks to the airport, we have good connections to our parent company in Amsterdam." Currently, NuVasive has more than 350 square metres of office space at its Contrescarpe site and 400 square metres of warehouse space on Richtweg. This is no longer sufficient, however, and so the company is looking for a new location in Bremen with the help of Bremeninvest.
If you are based outside Germany and are looking to relocate your company to Bremen or establish operations in the city, please contact Andreas Gerber.