14 December 2017
-
Diana Bluhm
Demand for office space in Bremen remains strong in 2017
Investing in Bremen
An overview of the results of the 2017 real estate report relating to office space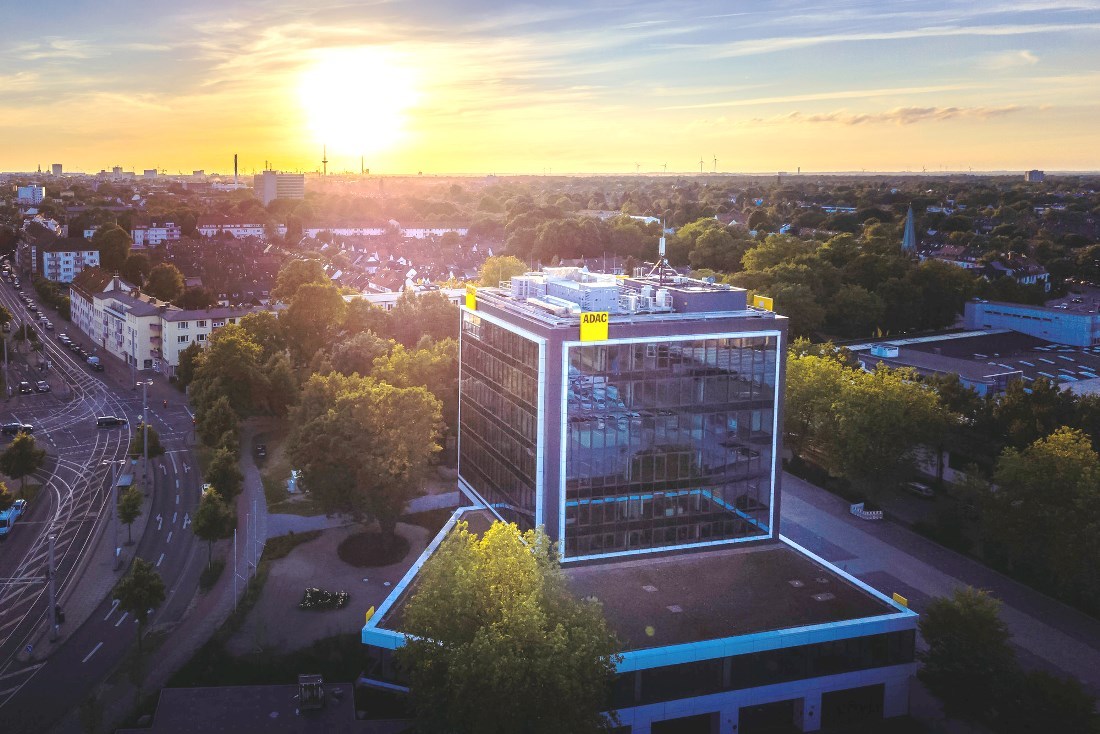 As part of our series on Bremen's real estate market in 2017, we take a closer look at office space. Despite considerable new building activity, the vacancy rate is likely to be 3.0 per cent, the lowest it has been for more than ten years. So investors need to act fast.
"Take-up of office space will again be around 100,000 square meters in 2017," says Andreas Heyer, CEO of Bremeninvest. Every year, Bremeninvest works with leading analysts to collate data on the real estate market in Bremen, covering the markets for office, logistics and retail space and residential and investment property. In 2016, the take-up of office space exceeded 100,000 square metres for the first time in a long while. The haulage/manufacturing/retail sector accounted for the largest share of this figure with 26.6 per cent.
The take-up of office space in the first half of 2017 was again exceptionally high at 50,700 square metres, with the 9,500 square metres of Kühne + Nagel's headquarters representing the largest share of that figure. Take-up of office space for the whole of 2017 is forecast to hit around 100,000 square metres again. In the first half of 2017, the haulage/manufacturing/retail and post sector once more accounted for over a third of sales.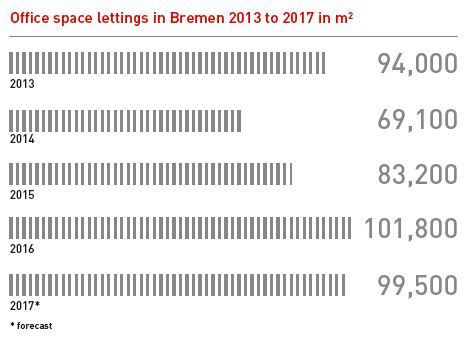 The first half of 2017 is dominated by very small and very large plots
Last year, smaller plots of up to 1,000 square metres accounted for more than half of the total take-up of office space, whereas plots of over 5,000 square metres made up a mere 12.5 per cent. Three quarters of all contracts were for plots of less than 500 square metres, reflecting the importance of small office premises in Bremen.
In the first half of 2017, this type of smaller real estate accounted for almost a third of total take-up. In contrast to 2016, however, the same is also true of very large plots of more than 5,000 square metres. Over 15,000 square metres of new office space was created through Kühne + Nagel's new build and other premises.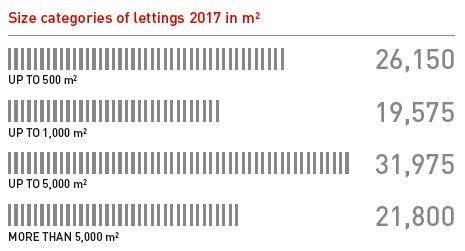 Überseestadt has the highest take-up of office space
Überseestadt is booming – this district is the top performer when it comes to office space. "Überseestadt is a prime location with large, modern new builds," says Heyer. In 2016, the district had the greatest share of the total office market, at 29.5 per cent. Back in 2015, it was Bremen's surrounding areas that had the largest share.
This trend continues in 2017, with Überseestadt's 18,200 square metres and the city centre's 16,100 square metres accounting for more than three quarters of total take-up in the first half of the year. So far, Bremen Airport-City and the outskirts of the city centre have the lowest take-up.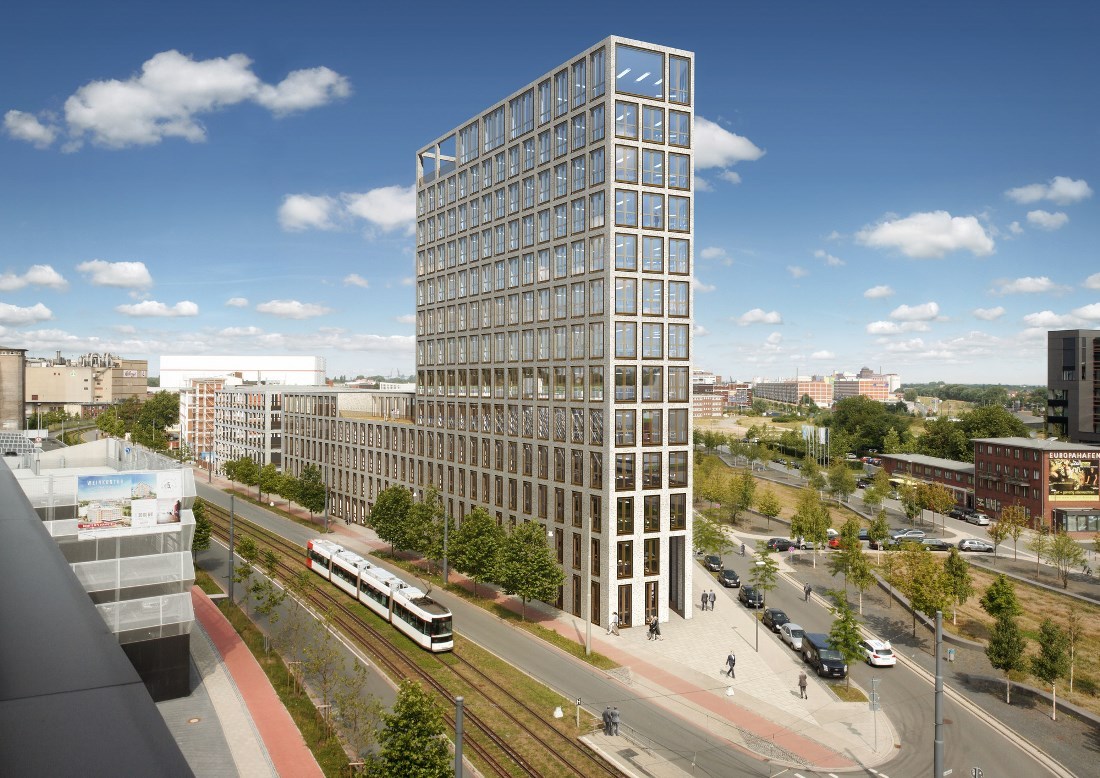 Fewer new builds cause Bremen's vacancy rate to drop to a record low
In 2016, 52,200 square metres of office space was built or converted, with a further 7,700 square metres redeveloped. That is more than twice as much as in the previous year. This caused the vacancy rate to increase slightly from 3.2 per cent to 3.3 per cent, as the space was not fully occupied immediately.
Investors built 24,350 square metres of new office space and redeveloped 8,500 square metres in 2017, a significant drop compared to previous years. Überseestadt has the lowest number of vacant offices, despite the huge amount of building work going on there. The picture is different in Bremen's city centre, which has the highest vacancy rate. Recent sales are likely to see that figure decrease a little, but office space in the historical building stock is too fragmented and outdated, making it difficult to sell.
Overall, the amount of vacant office space in Bremen fell to 110,300 square metres in the first half of 2017, a rate of 3.1 per cent. The rate is likely to fall further to 3.0 per cent by the end of the year. More new buildings are needed and more stock will need to be redeveloped to satisfy increasing demand. "We are likely to see further major construction activity next year," says Heyer.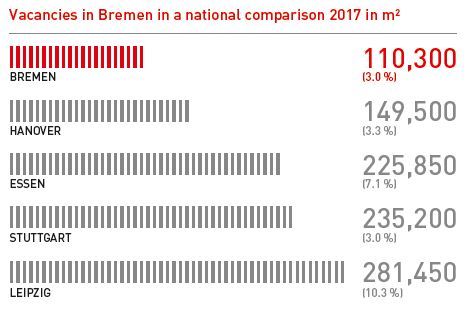 Prime rents in Überseestadt continue to grow
The attractive new office space in Überseestadt does not come cheap – prime rents increased to €12.80/m² in 2016, and a further rise to €13.00/m² is expected this year. Prices are also on the up in Bremen's city centre. In 2016, the price per square metre was €12.70, but this year that is expected to increase by ten cents. While prices just outside the city centre have remained steady, Bremen's outskirts have benefited from the lack of office space in the city centre. Both average and prime rents have increased by 30 cents to €7.00/m² and €8.50/m² respectively.
---
If you have any questions about Bremen's real estate market or the real estate report, contact Thorsten Tendahl, team leader of Bremen's business support and relocations service, tel: +49(0)421 960 0121, thorsten.tendahl@wfb-bremen.de.
To order a printed version of the 2017 Bremen real estate report, call +49 (0)421 960 0121 or email thorsten.tendahl@wfb-bremen.de.