10 July 2018
-
Reinhard Wirtz
Further expansion at a site with big ambitions
Bremen Industrial Park
Strong demand at Bremen Industrial Park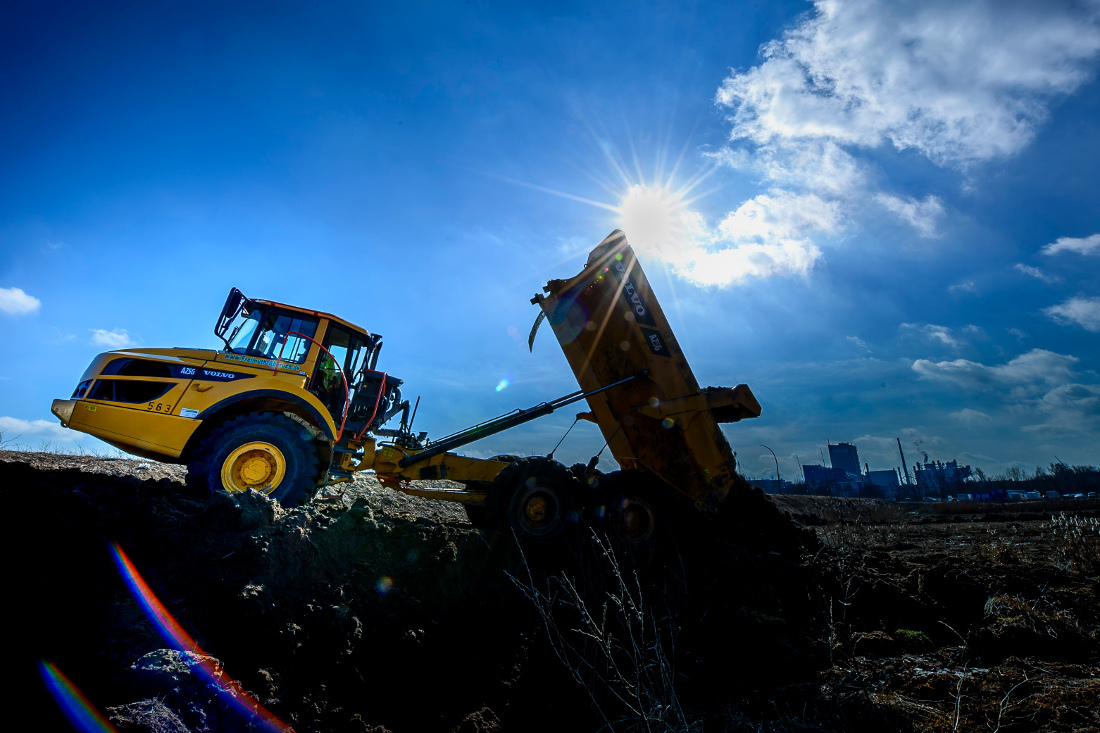 Bremen Industrial Park is located at the city's industrial docks. It covers an area of 140 hectares adjacent to the ArcelorMittal site, Bremen's former steelworks. More than 30 companies have already moved in, between them employing around 1,300 people.
"There is still significant demand," says Ray Ivens, who is Bremeninvest's project manager for the Bremen-West region and has responsibility for business services and sales. He believes the reasons for this burgeoning interest are the attractive mix of sectors, ranging from plastics processing and metalworking to recycling, laboratory services and logistics; access to the autobahn (A27 and A1); the short journey to Bremen's airport; and the availability of transshipment facilities for general cargo, bulk goods and containers.
More plots to be added due to high demand
Bremeninvest is therefore developing a further 24 hectares of net commercial floor area so that additional plots can be made available. As part of this fifth construction phase, the economic development agency is currently having all of the available areas raised using material removed from Sportparksee Grambke, a lake used for water sports. The roads and drainage channels will be laid out once the raised land has settled. Following this extensive preparatory work, this construction phase is expected to be completed in 2020 according to the current schedule. Nonetheless, some reservations have been taken for the new site, as Bremeninvest project manager Ray Ivens explains: "Given the demand, we could have already sold some of the plots. But that's not possible at this early stage of development." Prospective buyers will thus have to wait a little longer.
Old and new faces in the neighbourhood
Anyone keen to relocate here will find numerous respected manufacturers and service companies among their neighbours, including IPSEN Industrial Packing GmbH & Co. KG, BKK firmus, Chemisch-Technische Laboratorium Luers, G. Theodor Freese GmbH & Co KG, Haag Industrietechnik GmbH, IKS Industrie- und Kompressorenservice GmbH, Johann Winter Fördertechnik GmbH, Druck + Pack Service GmbH & Co. KG, Karl-Heinz Görmer GmbH, bukh Bremen GmbH and many more.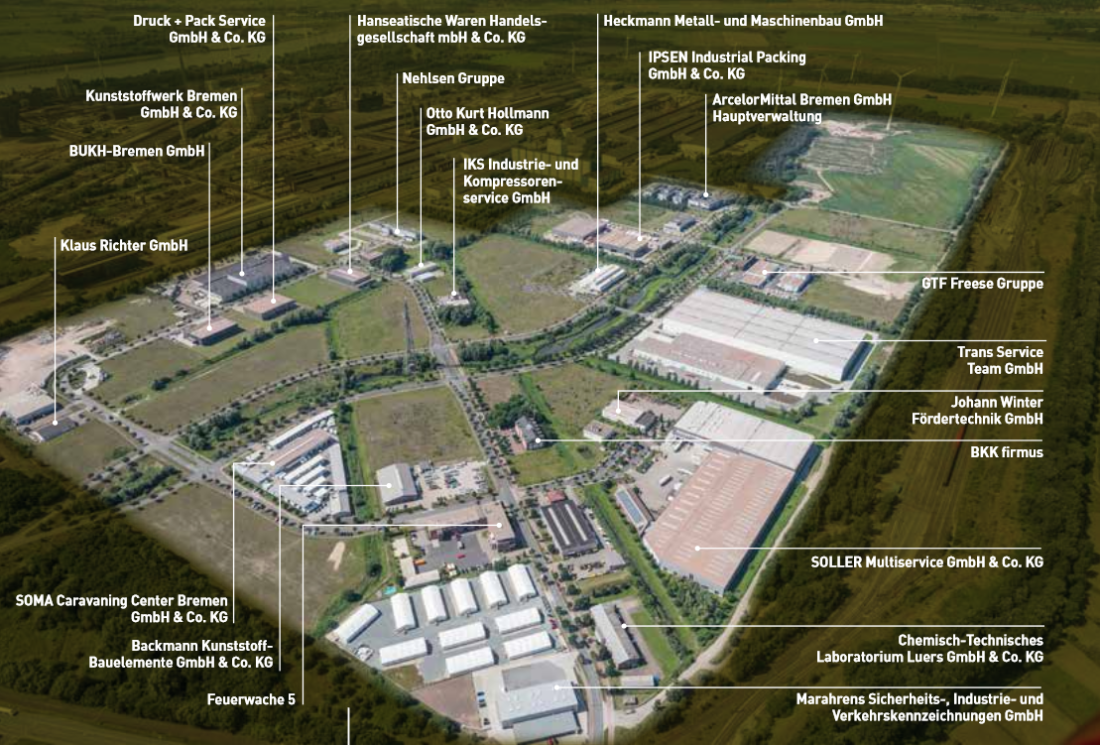 Loftex GmbH is growing and growing
A recent arrival at the industrial park is Loftex GmbH. At its gleaming white and spotless new premises, the company develops, manufactures and distributes hygienic wipes and cloths for cleaning and care that are mainly used in hospitals and care institutions. Loftex was previously based in the Überseestadt (New Harbour District), where Kurt Hesslau founded the company in 1976. In 2008, Loftex became an independent subsidiary of Heinrich Glaeser Nachfolge GmbH. Loftex expanded and eventually ran out of space at the old site. In the end, the Management Board opted for new premises at Bremen Industrial Park. The 2,000 square metre plot has space for manufacturing, warehousing and offices. The company moved into its new home in October 2017. "We feel very settled here," says plant manager Bert Fentsahm. Loftex continues to grow and is currently erecting a second production line at the new site.
Hanseatic foresight: Soller Multiservice GmbH & Co.KG
Soller Multiservice GmbH & Co.KG, which today has 140 employees, decided to move to Bremen Industrial Park at a time when the postman only had to deliver to one other address there. The company does business with major drinks manufacturers, including AB InBev, Flensburger Brauerei, Pernod Ricard, Vilsa-Brunnen and Warsteiner Brauerei. The success of their products is partly due to Soller Multiservice, a specialist in warehouse logistics services that focuses on the distribution of marketing materials to restaurants and cafés, drinks wholesalers and consumers. Soller was founded in 1973.
Soller displayed typical Hanseatic foresight by securing an additional 8,000 square metre plot so that it could expand its existing site at Bremen Industrial Park. This enabled the company to then build a new high-bay storage facility with 10,000 pallet spaces, cold storage with 300 pallet spaces and further areas for free-standing storage and picking.
Marahrens Group: industrial park provides fresh momentum
One of the more recent arrivals at Bremen Industrial Park is the Marahrens Group, a division of which moved into a newly built production hall with attached offices in 2016. The premises are located on Gottlieb-Daimler-Strasse at the entrance to the industrial park. Janina Marahrens-Hashagen is managing director of the Marahrens Group. The company's 200 or so employees manufacture signs as well as systems for labelling, information and wayfinding for markets in Europe, including Scandinavia, and the United States. The next generation – represented by son Jan-Christian Hashagen – has already taken on responsibility in this long-established company. He oversaw the construction of a new shipping warehouse for around 20,000 different safety signs at Bremen Industrial Park. Janina Marahrens-Hashagen and her son Jan-Christian are stepping up the catalogue business and driving the digitalisation of business processes. Another priority is inhouse vocational training because of the shortage of skilled workers. Thoughts have already turned to the next step: "We still have our other sites, Auf den Sandbreiten and Grambker Heerstrasse, but the potential for future expansion lies here at Bremen Industrial Park," says Marahrens-Hashagen.
---
Shoulg have any questions regarding Bremen Industrial Park, please contact Ray Ivens, project manager region Bremen west, +49 (0)421 9600 223, ray.ivens@wfb-bremen.de.
---
Bremen has many industrial estates, suiting different companys. We can show you the right business park to suit your needs.