15 August 2017
-
Jann Raveling
Metal foams from Bremen: two brothers get their business off to a strong start
Startups
Mac Panther Materials uses an innovative technique to produce open-cell metal foams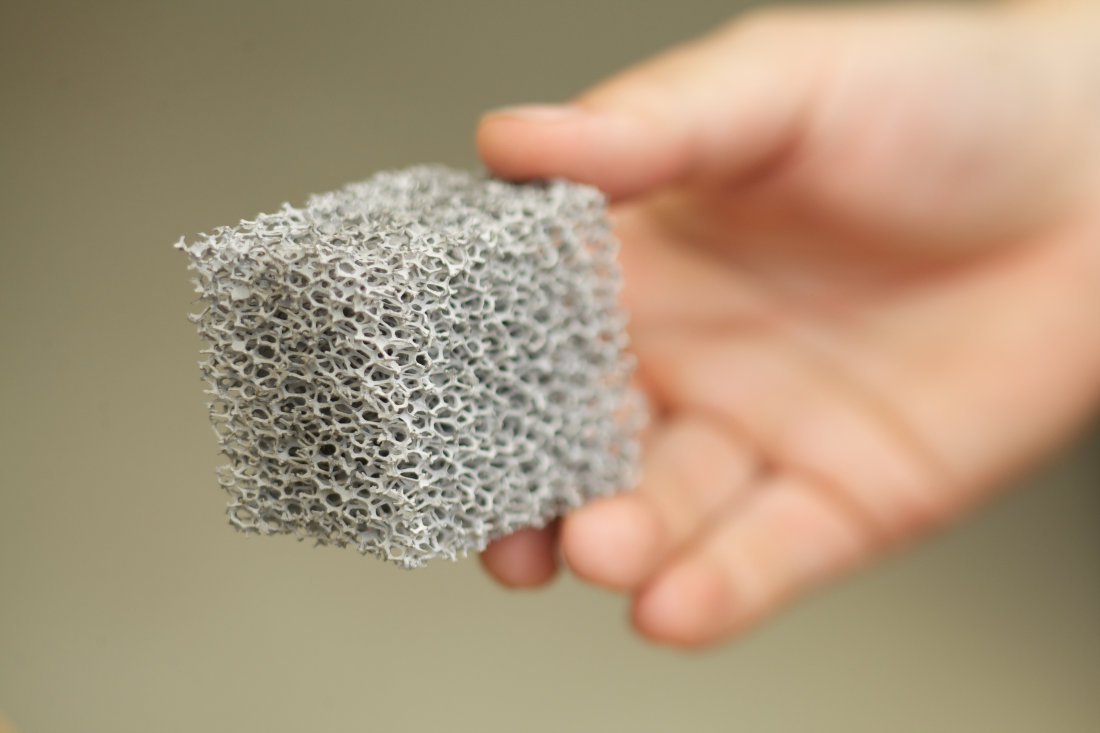 Metal foams combine high stability with low weight, making them particularly suitable in lightweight construction. A young start-up based in Bremen by the name of Mac Panther Materials has begun producing an open-cell metal foam for use in a number of different applications.
In the few months that have passed since they founded their company in March 2017, the two brothers Andreas and Michael Kleine have achieved a great deal. "It's a very exciting time for us, and so far our partnership has been working really well," says Andreas. There's no trace of sibling rivalry – the two founders of the company even share an office. Together, they manufacture open-cell metal foams.
There's more to metal foam than meets the eye
Although metallic foams have been around for many decades, until now their widespread use has been hindered by the high cost of the material. The lightweight yet sturdy porous structures are used in industries such as automotive engineering, where they can reduce noise and vibration or absorb energy in the event of a crash. Most metal foams used for such purposes are closed-cell, which means that every pore is completely encapsulated in a layer of metal.
The open-cell metal foams manufactured in Bremen are more akin to a sponge. The many advantages of this are explained by Michael Kleine: "Gases and liquids can pass through the open pores, which makes the material suitable for use as a catalyst, filter or heat exchanger. Metal foams can absorb sound waves and are therefore useful as insulation, or they can be filled with another material that's beneficial for the intended use. And we are making use of this to build lightweight structures that can absorb various forms of energy. As well as providing crash protection, for example, metal foams can provide excellent protection against explosions, shrapnel and projectiles. Last but not least, they are beautiful to look at, and architects can use them to design facade elements that are inherently flame retardant."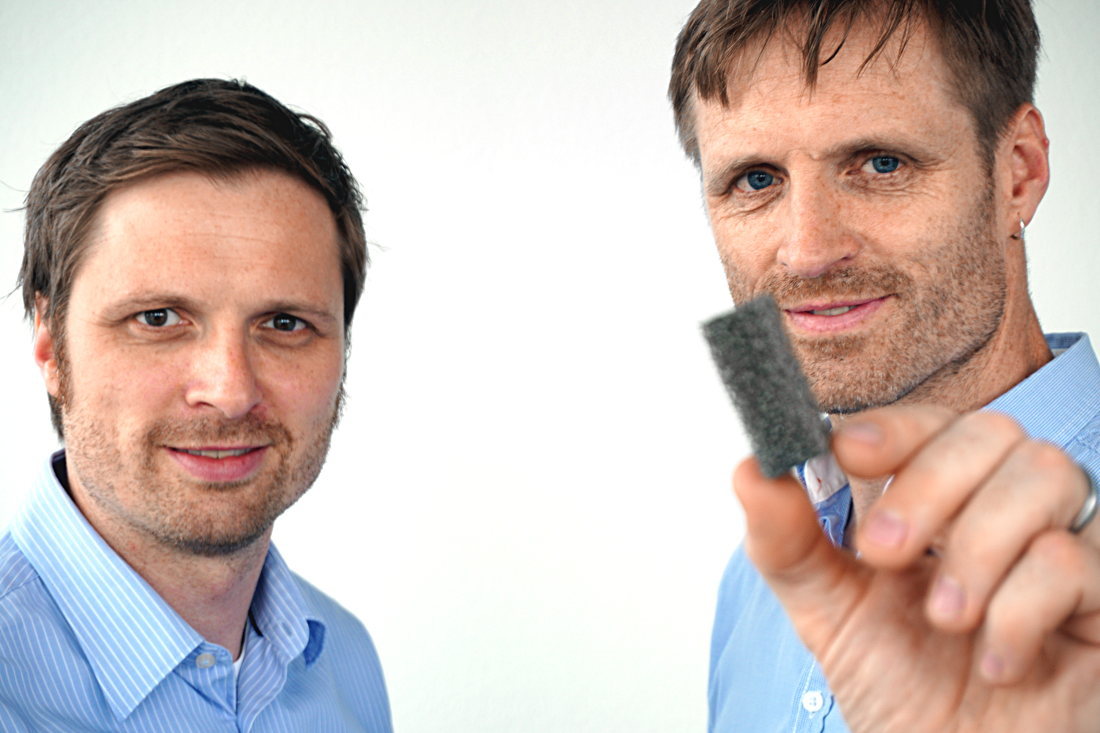 Combining tried and tested techniques to create something new
The comparison with the ordinary household sponge goes further: both products are made from similar base material. The porous metal structure manufactured in Bremen is based on polyurethane (PU) foams that are widely used in industry. This synthetic foam is coated with a layer of metal in a galvanic process – nickel, copper, silver, gold or alloys can be used.
This results in a synthetic metal hybrid foam that can be manufactured and reproduced relatively cheaply, since galvanisation is a standard process used in coating technology. Mac Panther Materials can remove the synthetic substance afterwards if desired, but it can also be left in without compromising the stability of the material.
Relocating for the sake of the start-up
"I'm excited by the many applications and the diversity of the material," Andreas Kleine enthusiastically admits. "There are a number of different PU foams, with pores that can be large or small, widely distributed or densely packed together. Consequently, we can manufacture bespoke metal foams that meet our customers' requirements." The younger of the two brothers by four years, Andreas is a physicist with a doctorate in the field of nanotechnology, which has also proved beneficial in his work with these special synthetic metal hybrid foams. He is responsible for the development, marketing and sales of the new material. To focus on the start-up, he gave up his job as a physicist and head of development in Hamburg and relocated to Bremen with his family. He's a little sad to have left Hamburg, but he hasn't regretted his decision for a second. "I said to myself: if I don't do this now, I'll never get the chance again. So I had to take it! And life here in Bremen is very good."
A partnership built on trust and openness
His older brother Michael also plays a key role in his new life. Both have families, and their six children, who are all of similar age, now have more opportunities to play together while the fathers shape their new company. "We have confidence in one another and want to build something together, which keeps us motivated," says Michael. "But we also know when to make a stand – we're quite open about that." Mac Panther Materials is an offshoot of the company Mac Panther, of which the brothers are also the managing directors. The original business specialises in the cold forming of long metal parts and is a 'hidden champion' within its sector. Based in Bremen Airport-City, it will be celebrating its 25-year anniversary in 2018. The similarly named start-up Mac Panther Materials is an attempt to establish a new pillar for Mac Panther in the form of metal foams.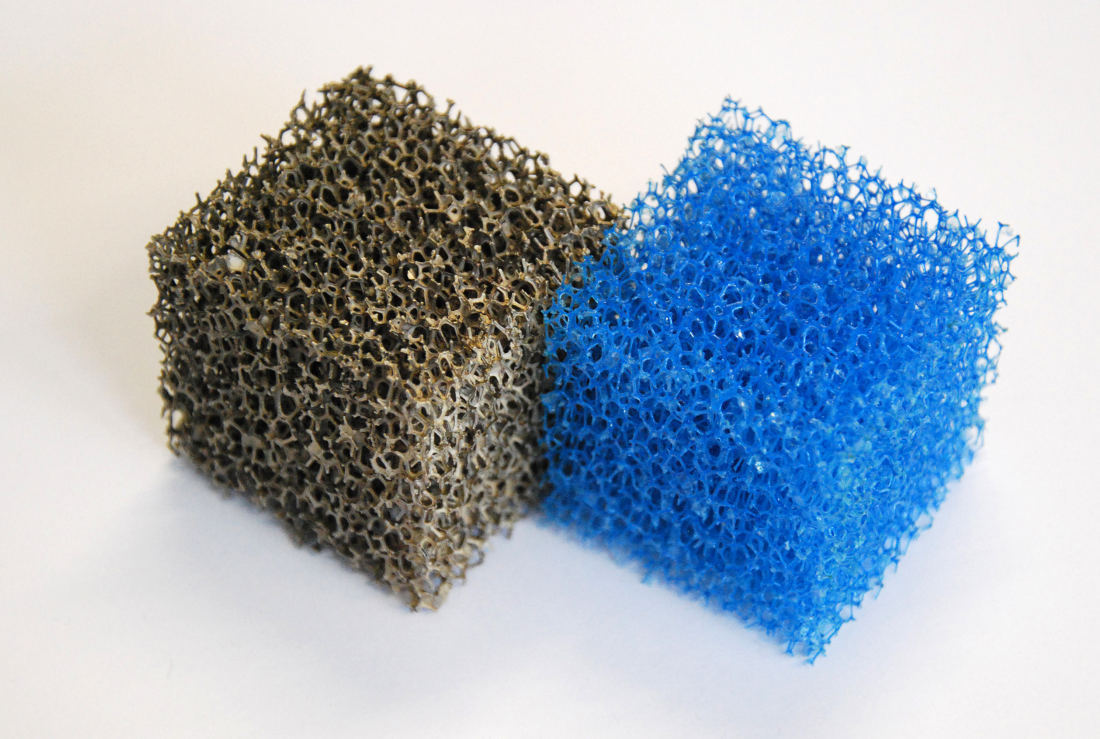 Developing a new mainstay with the aid of science
The idea for the new types of metal foams came from Saarland University, where the researcher Anne Jung, who holds doctorates in natural sciences and engineering, carried out investigations into hybrid foam production techniques. She won the German Thesis Award in 2013 for her work in this area. "The university was looking for a team of entrepreneurs to refine the prototype into an industrial process and then bring it to market. So we applied," explains Andreas Kleine. With a successful business of their own already in place, the two brothers won the contract to commercialise the technique. "We didn't have to set up every single structure from scratch – accounting, software, personnel, it was all there already," Andreas adds. The university and inventors are also involved in the start-up and support the brothers with their expertise.
Surrounded by customers in Bremen Airport-City
The foams themselves are produced in a nearby facility, since the use of galvanic processes at the Airport-City is problematic for environmental reasons. "Nevertheless, we choose to remain at our site here, since it holds many advantages for us," explains Michael Kleine. "Airport-City is full of potential customers, as these foams are of great interest to the aerospace and defence industries. And we're not too far away from the automotive engineering companies, either. The EcoMaT research and technology centre is currently under construction here, and hopefully this will open up potential for further synergies." The brothers now have the task of finding their first customers and ramping up production. And their start-up is already attracting a great deal of interest. "Mac Panther Materials also presents a major opportunity for Bremen as a business location, since we are offering an innovative material that opens up completely new possibilities," emphasises Andreas. He's optimistic about the future, and his brother certainly agrees with him.
---

Further information on Bremen's start-ups can be found here.