24 January 2017
-
Nina Svensson
Five reasons why Bremen is a leading automotive hub
Automotive Industries
The automotive industry in the fast lane: Bremen and Mercedes-Benz embark on a new journey together
Where the wheels of industry never stop spinning. Last year 324,000 cars rolled off the assembly line in Bremen's Mercedes-Benz plant, making it the biggest Daimler site anywhere in the world in terms of vehicle production numbers. And things are happening in the neighbourhood too. More and more automotive suppliers and logistics companies are moving to Bremen, with the city's Hansalinie Industrial Estate being expanded rapidly to cope with the increase in demand.
The automotive sector is one of the most important branches of industry in the Bremen region. The Mercedes-Benz plant, with a workforce of almost 13,000 people, is the biggest private-sector employer in Bremen, and the Bremen Hansalinie Industrial Estate offers a site that is dedicated to the automotive industry with direct access to the autobahn. This in turn strengthens the position of nearby Bremerhaven as Europe's biggest port for car transshipment and as a logistics hub for the wider automotive industry. Bremen is on the up – so it's well worth taking a closer look at five of the factors that make the city a leading location for the automotive sector.
1. Fit for the future: the Mercedes-Benz plant in Sebaldsbrück
The first Mercedes-Benz car to be assembled in Bremen rolled off the production line in 1978. Since that time, more than seven million cars bearing the famous three-pointed star have been made in the city. And this is only the beginning. Between 2009 and 2014 Daimler invested a sum of €1 billion in the Bremen plant to turn it into a production facility and global centre of competence for the C-Class. In the summer of 2015 a roadmap for the future was agreed that is now being put into action. Daimler is investing a further €750 million in Bremen as part of this future vision: from 2020 the successor to the C-Class will be built in the city, the number of apprenticeships is being increased from 2017, and a total of 500 new jobs are being created.
Ten models are currently built in Bremen – more than ever before. They are the C-Class saloon and convertible, the estate and coupé, the E-Class convertible and coupé, the SUV GLC, the GLC Coupé and the SL and SLC roadsters. And Daimler is not stopping there: the company has big and innovative plans for Bremen. For example, preparations are currently being made to begin production of the GLC F-Cell, a plug-in hybrid with a fuel cell and battery. The SUV will be made in Bremen as before.
2. Suppliers: innovative, creative and flexible
Just in time or just in sequence: for the companies that supply the automotive industry, being close to your customers is everything. That's no problem in Bremen, where a dedicated feeder road and the Hemelingen Tunnel connect the city's Mercedes-Benz plant with the A1 autobahn and the Hansalinie Industrial Estate, which is located right by the Bremer-Kreuz intersection. More and more suppliers are basing themselves at Hansalinie because of these rapid links. From car seats and electronic windows to tyres and sensors: Bremen is now home to over 40 companies that are involved in parts supply, parts logistics, engineering services and plant engineering. They employ more than 4,000 people.
Bremen's first automotive supplier was the Lear Corporation, which set up operations in the city in 1978, at almost exactly the same time as Mercedes-Benz began making cars in Bremen. The company, which was then called Keiper Car Seating, was the first in Germany to supply car seats on a just-in-time basis. In 1997 the Bremen facility was taken over by the US Lear Corporation, a leading global supplier of vehicle equipment and interior fittings and electronic power management systems. Around 650 people now work for the Lear Corporation in Bremen.
Other Bremen-based automotive suppliers include Hella Fahrzeugkomponentenbau, which employs around 600 people at its sensor production facility, the Brose Group, a manufacturer of electric window and door systems with a workforce of around 60 people, and the tyre specialist Schedl Automotive, which has around 65 employees. The Kuka Group, which makes production machinery in Bremen for axle and transmission assembly, operates a central logistics centre in collaboration with drive and chassis technology specialist ZF Services that employs around 235 people.
3. Logistics: ideal location and rapid links
So that just in time really does mean just in time: by road, air or sea, Bremen is hard to beat when it comes to location, thanks to its international airport, its proximity to the A1, A27 and A281 autobahns, and its ports. It has a reputation as a city where you never have to travel too far or for too long, and that's good news for logistics. Bremerhaven is Europe's biggest port for car transshipment, and the BLG Logistics Group's technology centre is the biggest automotive workshop in mainland Europe. Bremen's ports are also a logistics hub for the wider automotive industry.
A large number of logistics companies are now based in the area, helping to keep the automotive production lines running smoothly. DB Schenker, a division of German railways, stores assembly parts and components for some 60 suppliers in logistics space covering around 57,000 square metres. Every day at the I-Park, 280 employees unload more than 100 truck deliveries containing everything from steering wheels and axles to suspension struts. They then deliver the modules on demand to the Mercedes-Benz plant, just six kilometres away. The logistics for this is handled by Pfenning Logistics. The company, with its 230-strong workforce, works in a three-shift operation to supply the plant with up to 1,000 deliveries a day.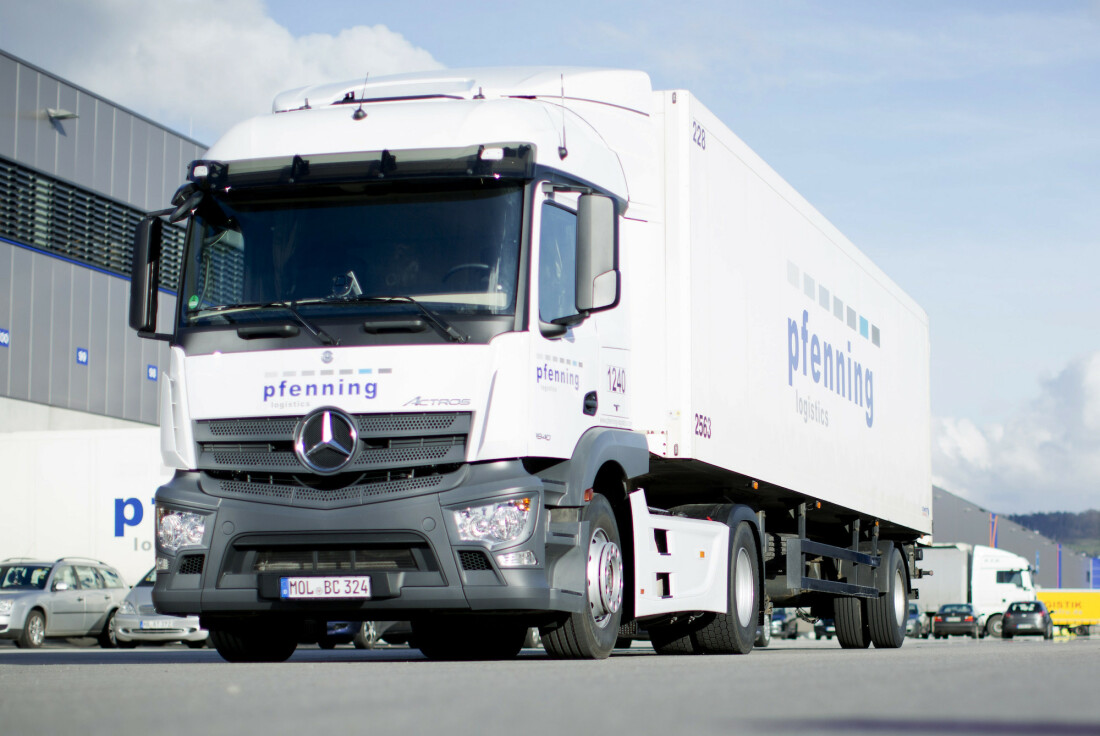 Mercedes-Benz also contracts out part of its warehousing to Lorel Logistik GmbH, which employs around 300 people. At the company's plant consolidation centre, individual parts are combined into complete sets of components that are then delivered directly to the assembly line.
4. Bremen Hansalinie Industrial Estate: excavating for the future
It couldn't be in a better location: right by the A1 autobahn, just a few kilometres from the Mercedes-Benz plant, Bremen Hansalinie Industrial Estate is ideally situated for companies that provide services, parts and systems to the automotive industry. The site is now home to around 80 companies that employ around 3,600 people. Demand for suitable space is growing steadily at the site and Mercedes-Benz is one of the main reasons why. Politicians and Bremeninvest are working closely together to meet this demand: Bremen Hansalinie Industrial Estate, currently a 90-hectare site, is now being expanded by around 55 hectares in two phases of construction. And there is still an additional 130 hectares of space for future development.
5. Well connected: automotive clusters in Bremen and the surrounding region
One for all and all for one: collaboration for mutual benefit is an established concept in Bremen and the surrounding region, including in the automotive industry. The clusters Automotive Nordwest (founded in 2008) and Automotive Nord (founded in 2016) work to raise the profile of northern and north-west Germany as a centre for automotive excellence and to facilitate the transfer of ideas and expertise across the industry.
In May 2016 automotive innovation was made part of the Bremen region's cluster strategy, bringing the automotive and automotive supplier sector onto an equal footing with the three existing clusters. As a result Bremen is now exhibiting at more and more trade shows, including the IZB International Suppliers Fair held in October 2016 in Wolfsburg. Bremeninvest and the Automotive Nordwest cluster shared a stand at the event promoting the automotive industry in northern Germany.
Success Stories
Quality of life
20 April 2023
Bremen – Germany's greenest city
The greenest major city in Germany is Bremen - with an average of 60 square metres of sports, leisure and recreation space per person. Parks, sports facilities, but also water areas invite you to relax from the hustle and bustle of the city every day.
Learn more