5 December 2017
-
Astrid Labbert
Bremen scientists helping to pave the way for the driverless cars of tomorrow
Automotive Industries
Welcome to the future of driving: scientists in Bremen are helping to turn the vision of self-driving cars into reality
Driverless cars are the future – and scientists from the University of Bremen are helping to shape this future. If vehicles are ever to be completely autonomous, they need to master tasks such as finding a parking space, parking, braking and avoiding collisions. An initial test vehicle is already being put through its paces in Bremen.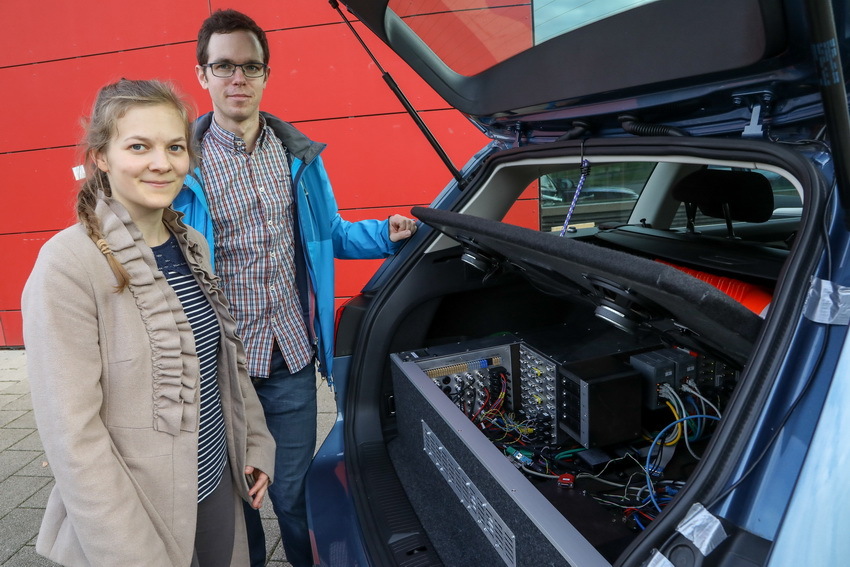 The sound of a slightly tinny male voice can be heard coming from inside the boot: "Autonomous mode activated." From her position in the driver's seat, Laura Sommer, a petite woman of 25, looks over to her co-driver. Her colleague Matthias Rick (26) balances a laptop on his knees and moves his right index finger to the right across the mousepad. At the same time the car's steering wheel turns to the right. A finger exercise in every sense: the system has to be quickly calibrated before the test drive can begin. Then comes the announcement from the boot: "Autonomous driving can commence."
Test drives in compliance with safety regulations
Welcome to the future of driving, or rather, the future of being driven. That future is already here, though it still takes a little imagination to see it, even when you are sitting in the back seat of the test car that these two PhD students are using to develop and test autonomous driving manoeuvres in urban areas as part of the AO Car project for the University of Bremen's Centre for Industrial Mathematics. Today, Sommer and Rick, together with project leader Professor Christof Büskens, want to show me some short sequences in a side street to demonstrate what they are working on. Finding a parking space, parking, braking and avoiding collisions are just some of the tasks the vehicle needs to master if it is ever to be completely autonomous. The federal states of Bremen and Lower Saxony have issued the researchers special dispensation for their test vehicle. Subject to certain very strict conditions, the car is permitted to drive itself in Bremen and the surrounding area, but not without a driver at the wheel. For driving at higher speeds, the vehicle operator has to complete a mandatory safety training course.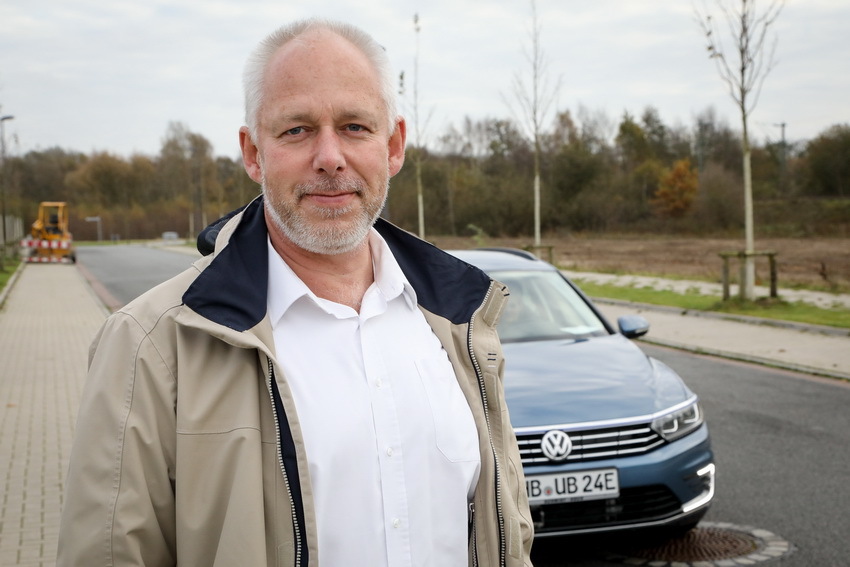 The challenge: from complex situations to algorithms
Test drives like these are conducted at a maximum speed of 20 kilometres per hour. "The driver can take control at any time," stresses Laura Sommer from the driver's seat.
From the outside, the car looks like any other standard series model. Its extra equipment is all hidden out of sight. When the car starts to move, the laptop screen shows us what the many scanners, cameras, ultrasound sensors and radar are seeing: lane markings, cyclists and pedestrians are displayed as real-time graphics. The researchers position a cardboard box on the tarmac in a quiet side street. The monitor then shows a gently curved line running around the box: the system has calculated the optimum route, having taken into account all the variables it has registered. Laura Sommer holds her hands in the air while the car navigates its own way around the box.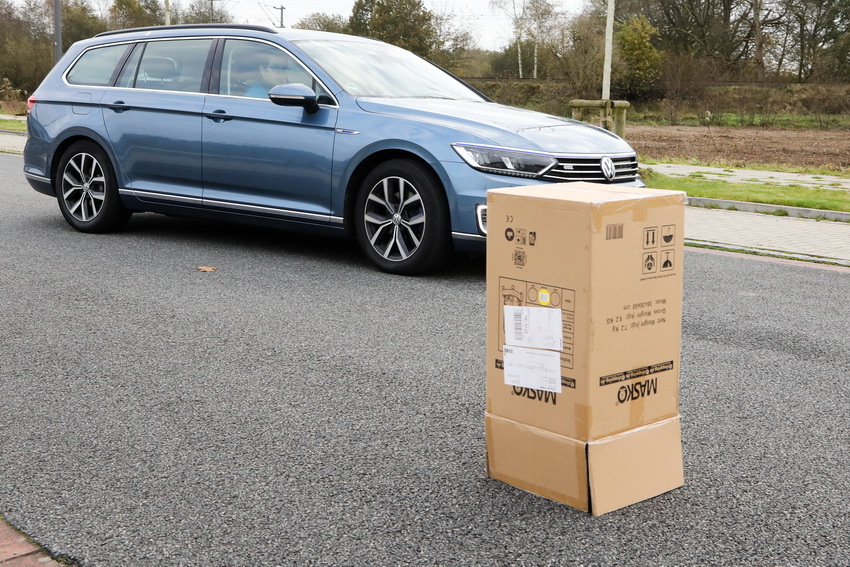 Objective: one standardised solution for all driving manoeuvres
This manoeuvre and many more like it are the result of the industrial mathematicians' hard work: they closely analyse the situations and driving manoeuvres that can arise in traffic, recreate them in non-linear functions, then devise an algorithm that enables the system to interpret these situations and determine the optimum response. "As mathematicians, it is our job to abstract situations," explains Büskens. The ultimate aim is to develop one standardised solution that can be deployed for each and every driving manoeuvre.
Assistance systems have up to now tackled one problem at a time
The AO Car project has highlighted one issue with current technology: the assistance systems that are already integrated into some cars, which perform certain actions automatically, are stand-alone solutions. They have been developed completely separately from one another and rely upon different software and problem solving models. This poses a problem when it comes to connecting them into a single system that could replace the driver. Though news reports and television advertisements often seem to suggest that we will be seeing self-driving cars on our streets any day now, Professor Büskens offers a more realistic assessment of the latest developments: "Complete solutions exist for individual scenarios, but not for the complex traffic environment we see in our towns and cities." What a driver has to achieve in terms of perception, action and learning is highly complex.
Identifying parking spaces
Example: parking in a space. Assistance systems can already park a vehicle but, as Sommer explains, "the car not only needs to be able to park itself, but it also has to locate the parking space when it drives into a car park". It needs to explore the surroundings and correctly identify a parking space, while also accounting for possible obstacles such as pedestrians, bollards or shopping trolleys. As a first step, the Bremen team wants to have fully developed a solution for this scenario by the end of the year.
Applying principles of space travel
There are three working groups contributing to the project at the University of Bremen. Alongside Büskens' working groups for Optimisation and Optimal Control and for Computer Graphics and Virtual Reality, the working group for Cognitive Neuroinformatics is fine-tuning the sensor fusion technology and working on the decision making processes. The project team has also partnered with the Institute of Space Technology and Space Applications from the University of the German Federal Armed Forces in Munich. Just like Büskens' team, they contribute valuable expertise from space travel projects, because "a lot of it transfers over" according to Matthias Rick. Whether sensors are on a distant planet or on a car on the street, the requirements are much the same: the vehicle needs to safely manoeuvre from A to B and therefore has to overcome known and unknown variables.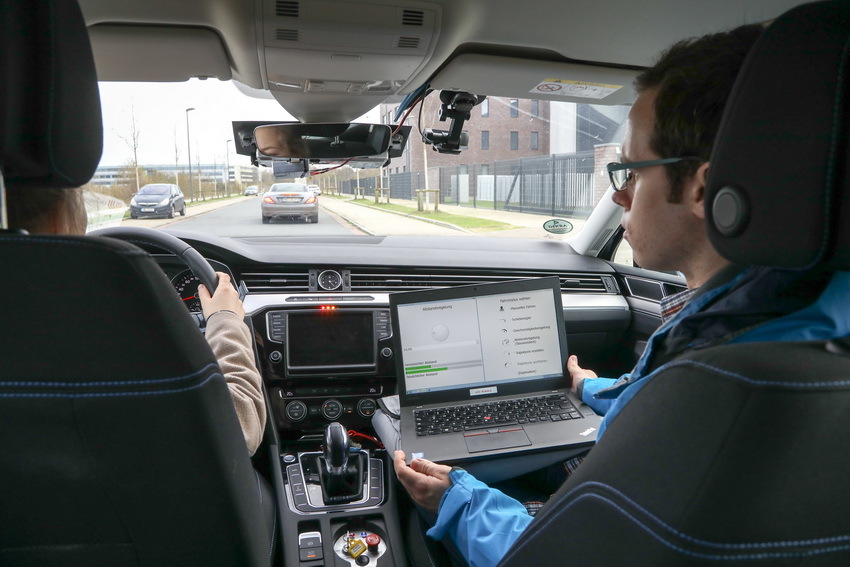 Autonomous driving: "It will keep us busy until 2050 and beyond"
We are still decades away from letting the vehicle take care of the morning commute while we sit back and check our emails and occasionally shut our eyes on the way to work. Büskens is certain of it. The industrial mathematician does, however, go on to say that self-driving cars on the autobahn could be "technically and legally possible" within a few years, before adding that "the driver would still have to take responsibility in critical situations." When asked how long it will take to turn automated cars into cars that are completely autonomous in every respect, he says "it will keep us busy until 2050 and beyond." For Büskens and his team of young researchers, however, the development process is more important than the end result, because "every step on the path to autonomous driving improves the current situation by making the roads safer."
How was the ride? Strange
After more than 100 test drives, Laura Sommer and Matthias Rick know better than most what it feels like to be behind the wheel when the car takes control of the steering. "It takes some getting used to," admits Laura Sommer with a smile. "At first we thought: 20 kilometres per hour, that's nothing. But the first few times, it feels really fast and you spend the whole journey asking yourself: Should I take the wheel?" Matthias Rick adds that "you have to learn to drive without actually driving."
---
Press contact: Centre for Industrial Mathematics at the University of Bremen, Professor Christof Büskens, tel: +49 (0)421 2186 3861, email: bueskens@math.uni-bremen.de
For more information about Bremen's automotive sector, follow this link.
For questions about relocating to Bremen, please contact Andreas Gerber on +49 (0)421 9600 123 or using andreas.gerber@wfb-bremen.de.