5 Green Businesses in Bremen
Wind energy
Doing business sustainably and ecologically in the Hanseatic city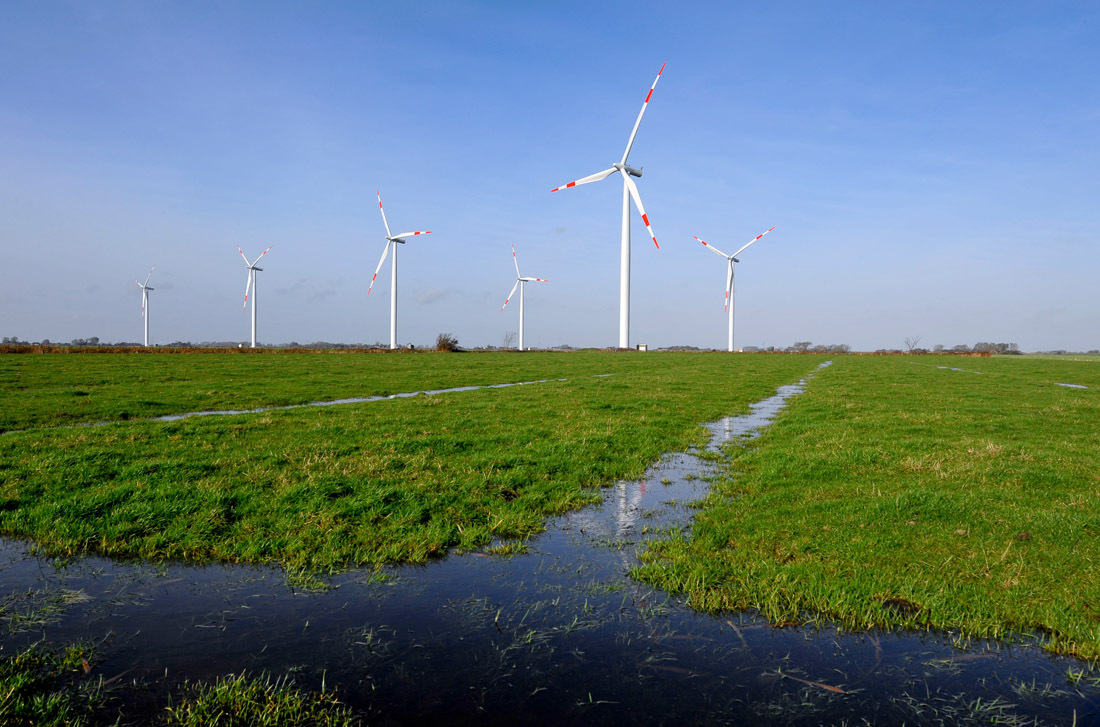 So, is planting a row of decorative trees in your company's car park and setting up a beehive next to the photovoltaic cells on the roof enough to allow you to call yourself one of these "green businesses"?
In a survey of 7,000 young trainees, students and university graduates (German), the management consultancy McKinsey discovered that many of the respondents rated sustainability far above a good income, a secure job or an international outlook.
HR managers in companies and institutions are increasingly aware that having a "green", "sustainable" corporate strategy can be a distinct advantage when it comes to recruiting. Other investigations confirm that these expectations are now shared by every age, a fact underscored by the recent report in the Handelsblatt trade journal.
There are a multitude of "green companies" in and around the city of Bremen. As you can see by the examples given below, this isn't just a recent phenomenon.
5 Green Businesses in Bremen
1. wpd: Shaping the Revolution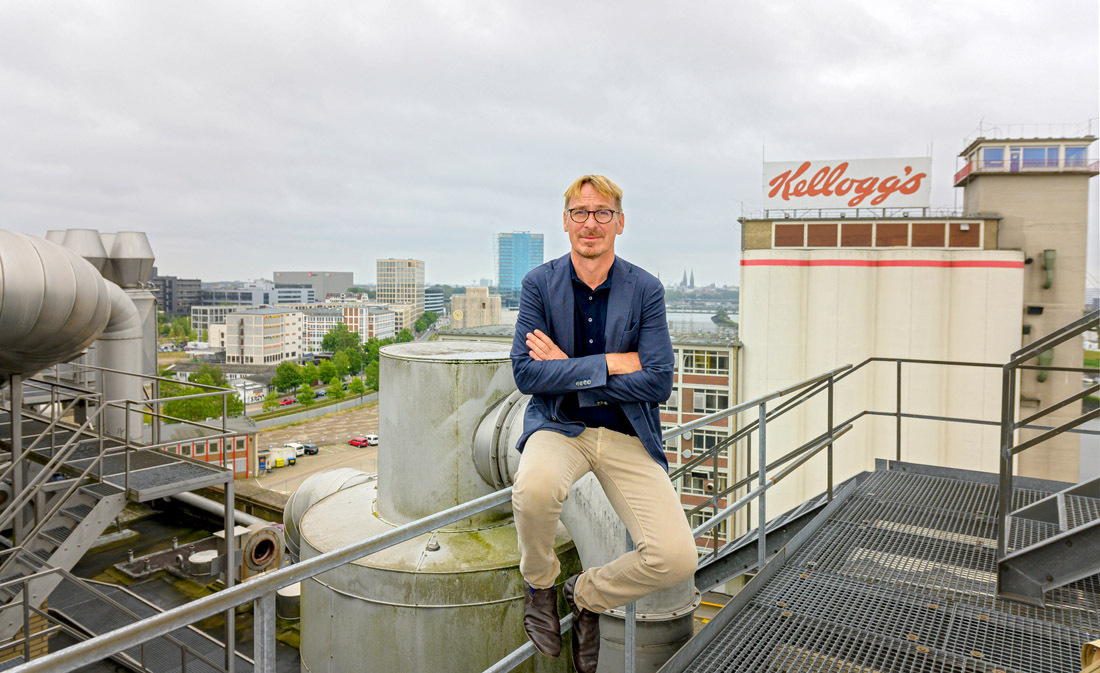 Founded in 1996, wpd grew up alongside the wind power industry. Today, this Bremen-based company is one of Europe's largest globally active developers and operators of wind farms, both on land and offshore. It is also involved in solar power projects. With a workforce of 2,680 employees, working in 25 countries, the company has a wealth of experience and has already built 2,270 wind turbines with a combined output of 4,720 megawatts. According to its own data, wpd installs an average of 100 new wind turbines every year.
The company group includes wpd AG (which develops and operates offshore and onshore wind farms), wpd windmanager GmbH & Co. KG (commercial company management and technical operations management) and Deutsche Windtechnik AG (service and maintenance). Alongside everything else he does, Dr. Klaus Meier, founder of wpd and Chair of the Supervisory Board at wpd AG, is currently working to transform the 15 hectares of the former Kellogg plant in Bremen into the Überseeinsel. This part of town will become an innovative and sustainable urban neighbourhood (German), with very little car traffic. Powered by wind energy, the aim is for the Überseeinsel to be as carbon-neutral as possible.
"At wpd, we've been helping shape the energy revolution for over 20 years. We are motivated by our conviction that climate change is one of the greatest challenges of our time. Our projects make a significant contribution to meeting this challenge quickly and effectively", stated Christian Schnibbe, press officer at wpd.
2. Greenbox: Organic on the Onside – Organic on the Outside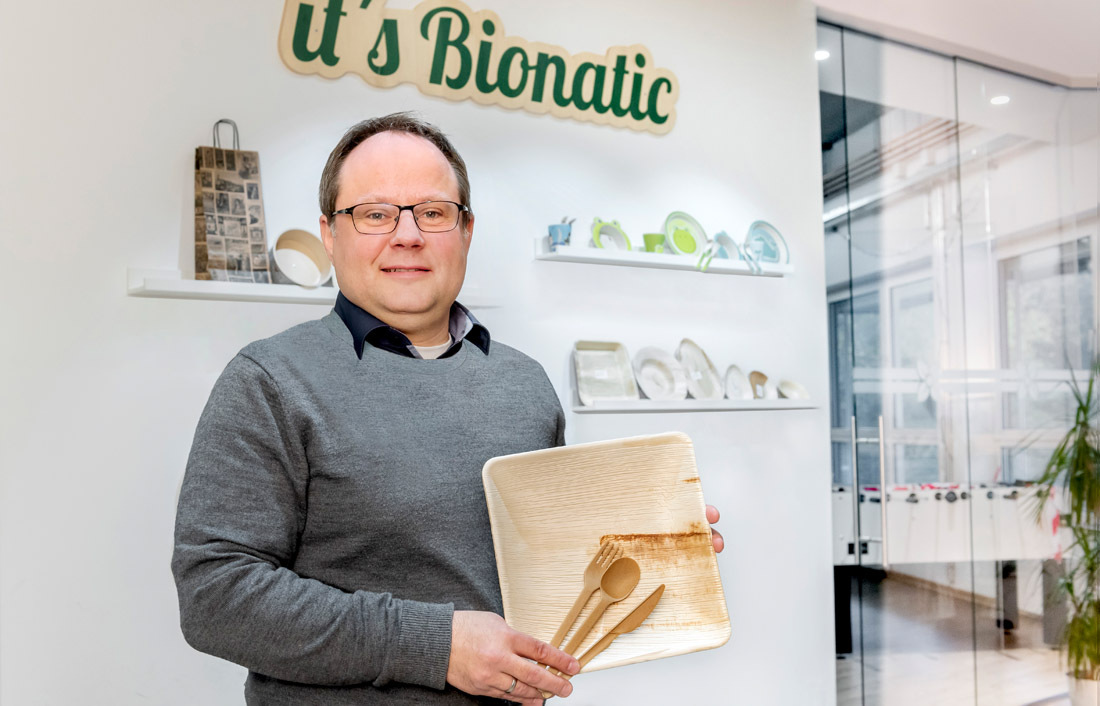 Catering, takeaways, "coffee to go" or food delivery services – the food you order usually arrives in some kind of packaging. Greenbox GmbH & Co. KG has proved that the manufacturing processes for this kind of packaging can also be environmentally friendly, sustainable and carbon-neutral. Its online shop for B2B customers www.biologischverpacken.de sells sustainable packaging and catering supplies such as plates, cups, trays, bowls, cutlery, boxes, bags, glasses and napkins. These disposable or reusable containers are made of materials as diverse as wood, sugar cane, palm leaves, PLA (bioplastic) and biocomposites.
In addition to selling its products, Greenbox GmbH & Co. KG also contributes to the research into new processes and materials for bio-based composites carried out by its sister company, Häppy Compagnie GmbH & Co. KG. The company also views sustainability as a social responsibility: its palm leaf products come from India, where the producer pays fair wages and ensures safe working conditions, in compliance with stringent BSCI standards. These Bremen-based businesses are also supporting a reforestation project and offsetting their CO2 emissions.
"We want to meet our responsibilities to our community and our employees by doing everything we can to lessen the impact of our economic activity and our levels of consumption. We're convinced this is the right way to run our business, and hope that many other companies will follow our example", stated Jörg Ziegler, Managing Director of Greenbox GmbH & Co. KG.
3. Energiekontor: a Pioneer in Renewable Energy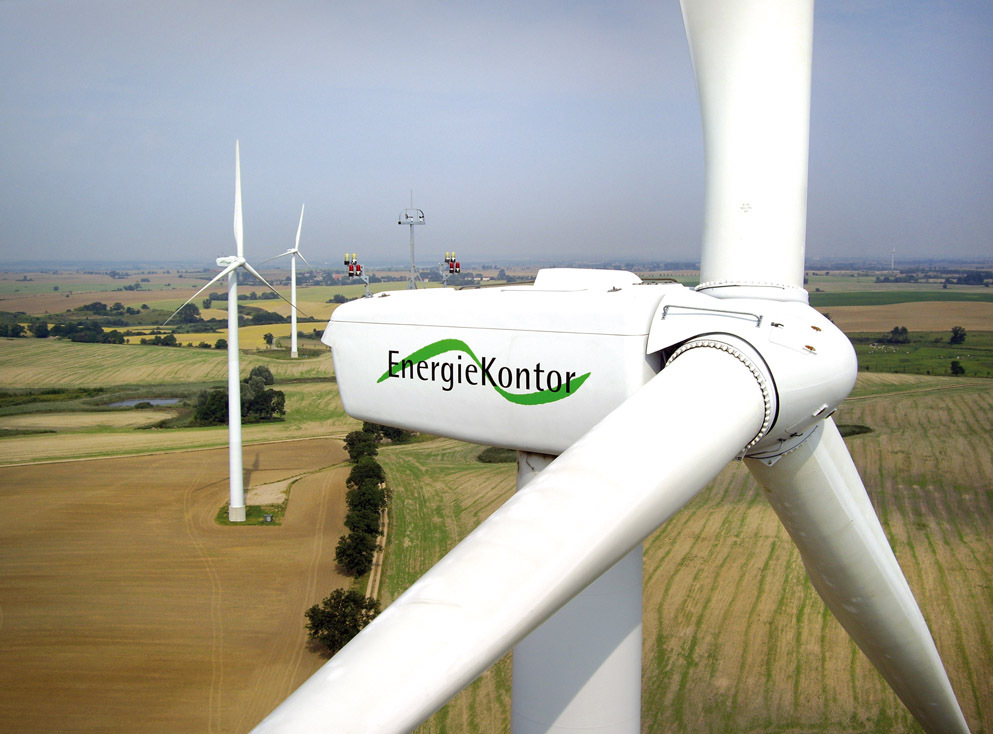 Founded in Bremerhaven back in 1990, Energiekontor is one of the pioneers in this sector. Today, it is one of Germany's leading companies in planning, building and operating wind farms both at home and abroad. In 2010, the Bremen-based company added solar energy to its portfolio. Energiekontor also operates its own wind farms and solar farms, generating an output of around 280 megawatts.
With expertise in all aspects of renewable power, the company can handle everything from the acquisition, planning, project management, financing and construction and sale of wind farms and solar farms, up to repowering. Headquartered in Bremen, Energiekontor has offices in Bremerhaven, Hagen, Aachen, Bernau, Potsdam and Augsburg. The company also has subsidiaries representing its interests in the United Kingdom, Portugal, the USA and France.
The company's achievements to date: 126 completed wind farms and ten solar farms with a total output of more than 1 gigawatt. This involved investment levels of around 1.7 billions Euros. Energiekontor's shares have been listed on the German stock exchange in Frankfurt since 2000.
"At Energiekontor, we aim to achieve 100 percent renewable energy in every market in which we're involved, without the need for state support. Our approach is to complete projects whose generation costs are lower than those of conventional power stations", said Peter Alex, Head of Investor Relations at Energiekontor.
4. Powertrust: Green Power from Bremen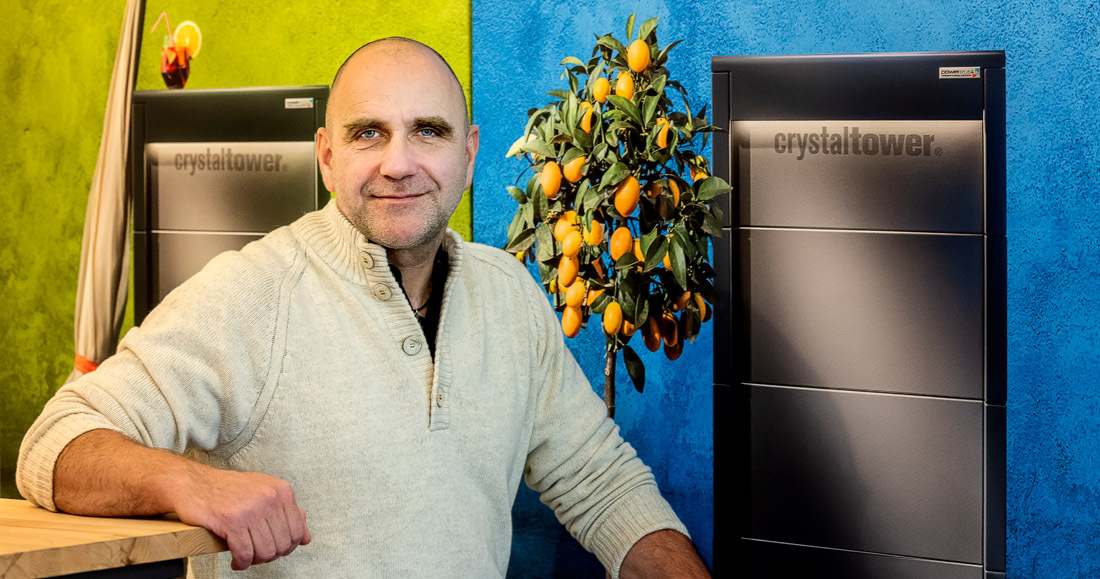 Powertrust GmbH ("A Hoyer Energy Company")(German) is a high-tech company in the renewable energy sector and develops its own power storage systems. This Bremen company plans and implements total power solutions, ranging from photovoltaics and power storage devices that are integrated in combined heat and power plants (CHP) and heat pumps up to vehicle charging infrastructure for electric vehicles. Every Powertrust power solution is based on analysing exactly how much thermal and electrical power is required in each case. This data is then used to create their bespoke, customer-specific energy solutions.
Powertrust GmbH has focussed more intensively on electrical mobility and charging infrastructure since the Hoyer group started being involved with the company in January this year. Powertrust GmbH now provides the Hoyer group with high-tech support for planning and installing rapid charging stations in Hoyer's own filling stations and equipping them with photovoltaic cells and batteries to act as buffers for handling load peaks and providing rapid charging facilities.
When it comes to battery technology, Powertrust uses "traditional" lead-crystal batteries and lithium-iron batteries in its power storage units. "These batteries are just as reliable as lead-crystal batteries, but have a higher energy density and can be charged and discharged more quickly. We're carrying out field trials on a number of power storage units using lithium-iron batteries, and everything's going very well", explained Powertrust's Managing Director, and entrepreneur, Mike Heger. In September 2018, he took over Powertrust GmbH as the company's sole proprietor. In January 2020, the Hoyer group was invited to invest in the company.
5. All(os) You Ever Wanted to Know about Organics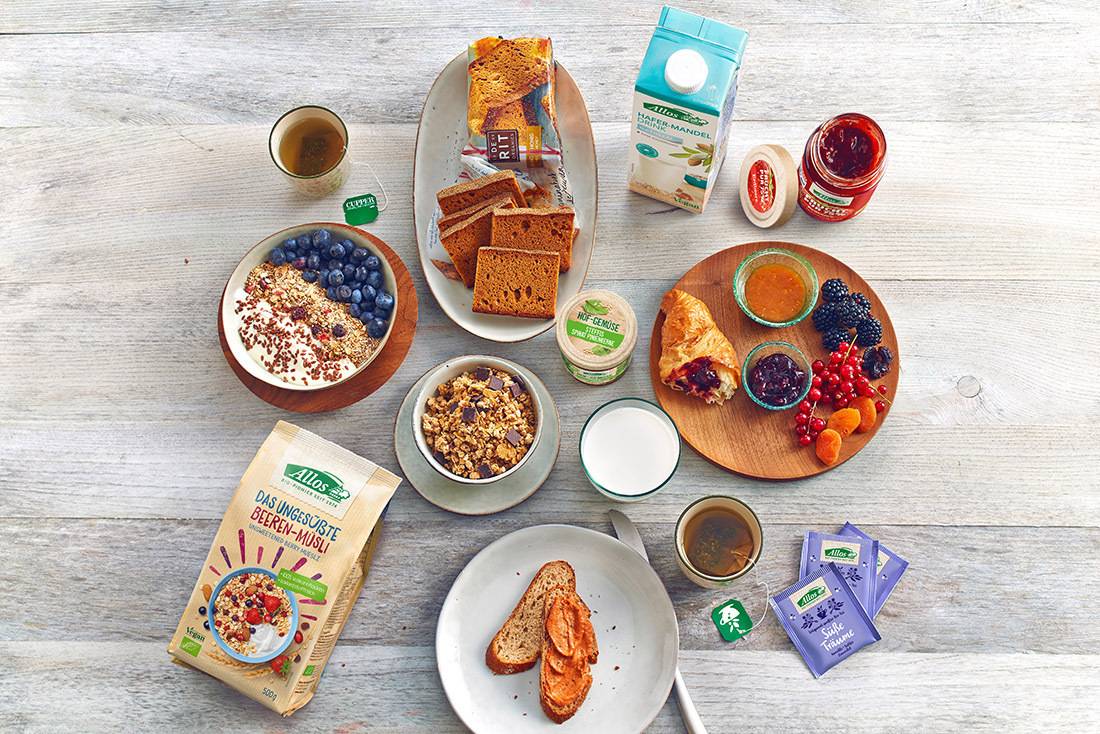 You will find the headquarters of Allos Hof-Manufaktur in a contemporary office building in the Überseestadt (New Harbour District) district of Bremen, right on the waterfront. The bright, spacious interior features walls covered in textured green materials, designed to resemble moss and accented with birch wood. "We deliberately chose a design scheme that would give all our colleagues a tangible sense of our products and our values"(German), said Christopher Hawkings, Human Resources Manager at Allos, which employs 200 people.
Allos Hof-Manufaktur was founded in 1974 and can trace its roots back to the self-sufficiency movement. Today, the company has three sites: Bremen, Drebber (Lower Saxony) and Freiburg. Bremen is home to the Marketing and Sales departments. The company itself is part of the French Ecotone Group, a food company which is also dedicated to organic production and the ethos of sustainability. Allos Hof-Manufaktur was one of the pioneers of the organic movement and has been producing natural foodstuffs such as vegetarian spreads, jams and conserves, muesli, cereal bars and much more since the 1970s.
It now has 400 products in its range. These are mainly sold in wholefood shops and health food shops but are increasingly to be found in mainstream grocers and supermarkets. The company has annual revenues of 70 million Euros. Proudly doing our bit to organically revolutionise the taste of the future. By connecting people with nature, we help everyone make informed decisions about what they eat. It's our way of making the world a little bit better. For healthier food, healthier people and a healthier world", said Christopher Hawkings, Human Resources manager at Allos.