20 December 2018
-
Jann Raveling
A robot drone for the wind energy sector
Wind energy
Research project tests autonomous inspection of wind turbines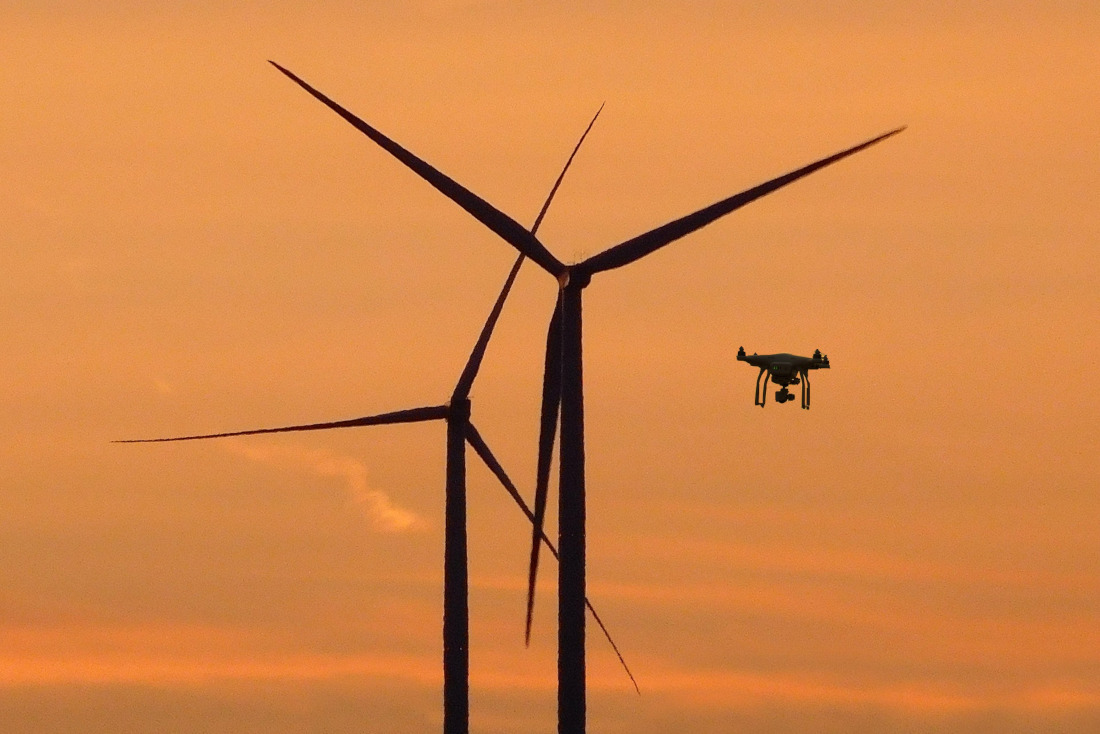 Bremen-based researchers are developing a drone that can autonomously inspect wind turbines. Its USP is its ability to get 'hands on'. Benjamin Staar and Dimitri Denhof love a challenge. That is the only conclusion you can come to when you consider their InspectionCopter project. The two scientists at the BIBA Bremen Institute for Production and Logistics have set themselves ambitious goals for the next two years. Working with their partners in robotics and 3D printing, they are aiming to develop a robot drone that not only autonomously examines wind turbines for damage, but also performs a lightning protection and drainage test at the same time.
Staar is a neurobiologist and Denhof is a systems engineer, and both work in the field of deep learning. They are motivated by the opportunity to measure their algorithms against reality and test them on real-world problems. "Things that our brain can handle effortlessly, such as identifying a defect in a wind turbine, are not so easy to replicate with artificial intelligence," says Denhof.
Strategic partners across Germany
InspectionCopter is a joint research project of BIBA, Bremen-based robotic arm specialists AKON, drone manufacturer Airstage and the Fraunhofer Institute for Additive Production Technologies (IAPT). This project brings many pioneering technologies together, such as AI, robotics, 3D printing and drones. That is what makes it so exciting for the two scientists. "Using drones to inspect wind farms is already commonplace. We are building a far more complex and autonomous system – there's nothing like it on the market," says Staar.
Recognise and scan
What will InspectionCopter be able to do when it is complete? Its work is determined by legal requirements: rotor blades must be inspected regularly, and lightning protection systems every two years, for example. These checks are currently carried out by technicians who have to climb the towers, which is an expensive and time-consuming process during which the turbine is offline for hours and not earning any money.
The drone is designed to do this autonomously. It is equipped to check the blades for damage and to inspect the lightning protection system and the drainage holes.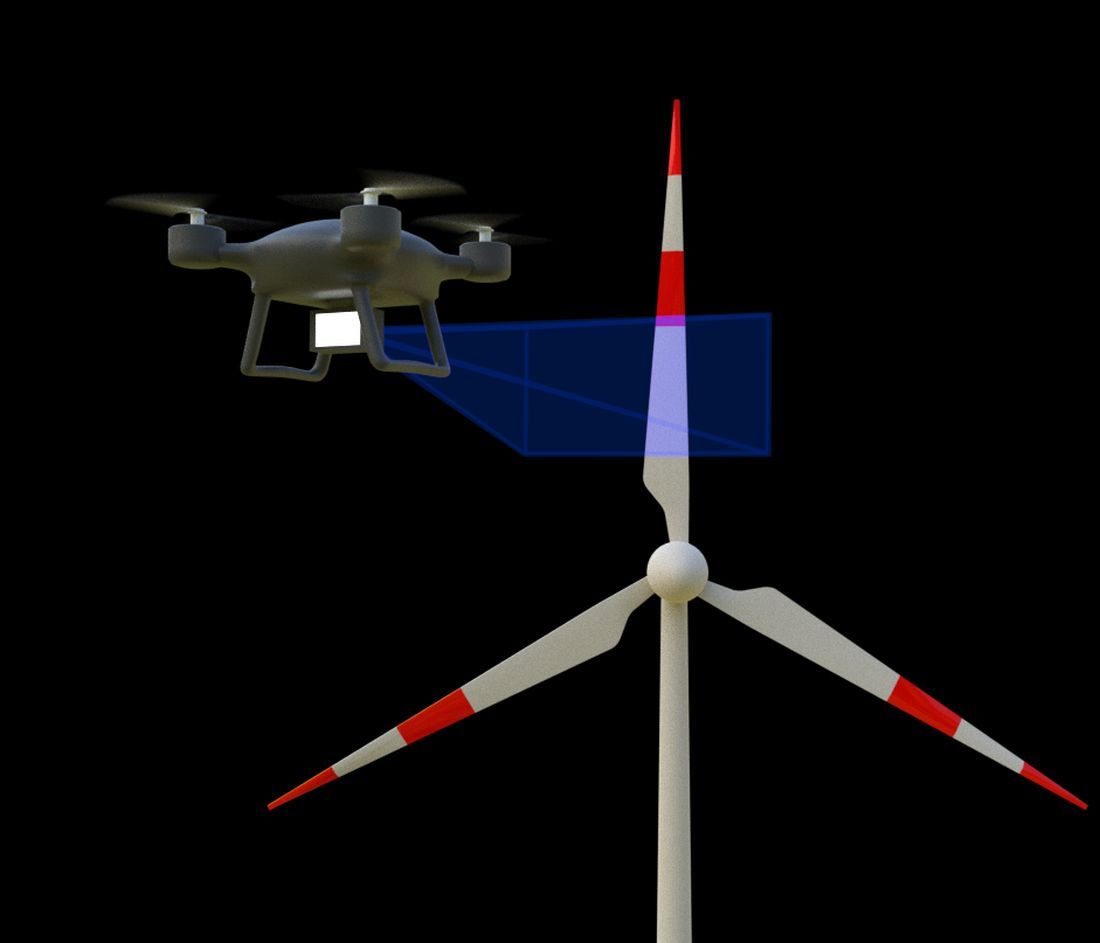 It has laser scanners, position sensors and special cameras that work in the optical spectrum and can record thermal images. Together, these make up the damage recognition system. "We want to teach the drone to autonomously detect cracks as small as one millimetre. To do this, it needs to be able to tell damage from dirt, such as bird droppings. Our goal is to achieve 100 per cent damage recognition so that a technician only needs to climb up if there is actually something to repair," Staar explains.
For this all to work, the drone must also perform lightning protection tests. Every rotor blade has several lightning rods, recognisable by small, coin-sized metal discs. Currently, the technician has to attach a cable that creates a closed circuit between the lightning rod and earth as part of the function test. The drone must also be able to do this. There are a number of approaches to handling this, one of which is a device that the drone uses to cling to the rotor blade like a monkey. It then closes the circuit using the cable it carries with it.
Performance versus flight time
The gripper arms are being developed by Bremen-based specialists AKON, while the drone itself is designed by Airstage, a company based in Baden-Württemberg. It features eight rotor blades, has a diameter of 1.3 metres and weighs 10 to 15 kilograms. "The bigger the drone, the more battery capacity it needs. This in turn requires more powerful motors, which use more electricity, further increasing the weight. As you can see, we are working within very narrow limits. That's why lightweight construction is so important," Staar explains.
Parts of the drone are 3D printed to enable more efficient shapes. These are being developed at the Fraunhofer IAPT in Hamburg. Lightweight materials are essential as the flight time of the drone is limited. The autonomous aircraft will need to take no longer than 30 to 40 minutes for a complete inspection of the wind turbine in order to compete with current commercial systems, even if these offer a much smaller range of functions.
Building up the data set
The icing on the cake for Staar and Denhof would be if, in addition to the lightning protection test, they were also able to test the drainage holes with the drone. These holes are used to drain away any water that may have penetrated the rotor blade. A lot of work for the two scientists, who are mainly focusing on the development of the image recognition and evaluation algorithms. Over the coming months, they plan to take photos of rotor blades which will serve as a data set for training the neural networks. They are also taking their drone licences so that they can carry out initial tests on actual towers. Staar and Denhof hope to use various wind farms as their testing grounds, and are making use of BIBA's numerous contacts in the wind energy sector to arrange this.
Success Stories
Wind energy
4 July 2023
10 Green Businesses in Bremen
Doing business in a sustainable, ecological way not only makes a positive contribution to the community and the environment but is also profitable. Ten Bremen companies show us what they're doing.
Learn more
Bremen
13 September 2022
Tradition meets innovation
The federal state of Bremen is home to approximately 676,000 people on 420 square kilometres. Almost 22,000 companies provide more than 336,000 jobs. We present the strong sectors of Bremen as a business location.
learn more