6 November 2018
-
Jann Raveling
The mobile workshop for wind farms
Wind energy
REETEC GmbH launches an offshore service centre for the North Sea in Emden
An offshore wind turbine spends around 7,000 hours in operation a year. This can put a great strain on the different components, such as transmissions, generators, blade bearings and rotor blades. If not serviced regularly, they could break down and generate high repair costs. Per turbine, a day of standstill can easily rack up a bill of €10,000 or more and at a large wind farm, one turbine will stop each day on average.
Operators want to avoid this costly downtime and restore regular operation as quickly as possible. But getting repair teams out to the wind farms is not easy, not least because access depends on the weather conditions. It can take several hours for a boat to get to a wind farm out on the high seas – and that is if the weather is good. The conditions in the North Sea are only ever good enough to ship workers safely out to the turbines on two out of three days. The alternative for many farms is a helicopter, but these are very expensive.
Living and working at sea
The solution when working on wind farms situated far from the coast is to save time and stay out at sea. If the repair team remain out in the North Sea, they can move as soon as the weather window opens and can also cut down travel time. Larger wind farms usually require at least two boats – one for the service team, and one for the installation team – just like at BARD Offshore 1 (BO1), located around 90 kilometres off the coast. Mechanics, electricians and service staff all live on board, spending two weeks working on the wind farm and then returning to the home port to swap in a new team and pick up new spare parts. As well as sleeping areas and canteens, the boats also have offices and lounges for relaxing – just like a floating hotel.
Bremen-based company expands on the East Frisian coast
REETEC is responsible for servicing the wind turbines at the BO1 wind farm. The Bremen-based service provider took over from OWS Off-Shore Wind Solutions GmbH in Emden in summer 2017. OWS was founded in 2013 to maintain the BO1 facility after wind farm manufacturer BARD went into liquidation. You can find out more about this in our article Wind farm optimisation 'made in Bremen'. "We are responsible for operations at the wind farm", says Detlef Lindenau, managing director of REETEC. "We have large capacities thanks to the facilities and halls at the Emden Aussenhafen port. We also have 180 workers on site and at sea, as well as access to an installation boat."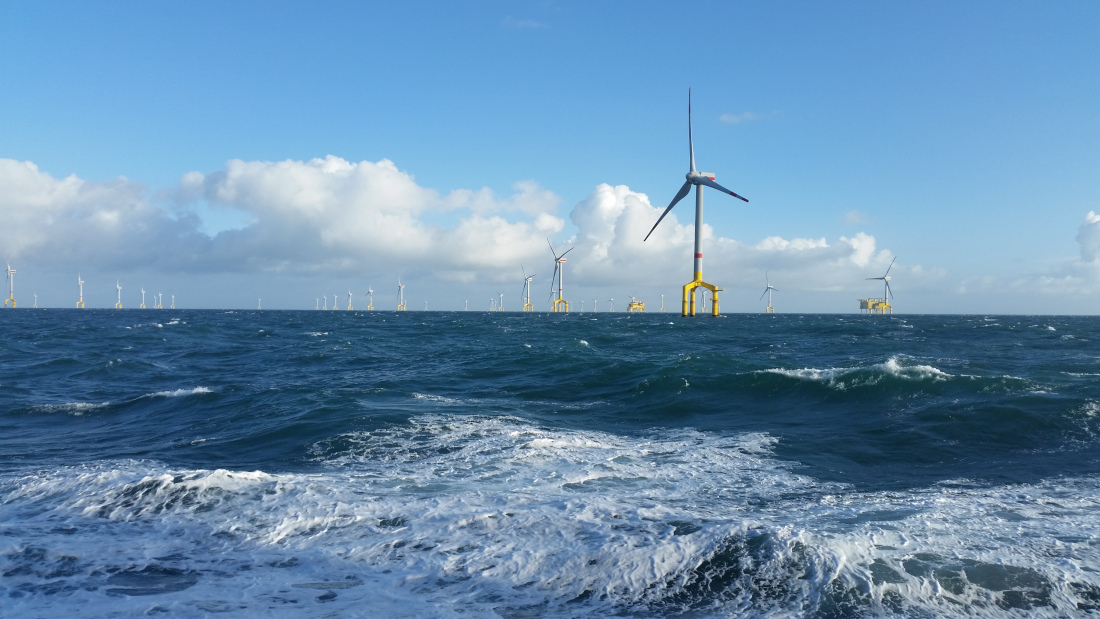 First independent offshore service centre in Emden
And Lindenau now wants to exploit this advantage. The 56-year-old managing director is a wind farm pioneer – he founded REETEC back in 1996, and, as the industry has grown, so too has his company. Today it has a global reach and a total of more than 350 employees. Now, thanks to the offshore business, Lindenau and his team of wind power experts want to expand further. "We will be Germany's first non-captive offshore service centre," he says confidently.
He envisages it as being similar to an independent workshop in the automotive industry. Unlike a dealership that serves only one car manufacturer, anyone can use the independent workshop. When applied to the wind power sector, this means that various offshore farms that are all equipped differently can be serviced by one ship – a mobile workshop, so to speak. In the North Sea, wind turbines from different manufacturers – Siemens, Vestas, AREVA/Adwen, BARD, and Senvion – are positioned directly next to one another. Working together across the entire farm would significantly reduce servicing cost, but manufacturers are unable to do this as they do not offer services to competitors.
Win-win-win: everyone benefits
According to Lindenau, even the wind farm operators reap benefits from the new service centre. "Does every wind farm need its own service team? We say no. We can call at various power plants, and will be there in no time," says the visionary.
As a non-captive provider, REETEC is able to offer services for various types of wind power systems, just like the independent workshop. This reduces servicing costs, significantly lessens downtime, and minimises call-out fees.
Lindenau also believes his business model will benefit manufacturers who have been profiting from maintenance and repairs at their 'own' wind farms through service contracts. "Offshore technology has made huge progress. We assume that manufacturers do not want to have to worry about maintaining technically outdated machines at their wind farms. This is where we come in," he says, describing the benefits of the service centre. REETEC can act as an external partner for older systems so that manufacturers are able to fully concentrate their efforts on installing lucrative new solutions.
Operations in East Frisia, management in Bremen
Lindenau is pleased to be sending a strong signal to the international competition from the company's headquarters in Bremen, where the majority of deployments are to be coordinated. "Offshore wind power still offers a lot of potential for optimisation. We want to harness this potential and expand our activities together with strong partners in Bremen," he concludes.


Success Stories
Wind energy
4 July 2023
10 Green Businesses in Bremen
Doing business in a sustainable, ecological way not only makes a positive contribution to the community and the environment but is also profitable. Ten Bremen companies show us what they're doing.
Learn more
Bremen
13 September 2022
Tradition meets innovation
The federal state of Bremen is home to approximately 676,000 people on 420 square kilometres. Almost 22,000 companies provide more than 336,000 jobs. We present the strong sectors of Bremen as a business location.
learn more