Letters from Vietnam – Autumn 2023
Letters from ...
Facts and information about business and investments in Vietnam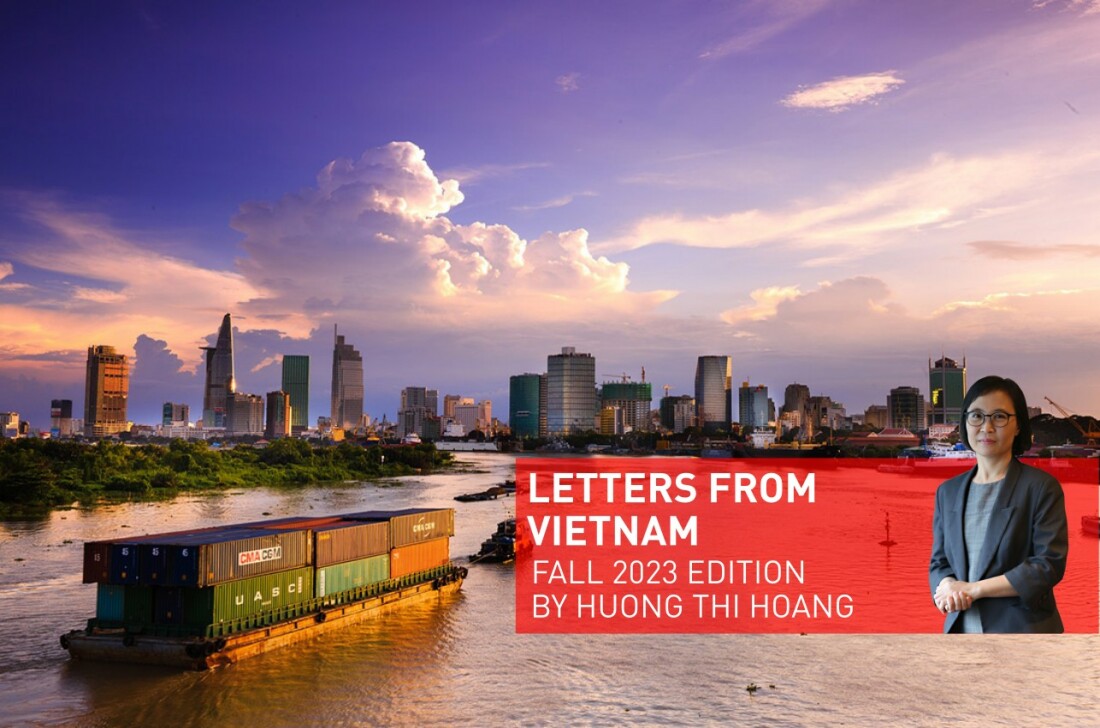 A top stock from Vietnam briefly becomes the third most valuable car manufacturer worldwide and hydrogen becomes a key factor for the future in Vietnam. These and other topics are covered in our letter from Vietnam, directly from Ho Chi Minh City.
Huong Thi Hoang, Director of our Bremeninvest office in Ho Chi Minh City, sends quarterly reports with the latest overviews of trends, opportunities and new developments.
Our topics for Autumn 2023:
Almost right to the top, almost right to the bottom – VinFast is making headlines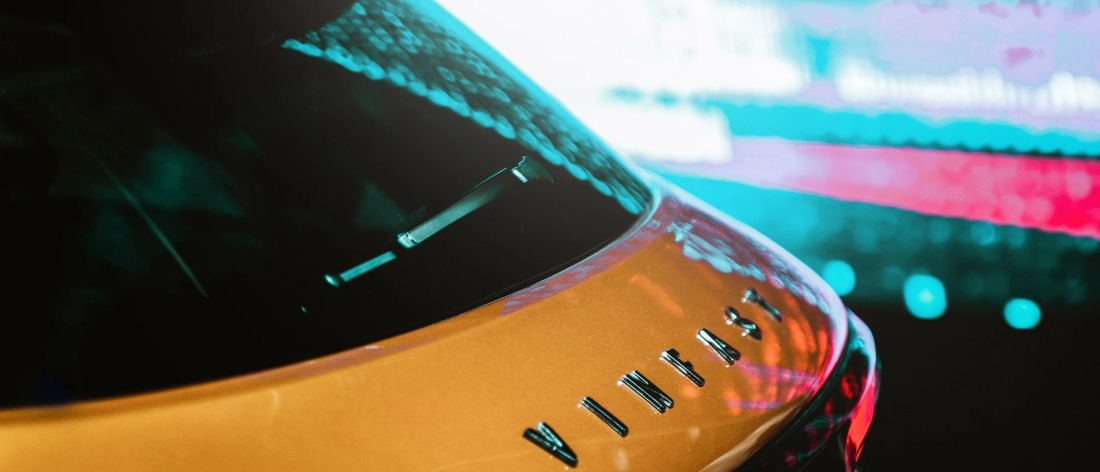 It became the world's third most valuable car maker within a week of its stock market debut – and fell by 80 percent the week after. "Almost" seems to characterise everything the emerging Vietnamese car maker VinFast is involved with.
The company went public on the NASDAQ stock exchange in the US for the first time in August 2023 to raise capital for its rapid expansion. Many speculators recognised an opportunity. The company only floated one percent of its shares on the stock exchange, meaning that the price was accordingly volatile and surged to a market value of 231 billion dollars in just a few days – but also quickly fell again.
Beyond the turbulence in the stock market, the company is pursuing an aggressive expansion strategy. After the foundation stone for the new production site, expected to go into operation in 2025, was laid in the US state of North Carolina in July 2023, the company announced in September that a new Indonesian plant is to be built by 2026. Up to 1.2 billion dollars are to be invested.
Up to now, VinFast has been a rather small fish in the e-vehicle ocean. The six-year-old company delivered around 22,000 vehicles in 2022. The existing expansion plans currently include capacities of up to 450,000 vehicles – an ambitious growth trajectory in true Tesla style.
Critics currently note some teething problems relating to technology and build quality. 1,000 vehicles in the US recently had to be recalled. With pricing which is entirely on a par with Western counterparts, the question remains as to whether the company can invest enough into its branding to really achieve significant sales figures.
This is because its market share even in Vietnam is still small. Chinese electric vehicles from makes such as Geely or products from other Vietnamese manufacturers, including licensed manufacturers, such as TMT, are around one third of the price and technically more sophisticated – even if they are in different vehicle classes, as the VinFast cars are designed as higher-priced SUVs. With the VinGroup – Vietnam's largest industrial conglomerate – as its parent company, the up-and-coming car maker has deep pockets and enough time and money to work out teething problems.
Does Vietnam's car market offer an opportunity?
These expansion plans as well as the high economic growth in Vietnam in general therefore also make the Vietnamese car market an investment opportunity for Western suppliers. With expected long-term growth of 8.5 percent (CAGR), growth surpasses that of many other markets. However, this is counteracted by a low initial value, as the car market is, generally speaking, still very small, and, due to high levels of tax and duties, purchasing a car is still a pipe dream for many in Vietnam. Up to this point, Asian manufacturers such as KIA, Honda, Hyundai and Toyota have mainly dominated the market. Only Mercedes from Germany operates its own manufacturing facility in Vietnam and dominates the local luxury market. Large suppliers such as Bosch have had a local presence for a long time and operate development centres.


Hydrogen – Vietnam sets the course for the future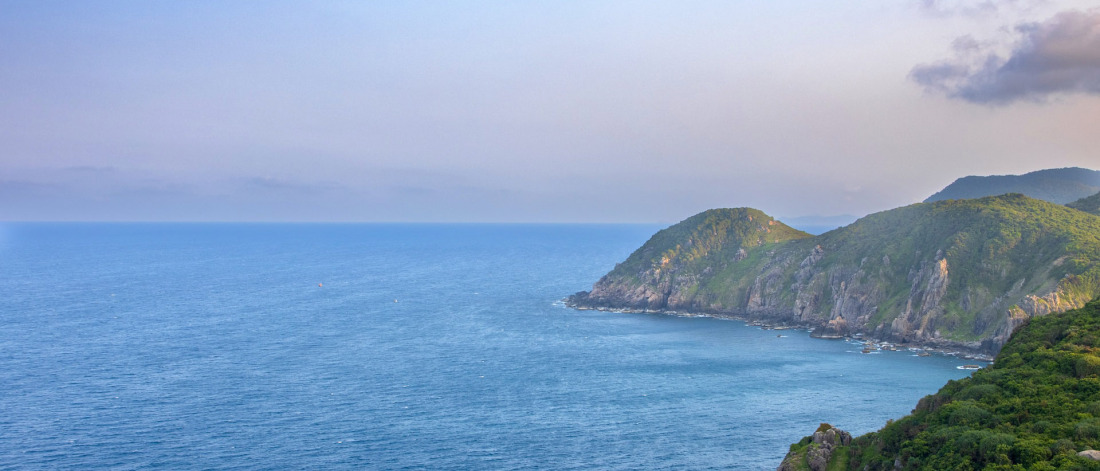 With the aim of 100 percent carbon-neutral energy production by 2050 (net zero goal), the East Asian country has set itself ambitious targets, as the rapidly growing economy's demand for energy is sharply increasing. Simply providing enough energy for the population is often enough of a challenge (as we reported).
Hydrogen – both as an energy source and as a raw material for various industries – will play a key role in the future in meeting the demand for carbon-neutral energy. The country is currently taking its first steps towards becoming a hydrogen economy, as TGS Green Hydrogen Company is currently building an electrolyser for green hydrogen in the south of the country in Trà Vinh. This electrolyser will produce around 24,000 tonnes of H2 a year, which will be used for ammonia production, primarily for export. The project is being realised by ThyssenKrupp as an industrial partner, among others. Further projects are planned, such as the Thang Long offshore wind farm. An electrolyser is to be connected to this facility.
The first electrolyser alone will surpass the performance of the previous production facilities for conventional (grey) hydrogen which currently produce and process the gas in refinery and fertiliser sectors.
The country could produce around 20 mega tonnes of green hydrogen by 2050. Foreign investors view this as a good opportunity to get involved, as expertise and investment are in demand. However, the emerging hydrogen industry is also facing major obstacles, since the supply and demand have to grow in lockstep for green hydrogen to be accepted in the market. The high level of initial investment required for a hydrogen economy represents a challenge for a growing economy such as Vietnam and would not be possible without foreign investment. Due to its long, windy coastline, the country affords a huge amount of potential when it comes to producing large quantities of green wind energy (technical potential: 160 GW) and solar energy (Vietnam is one of the sunniest areas in the world). However, launching this without foreign support would be difficult. If this potential could be harnessed, Vietnam could even be an export country, as, according to studies, it will be able to produce at marketable prices.
The current lack of legal framework conditions and infrastructure (things which still need to be developed) represent an additional obstacle according to the authors of the same study*.
*Source: Hoang AT et al., Green hydrogen economy: Prospects and policies in Vietnam, International Journal of Hydrogen Energy
Bremeninvest at the HCMC Economic Forum 2023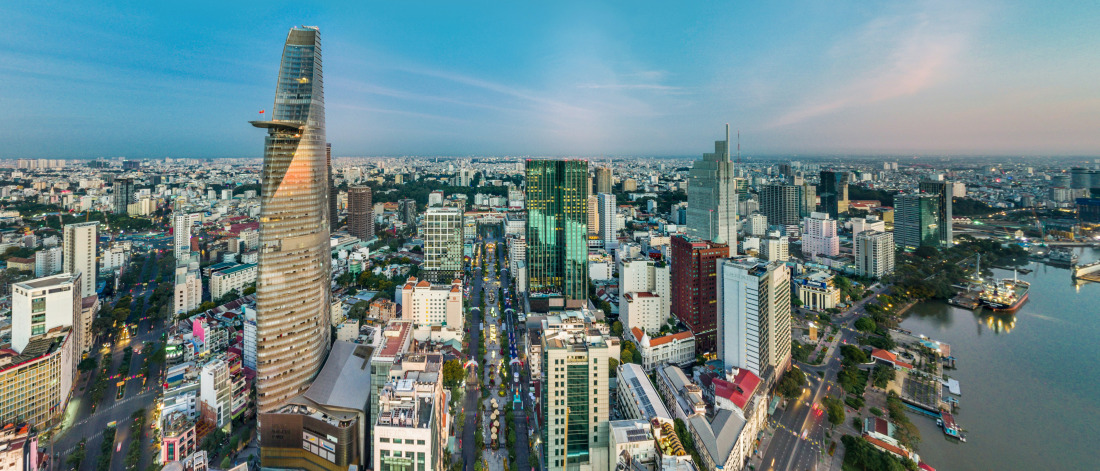 "Green Growth - Towards Net Zero" – this is one of the main aims of the Ho Chi Minh City region and topic of this year's Economic Forum, which took place in September 2023. The city wants to set the course of sustainable development in the region with this multi-day conference. Around 1,500 visitors took part. The forum with alternating topics provides crucial impetus for the further development of the region.
Bremeninvest, with its office in HCMC, was also invited to take part in the forum and establish new contacts as well as introduce Bremen as a location to promote the region's economic development.
IT – harnessing Vietnam's potential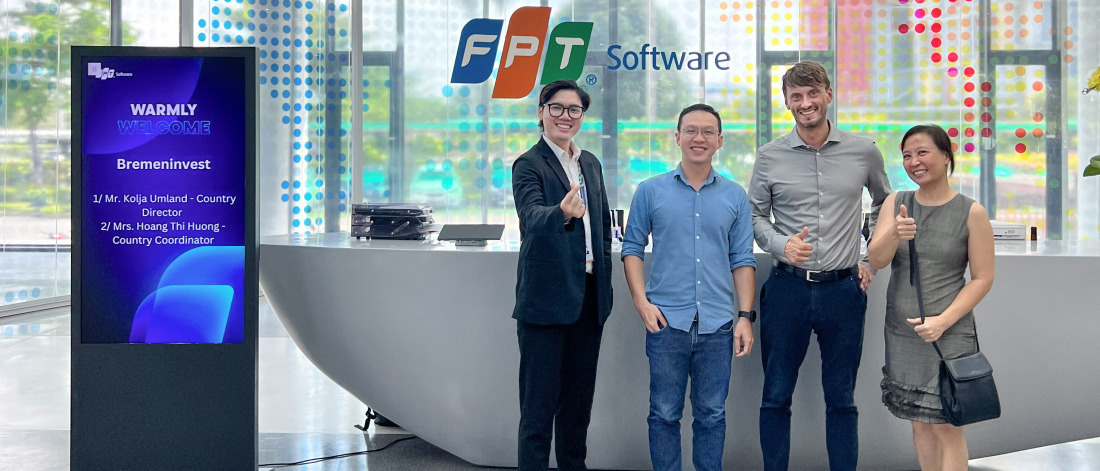 In September, the Bremeninvest team was not only involved in the field of sustainability in Vietnam, but also digitalisation. Huong Thi Hoang and Kolja Umland gleaned more information about potential for cooperation during a visit to one of the biggest Vietnamese IT service providers, FPT Software. The company employs more than 21,000 specialists all around the world, including at a site in Essen. The company has its own university which trains a large number of IT specialists.
The latter are also trained at the HCMC University of Foreign Languages - Information Technology (HUFLIT), the first private university in HCMC and another station of the Bremeninvest team. The two visits illustrated the following: the number of potential specialists in Vietnam is huge – and affords an opportunity to address the shortage of IT specialists in Germany. This opportunity should be taken up in the future and pursued together with interested Bremen institutions – for example via exchange or recruiting programmes.
If you are interested in working together with institutions from Vietnam, please get in touch with Kolja Umland, T +49 (0) 421 9600-339, umland@bremen-invest.com.