19 November 2020
-
Jann Raveling
Satellites with anchors
Aerospace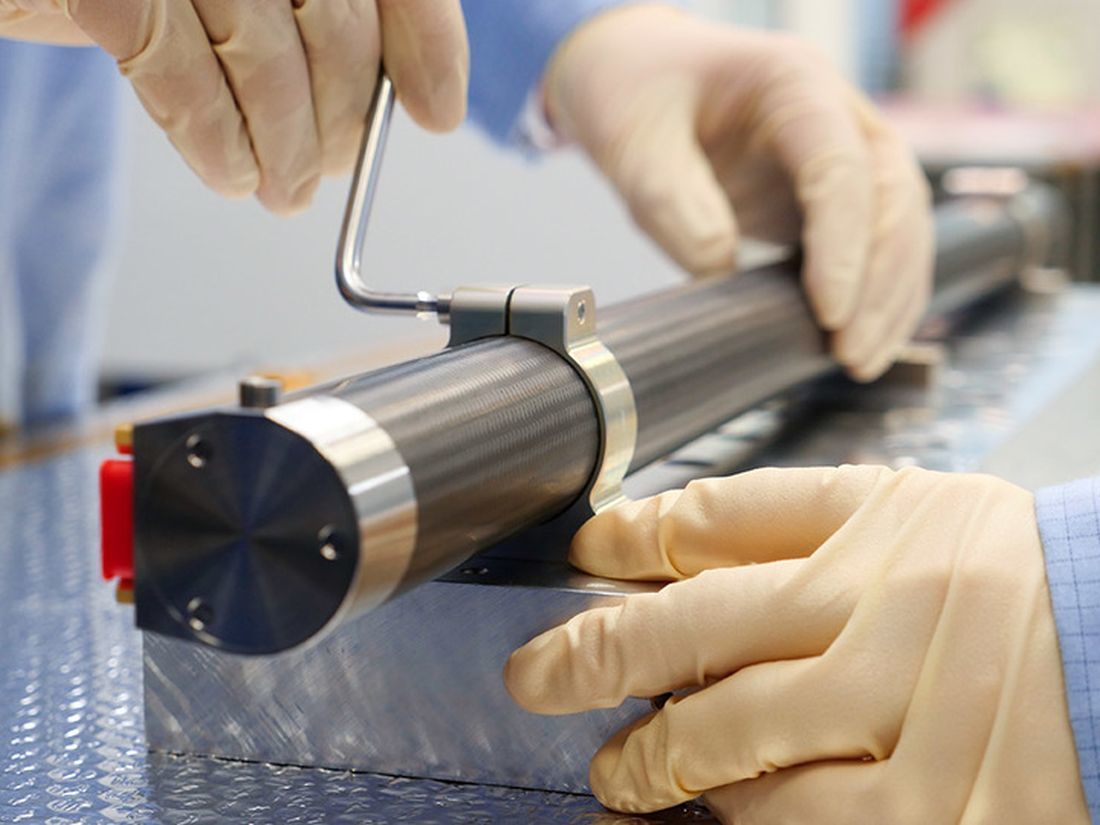 The technical term for rotating a satellite in space on its own axis is 'attitude control'. There are several approaches to this and Bremen's ZARM Technik AG has become a 'hidden champion' in the industry with its attitude control system.
The 146-metre high 'Fallturm' drop tower in Bremen's Technology Park rises up into the sky like a giant white needle. Over the past 30 years it has become a symbol of Bremen's aspirations as an emerging science hub. At the base of the slender tower is a two-storey building. This is the home of ZARM – the Center of Applied Space Technology and Microgravity. Or rather, this is where three organisations are based under the roof of ZARM. These are the University of Bremen's Institute of Science, the ZARM Fallturm operating company, which makes the drop tower available for research in zero gravity conditions, and ZARM Technik AG, which is actually not that closely linked to the drop tower, but is all about space technology.
Since 1997, ZARM Technik AG has become a specialist for satellite attitude control in low Earth orbit. "In Europe, we are part of practically every tender. And even in Japan and the US, some of the biggest aerospace companies like the NASA Jet Propulsion Laboratory and Northrop Grumman are customers of ours," says Holger Oelze, CEO of ZARM Technik AG.
Satellite attitude control in low Earth orbit
But what exactly is it that these specialists in Bremen are doing so well? They have perfected the magnetic torquer, a device used to rotate satellites on their own axis. The magnetic torquer does not have any movable parts – it is essentially just an electromagnet.
In zero gravity, a magnet automatically aligns with the Earth's magnetic field like the needle of a compass and the magnetic torquer uses this principle for its purposes. ZARM's specialists skilfully control the electromagnet in a satellite to align it with the Earth's magnetic field, essentially using the magnetic field as an anchor for rotation manoeuvres.
A rotation can take up to several minutes. The torque generated by the magnetic torquer is very low, but in the vacuum and zero gravity of space, it is enough to move several tonnes of equipment.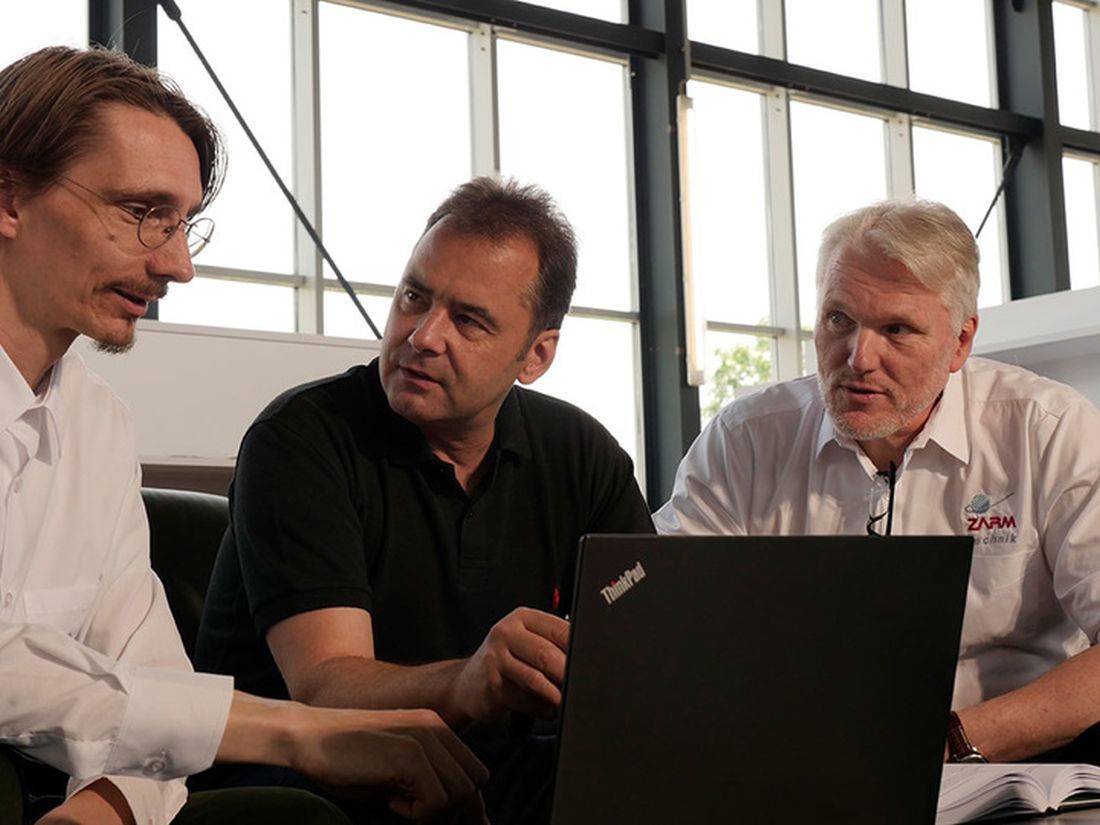 High-precision handiwork
The magnetic torquer is used in everything from small satellites to constructions the size of a school bus. "We can build systems that weigh between 3 grams and 25 kilograms. Each system is specifically designed to fit the specifications of the individual mission," explains Peter Offterdinger, Head of Engineering at ZARM Technik AG.
Offterdinger is effectively the 'intellectual father' of the magnetic torquer – he was involved in the design of this new technology from the very start. In addition to the satellite magnet, his team has also developed so-called magnetometers. These sensors can measure magnetic fields to an ultra-high level of precision and thus play a crucial role in the functioning of the magnetic torquer.
Both devices are built at ZARM in Bremen using a process that involves a lot of intricate manual work. "It's like Swiss watchmaking. We build around 15 systems per year," says Offterdinger. All in all, ZARM Technik AG currently has 30 employees.
A sky full of satellites
The production volume of 15 systems per year could increase drastically within the next few years. The satellite industry is currently undergoing a fairly radical transformation. Different companies and conglomerates are keen to get their 'constellations' into space – swarms of tiny satellites that operate as groups in low Earth orbit at altitudes of up to 1,000 kilometres. They will serve purposes such as extending the reach of the internet to the most remote locations.
These plans involve tens of thousands of small-scale satellites all of which could be equipped with magnetic torquers. "The market is changing and this presents us with new challenges. We will need to change our production methods and, for example, rely more heavily on automation in order to position ourselves for the future," says CEO Holger Oelze. This is one of the reasons why the company participated in the Bremen-based 5GSatOpt research project.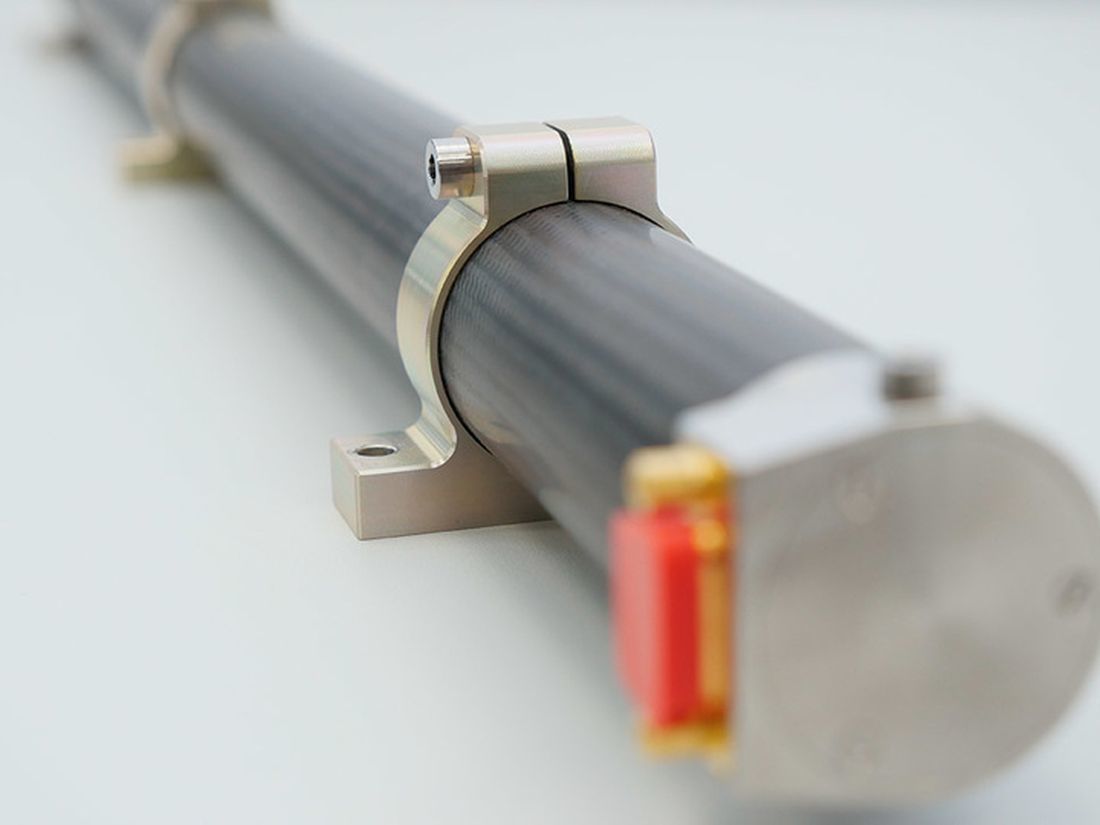 Aerospace engineering in Bremen is changing
Along with the satellite industry, the aviation and aerospace industry in Bremen is changing too. Oelze is also the chairman of the executive board of the aerospace association Aviaspace Bremen e.V. and a partner of ESA BIC, a Bremen-based start-up incubator of the European Space Agency (ESA). He supports young businesses in the industry.
"Things are in motion. The Bremen-based aerospace company OHB, for example, has grown rapidly in recent years. And there are also lots of small players and start-ups with innovative ideas. I am very confident that the 'new space era' holds huge opportunities for Bremen. We can bring a lot of value creation to this region," asserts Oelze.
This will also benefit ZARM. Like ZARM Technik AG, the ZARM scientific research institute has an excellent international reputation and the two collaborate closely in a number of research areas. This is probably unsurprising given that their teams are based within the same building.
BAB supports the development of key components
When it comes to preparing for the future, Oelze also counts on the backing of BAB – the development bank for Bremen and Bremerhaven. The bank has provided funding to ZARM Technik AG on multiple occasions in the past 15 years, for example to support the development of the magnetic torquer and the magnetometer.
"ZARM Technik AG is a striking example of how a combination of skills, bright ideas and a little support can produce world class expertise in Bremen. I am confident that ZARM Technik AG will continue to enhance Bremen's reputation around the world and out in space," says Dr Norbert Möllerbernd, Innovations Manager at BAB.
Only recently, the company hit the jackpot once again: It is the only business in Europe that supplies components for the six Copernicus Earth observation satellites – a coup that should technically have been impossible under ESA's European tender guidelines. "I don't know how we managed to achieve that," says Oelze, grinning, as he imparts the news. But, of course, he does know. It is because Bremen is a pioneer in satellite attitude control.
Success Stories
Science
30 August 2023
Interactive Science in Bremen
Science plays a leading role in Bremen: in the laboratories of the university, at one of the more than 50 research institutes or in the green botanika. There are many opportunities for visitors to experience science at first hand.
Learn more