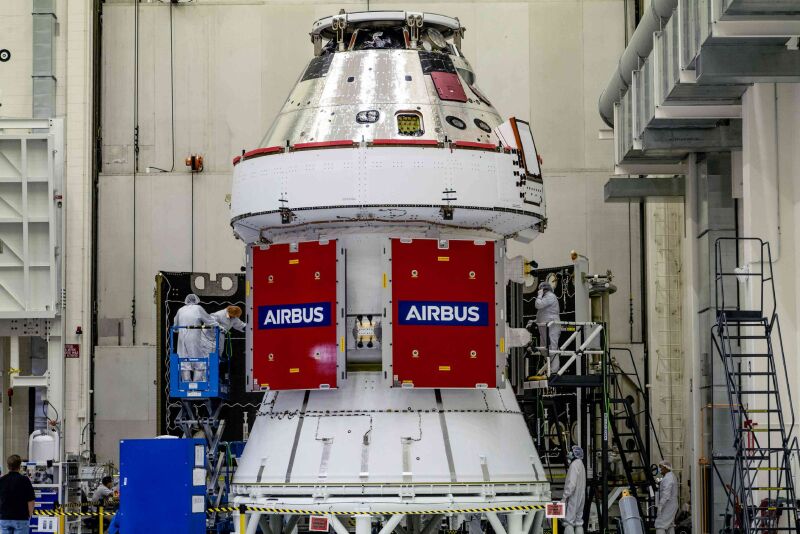 It looks like a huge cylinder: four metres high and four metres in diameter. The module is called ESM 3 and it is a central component of the USA's Space Agency NASA's new Artemis Moon-landing mission. ESM stands for "European Service Module". In three years time, its powerful rear-mounted rocket engine will drive NASA's "Orion" spacecraft and take four astronauts to land on the Moon for the first time since 1972. That this mission will enable a woman to set foot on the Moon is not the only "first" for this journey into a new era of space travel. The ESM 3 is the first system-critical component of a major NASA project that the Agency has allowed to be developed and built outside the United States... and it's being built in Bremen.
"The Americans have realised that it makes neither technological nor financial sense to implement such large-scale projects single-handedly", said René Kleeßen, Space Programme Director at the German Aerospace Center (DLR). After creating a prototype and the module for the first test flight, Airbus Defence and Space in Bremen started work on the crucial "number three" module.
Delivery vehicle to supply future stations on the Moon
For many years, engineers and scientists from Bremen have been indispensable members of the teams of experts involved in the global space exploration scene. The Columbus laboratory, which is Europe's contribution to the International Space Station (ISS), the ATV space shuttle used to supply the ISS, satellites and the top stage of the European launch vehicle Ariane: these projects, all created in Bremen, have helped the Hanseatic city become one of the world's most important centres of space exploration. Now, Bremen is reaching for the Moon!
Once building the ESM had almost become routine, the next major project came along. Before the end of this decade, the "European Large Logistic Lander" (EL3) will be the first large European space vehicle to land on the Moon. It will be a lunar delivery vehicle and unload material for a future station on the Moon's surface. An initial concept is currently being created at Airbus in Bremen: "We need to find new design methods that enable us to take along as much payload and fuel as possible", said Thomas Diedrich, who has responsibility for future "Space Exploration" projects at Airbus Defence and Space.