26 January 2015
-
Ingrid Krause
My Bremen – outdoor life on Ulrichsplatz square
Tourism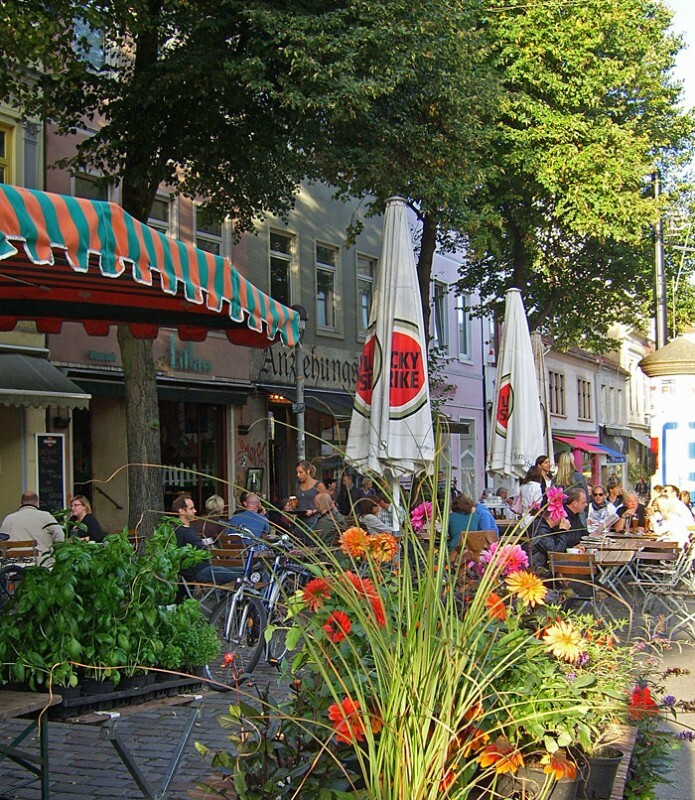 One of my favourite places in Bremen is Ulrichsplatz square. I'm thinking of it now that it's cold and wet outside, with snow forecast over the next few days. At times like these I yearn for those warm days in the Ostertor quarter.
It's such a great place to sit outside, enjoy a coffee and watch all the interesting people. There's a colourful mix of teachers, students, liberals, artists, affluent mothers and people popping over from the slightly rougher Steintor quarter. Everyone seems to get on with each other. I particularly like hearing all the different languages spoken by the young people, who might be on holiday here or work or study in Bremen – it almost feels like I'm on holiday myself. Then it's time for a quick visit to the organic market to check out the healthy treats and the unusual herbs. After that there's just enough time for a quick detour into one of the small clothes shops. A walk around the pretty side streets with their lovely houses is also worth your while. As evening approaches, the shade descends on Ulrichsplatz. If, like me, you feel the cold easily, you should start out early – or simply switch to the sunny side of the square, for example to Bistro Brazil.

If you want to see the Viertel district from above, head to Möbelhaus Flamme on Ulrichsplatz, from where you get a great panoramic view of the area. Just take the lift to the fifth floor.

All I want to know now is: when is spring coming back to Ostertor!?