Bremen property location at the EXPO REAL 2017
Highlight 2017: Boom time in Bremen's city centre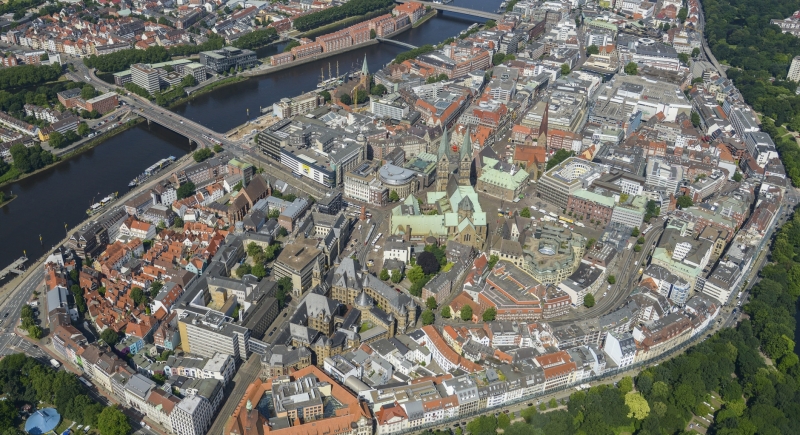 The dynamic development currently going on in Bremen's historical old quarter and immediate surroundings is unparalleled within Europe. A number of large-scale projects offer investors exceptional opportunities in busy prime city centre locations around Bremen's World Heritage sites.
We have selected nine of these projects for you. to the projects
Details of all of our exhibitors at EXPO REAL 2017 are available here.
We would also like to invite you to the Federal State of Bremen's reception:
on Wednesday 4 October 2017 at 15:30
with Senator Martin Günthner (Ministry of Economic Affairs, Labour and Ports)
and Mayor Melf Grantz (City of Bremerhaven)
An overview of our large-scale projects
"By selling off these centrally located sites, we intend to contribute substantially to the appeal of Bremen's city centre," said a spokesperson for Sparkasse Bremen. Overall, 11,000 square metres of land around the financial centre are up for sale: plenty of space for promising investments in the heart of the city.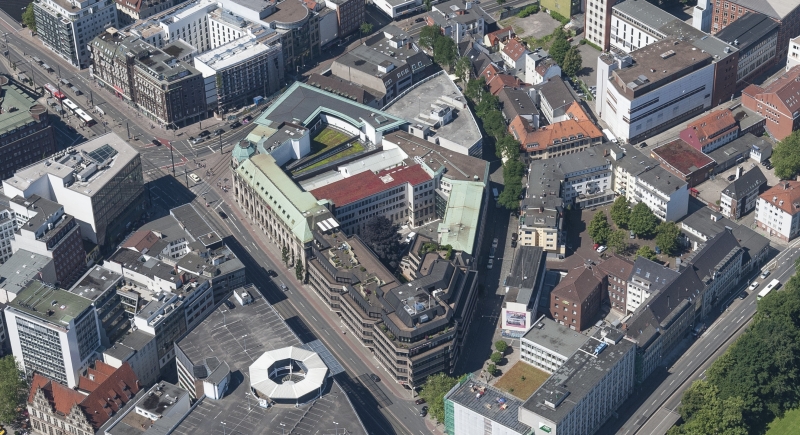 © WFB / Studio B
The new owners of the Bremer Carrée building complex in the city centre are Hamburg-based project developers Quest Investment, in cooperation with a commercial real-estate fund belonging to Warburg-HIH Invest. The investors will be using the bulk of the striking five-floor building themselves, but more than 2,500 square metres in this extremely busy location are still available to rent.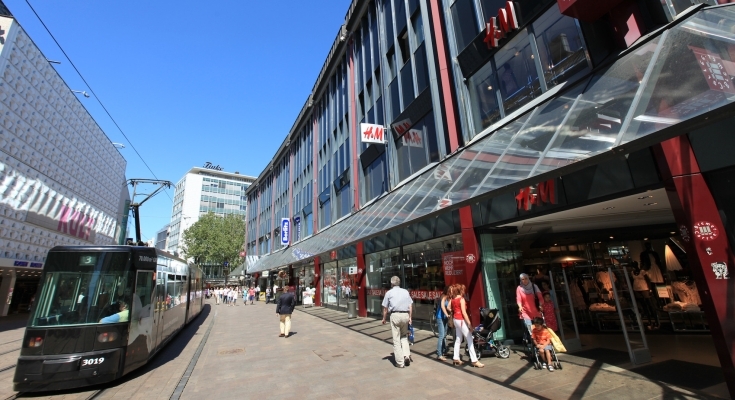 © WFB / Jens Lehmkühler
Modern retail and office space in a prime location is being created on Obernstrasse opposite the historical Stadtwaage (weigh house) building. Berlin architects Felgendreher, Olfs, Köchling are responsible for the planning after winning the design competition. The 1587 Stadtwaage building, which boasts a magnificent Renaissance facade and once housed the official city scales, will contain a restaurant once the scheme is complete. Overall, a new addition that will benefit the entire city centre.
"We want to reduce the number of secondary locations and turn them into prime sites. That includes creating more pedestrian areas, such as Knochenhauerstrasse and Carl Ronning Strasse." These are the words of Bremen entrepreneur Kurt Zech, who has been developing successful building projects for 40 years and also owns the Karstadt building. He is planning substantial new investments in the city centre, where he intends to create new arcades and walkways between the department stores surrounding Karstadt. For Karstadt itself, which is under a preservation order, his planned refurbishment includes a green roof and a catered roof-top terrace.
The new August Kühne House next to the current company headquarters at Wilhelm Kaisen bridge, right on the edge of the city centre, is scheduled for completion by the middle of 2019. The leading Bremen logistics company requires more space. A new eleven-storey building in three sections with different heights and 11,500 square metres total floor area will provide that. From 2019, up to 800 employees will be working in the much-needed additional office space.
The bidding process is over and the sale is set to be finalised by the end of the year. The project developers have exciting plans for the 15,000 square metre site. Following refurbishment, there is going to be lots of scope for a varied, very urban, cutting-edge mixture of residential, office, retail and restaurant space.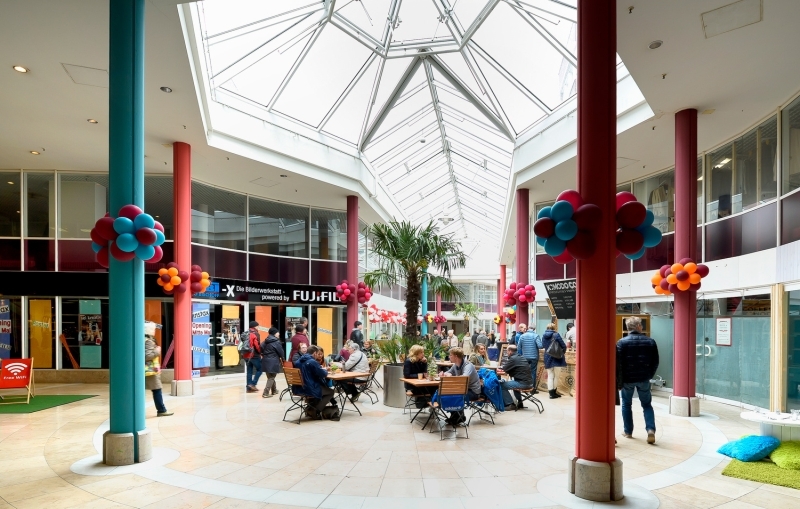 © WFB / Pusch
"It is going to be a sort of gate that you can see through," is Bremen architect Frank Püffel's description of his winning entry for the new building planned for Am Wall. The attractive two-storey arcade will run in a straight line to link a premium site on Am Wall with prime city centre locations. The Museum Passage will be wider and brighter than the previous walkway, making it inviting to pedestrians and a more obvious access point to the centre.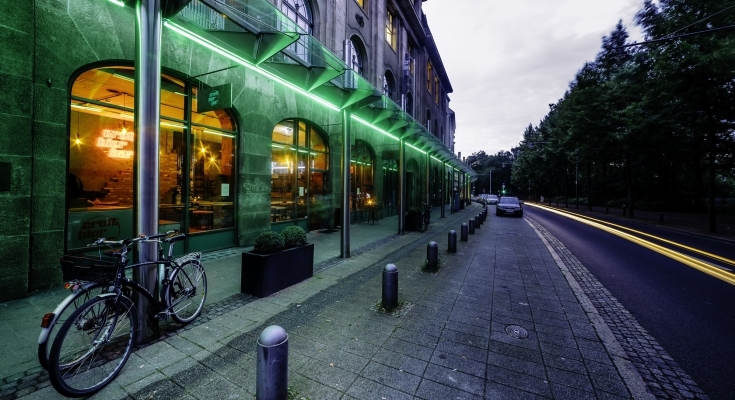 © WFB / Jonas Ginter
Excellent occupancy rates have encouraged Bremen entrepreneurs Joachim Linnemann (Justus Grosse) and Kurt Zech (Zechbau) of the Atlantic hotel group to invest around €13 million in expanding the Grand Hotel. The four-star hotel between the Weser river and the market square will acquire a new building, adding 100 extra rooms. The spa and wellness area is also going to be expanded, and the main building will be linked to the extension by a bridge.
When exiting the main train station, visitors to Bremen are currently greeted by a huge building site. In time this will become a building complex housing two hotels, restaurants, supermarkets, offices and doctors' surgeries. The project is a huge boost for the entire Bahnhofsvorstadt quarter.
© WFB / Christian Ring
Our stand: Bremen and Bremerhaven at the Expo Real real estate fair in Munich
A hub for real estate expertise: 25 companies from Bremen and Bremerhaven will share Bremen's stand at the 2017 Expo Real.

Guidance and support for your project
Your competent partner in Bremen
We offer you:
Comprehensive location consultancy
Wide range of industrial real estate
Help in finding the right commercial property
Support during official approval procedures
Individual financing concepts
Facts and figures on the Bremen property market
Assistance with marketing your own property
Contact with regional and national partners in the real estate industry
Andreas Gerber, T +49 (0)421.9600-123, gerber@bremen-invest.com, www.bremen-invest.com
Bremerhaven: More than just a port
Economic development from a single source!
Bremerhaven:
Largest city on the German North Sea coast
Europe's fourth largest container port
Leading importer and exporter in the automotive sector
Competence centre for logistics and maritime technologies
Innovative location of the fish and food industry
Location of the offshore wind energy industry
Internationally recognized research and development institutes
Manuela Wiesinger-Trompeter, T +49 (0)471.9 46 46-946,
wiesinger-trompeter@bis-bremerhaven.de
Rita Jane Weinhold, T +49 (0)471.9 46 46-630, weinhold@bis-bremerhaven.de

www.bis-bremerhaven.de

Udo Buskamp, T +49 (0)421.339 27-55, udo.buskamp@blb-immobilien.de
Benjamin de Beisac, T +49 (0)421.339 27-21,
benjamin.debeisac@blb-immobilien.de
Justus Wohltmann oHG, Wilken Herzberg, T +49 (0)421.14-000,
kontakt@justus-wohltmann.com, www.justus-wohltmann.com
Achim Griese Treuhandgesellschaft mbH, Ulf Wachholtz, T +49 (0)40.33 46 05-415,
wachholtz@griesetreuhand.de, www.griesetreuhand.de


Florian Kommer, T +49 (0)421.792 732 22, Mobil 0151.50 60-7988,
florian.kommer@geg-bremen.de, www.geg-bremen.de
Hamburg Team Gesellschaft für Projektentwicklung, Irene Traub
T +49 (0)40.37 68 09 36, i.traub@hamburgteam.de, www.hamburgteam.de

Innovativ und nachhaltig
Peter Stubbe and André Zey, T +49 (0)421.36 72-0,
exporeal@gewoba.de, www.gewoba.de
Joachim Linnemann, Clemens Paul und Burkhard Bojazian
T +49 (0)421.308 06-41, info@justus-grosse.de
Jens Lütjen, T +49 (0)172.4 25 50 96,
j.luetjen@robertcspies.de
Julian Hankel, T +49 (0)172.2 68 57 74,
j.hankel@robertcspies.de, www.robertcspies.de

Geschäftsführer: Ingo Damaschke, T +49 (0)171.4 16 32 57,
damaschke@asset-firmengruppe.de
Projektleitung: Aline Henzler, T +49 (0)160.4 81 00 27,
henzler@asset-firmengruppe.de
© WFB